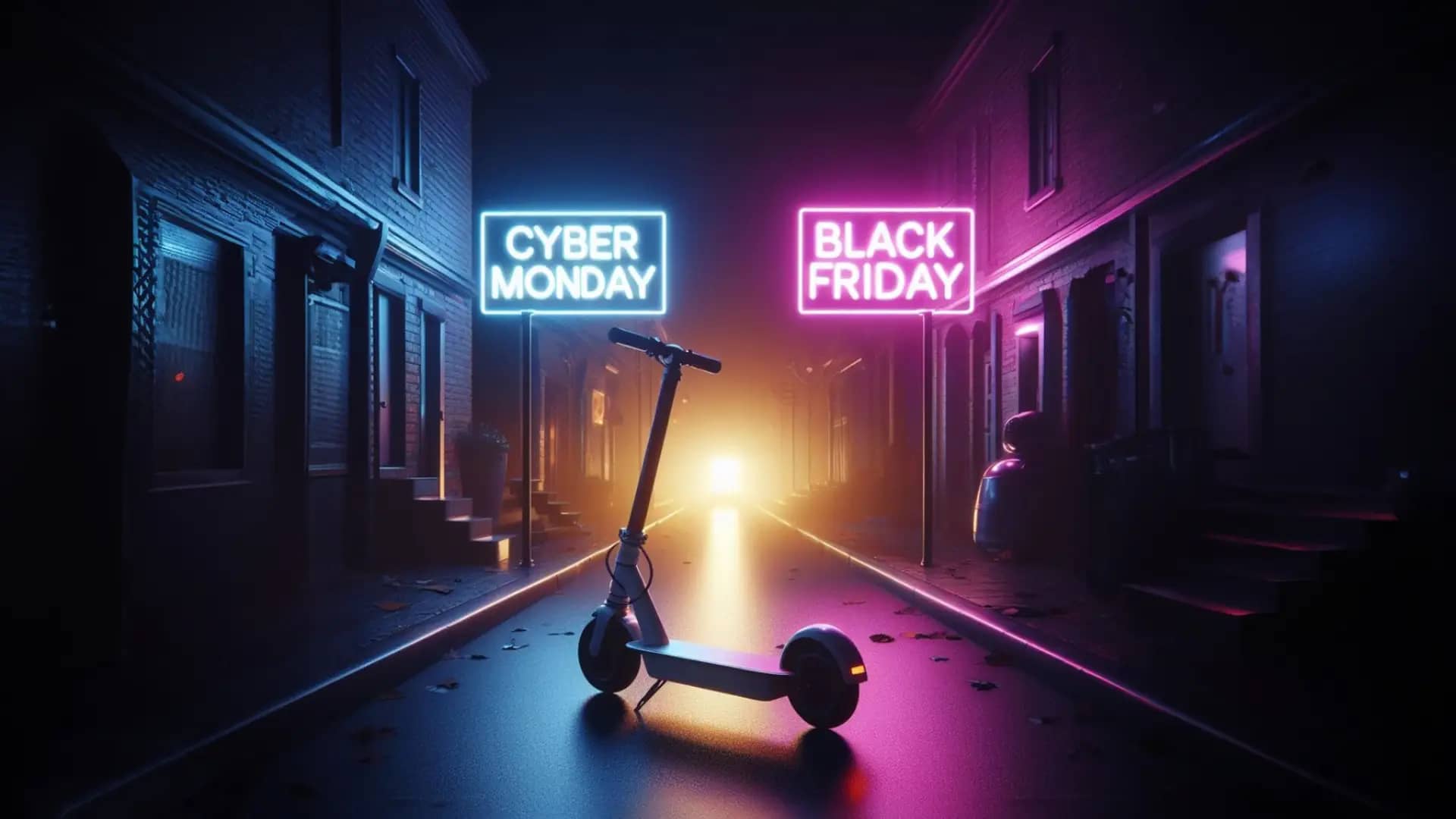 It's the most wonderful time of the year—for anyone in search of a stellar deal on an electric scooter! Yes, the grand Christmas shopping months are upon us—Black Friday and Cyber Monday—and we've set loose our trusted AI electric scooter expert, Volscribe, alongside our equally capable human experts. Together, they've combed the vast expanses of the internet to unearth the best deals available this Black Friday/Cyber Monday.
Navigating the landscape of Black Friday and Cyber Monday deals requires strategic insight, and we're here to guide you. The competition among retailers for your hard-earned dollars during this shopping extravaganza leading up to Christmas is fierce. Prices are dropping left and right, encompassing both the gems and the not-so-shiny options, so consider yourself warned.
This is precisely why we tout our deals page as the ultimate haven for future ride enthusiasts seeking an electric scooter at a significantly reduced price during this exhilarating week, or dare we say month, of deals. What sets our deals apart? Simple. You won't find anything on our page that we don't deem a fantastic product at a fantastic price. We've gone hands-on with most of them, and if we haven't, rest assured, we'll transparently explain why it made the cut. Often, it's because our Volscribe AI has gathered such enthusiastic feedback from owners that we're confident in passing on the good word to you.
The Best Black Friday & Cyber Monday Electric Scooter Deals
Consider This Before Buying
First things first. Remember that price isn't everything; most importantly, you want an electric scooter that will get the job done and withstand the test of time. Our number one rule of thumb is that the best deals aren't always the cheapest ones, and we would like you to take that to heart before you buy an electric scooter.
To ensure you get a model that lives up to your expectations and needs, we've come up with a neat little list of questions to ask yourself before you take the plunge on a new electric scooter:
Motivation for Purchase – Whether it's for leisurely rides, fun-filled adventures, daily commuting, or even world domination (hey, we won't judge), what's prompting your interest in acquiring an electric scooter?
Rider Profile – Are you shopping for an adult seeking a daily commute solution, a kid craving excitement, or a teen eager for both fun and practicality?
Weight Consideration – Depending on your weight, are you leaning towards a lightweight model for easy maneuverability or a more robust scooter for added stability?
Portability Preferences – Are you in need of a scooter that's a breeze to carry and store, prioritizing portability, or is your focus on high-performance features?
Travel Range – Estimate the distance you plan to cover between charges; this factor will determine the optimal range for your electric scooter.
Need for Speed – Are you looking to cover long distances quickly, necessitating a higher top speed, or do you prefer a more moderate pace for a relaxed ride?
Terrain Exploration – Consider the terrain you'll frequent the most: flat pavements, hilly landscapes, rough terrains, or a mix of them all. Your choice should align with the riding environment.
Financial Boundary – Define your budget. How much are you willing to invest in your electric scooter adventure?
After-Purchase Assurance – Are you inclined towards an extended warranty for peace of mind, or do you prefer readily available spare parts for a do-it-yourself approach?
Comfort Criteria – Assess your comfort preferences in terms of suspension, tire type, and even the option of a seat for those leisurely rides. Your ideal electric scooter should cater to your comfort needs.
Check Our Results – On Aridejunkie we test a ton of electric rides, over 200+ different models so far. Hence we know a little thing or two about their real-life performance, as the advertised specifics are rarely remotely close to what you get when you ride it in a normal way. Check out our fantastic buyers guide to electric scooters for some great suggestions!
How long will the deals go on?
In the evolution of Black Friday and Cyber Monday, the original concept of these shopping extravaganzas being confined to a single day has graciously given way to a more extended celebration. What began as a mere 24-hour affair has seamlessly transformed into a shopping weekend, then a week, and now, many retailers generously extend their Black Friday/Cyber Monday deals for half a month or even longer.
While the official date for Black Friday remains steadfast on November 24th, the shopping fervor starts early, with numerous companies rolling out enticing "pre-sale deals" as early as November 17th. The sales momentum doesn't fizzle out quickly; instead, it crescendos, carrying on until the end of November.
As for Cyber Monday, traditionally designated as the first Monday after Black Friday, this year falls on the 27th of November. Mirroring its Black Friday counterpart, Cyber Monday's allure tends to stretch beyond its initial confines, reaching all the way to the end of November and sometimes even further into December.
Initially conceived as the digital counterpart to Black Friday, Cyber Monday was the eCommerce store's response to what was originally a brick-and-mortar exclusive campaign. In today's retail landscape, whether you're navigating bricks or cyberspace, the sales extravaganza has transcended the boundaries of its initial distinctions. The result? A magical merging of both days into what can only be described as a week or two of complete Christmas shopping chaos.
The days of exclusive in-store deals are long gone, and now everyone, regardless of their preferred shopping arena, participates in this festive retail dance. The silver lining? If you opt for online shopping, you can gracefully sidestep the need to wrestle your way through the aisles, akin to Arnold Schwarzenegger's quest for the TurboMan Toy in the classic holiday film, "Jingle All the Way." May your online shopping experience be chaos-free and filled with electric scooter delights!
Why an electric scooter is the perfect Christmas gift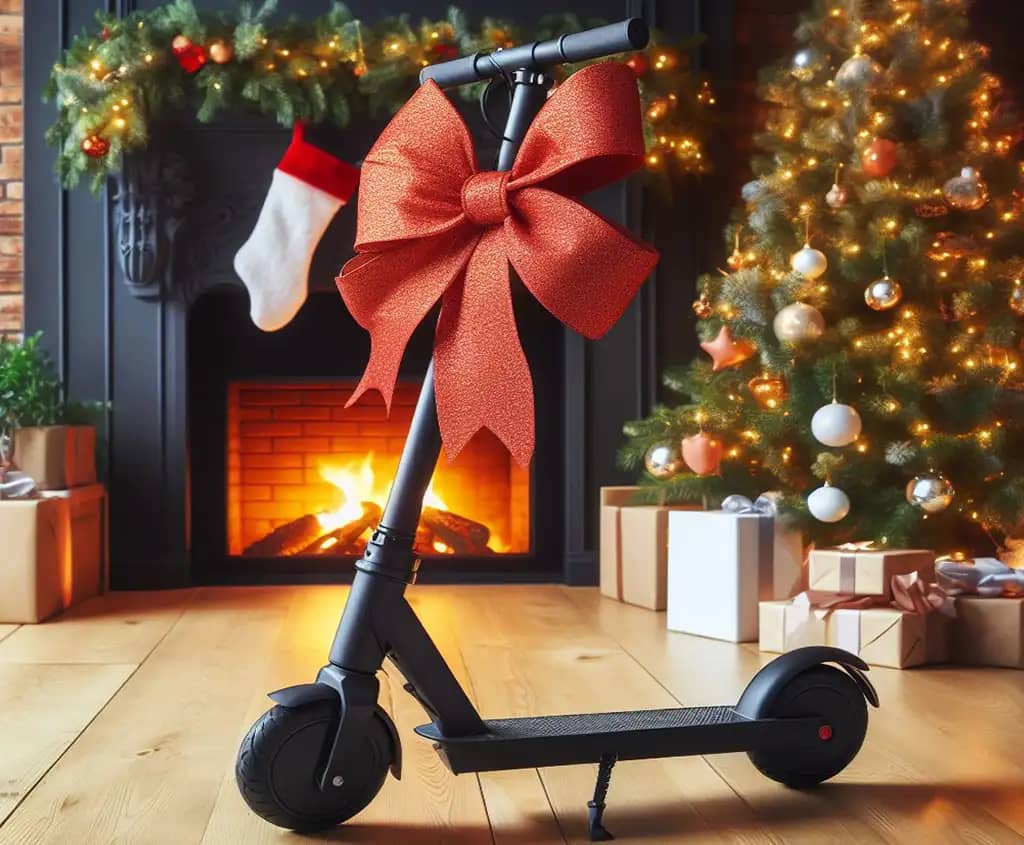 'Tis the season to be jolly, and what better way to spread holiday cheer than with the sleek, efficient, and electrifying gift of an electric scooter? As the festivities of Black Friday and Cyber Monday unfold, and the scent of discounted deals fills the air, let's explore why an electric scooter makes for the ideal Christmas present. Get ready to sleigh the gift-giving game with a dash of speed, style, and a touch of eco-friendly cheer.
In the merry medley of holiday gift options, electric scooters stand out as the ultimate crowd-pleaser, transcending age, gender, and varied needs.
Here's why electric scooters are the gift that keeps on giving, no matter who's on the receiving end.
Ageless Adventure: Unleash the inner child in recipients of all ages, from curious kids to adults craving nostalgic joy.
Gender-Neutral Excitement: A gift that brings boundless adventure, regardless of gender.
Versatile Commuting Companion: Whether navigating campus, city streets, or just seeking a convenient ride, electric scooters adapt to diverse needs.
Eco-Conscious Elegance: Gift not just a scooter but a commitment to a greener, cleaner planet.
Conclusion
Now, with all the best deals of this Christmas' most beloved shopping weekend at your fingertips, it's time to embark on an electrifying journey. As you navigate through the sea of discounts, remember to strike a bargain without compromising on safety and quality.
Our comprehensive guide has equipped you with the tools to find the perfect electric scooter, tailored to your unique preferences and needs. From Black Friday to Cyber Monday and beyond, the allure of exceptional deals beckons, promising not just a purchase but an investment in joy, convenience, and a touch of eco-conscious elegance.
In the world of electric scooters, where speed meets style and functionality intertwines with fun, the possibilities are limitless. As you consider gifting or receiving the perfect Christmas present, let the hum of electric motors and the promise of adventure under the tree be your guiding light.
So, whether you're unleashing the inner child in a loved one, breaking free from gender stereotypes, or embracing a sustainable mode of commuting, an electric scooter is the ideal gift for all. As the holiday season unfolds, may your rides be merry, your scoots be swift, and your Christmas be filled with the joy that only an electric scooter can bring. Happy scooting into the holidays!