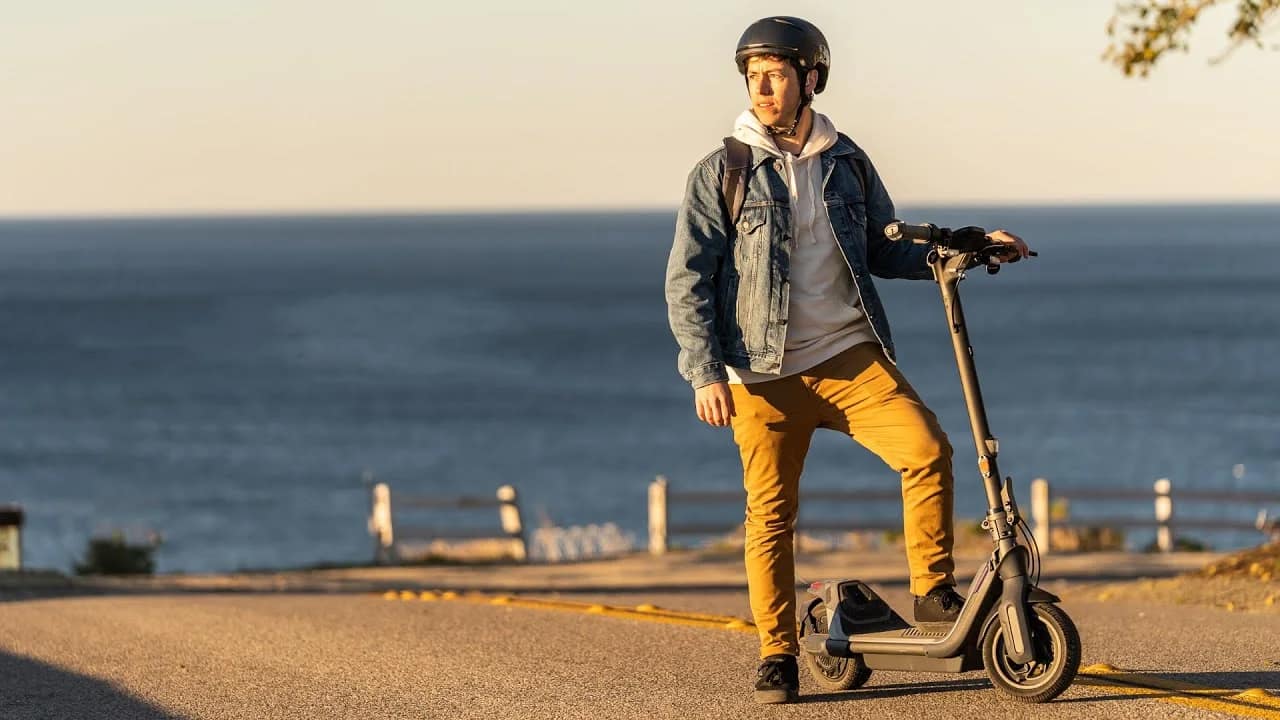 The Segway Ninebot P65, a middle-class champion in the Segway P-series, stands out as a robust commuter scooter with a sleek and modern design. During our test ride there were many heads turning and for a good reason.
Here's the no BS short summary of the Segway Ninebot P65.
With a powerful 500W motor, it reaches a top speed of 24.8 mph and we were able to cover a commendable 20.2 miles on a single charge during our test ride. The scooter prioritizes rider comfort with ample foot space and a tail-footrest, promoting a great riding posture as you zip around town.
While it comes with a slightly higher price tag compared to competitors, it offers the reliability of the Segway Ninebot brand, complete with excellent warranty conditions and widespread availability of spare parts. 
The P65 features a larger, better-looking display with an NFC keylock and provides more power and space to accommodate riders up to 265 lbs. Despite its weight and the absence of suspension for off-road rides, it handles itself quite well thanks to the large 10.5" pneumatic tires. The P65 is an excellent choice for those seeking an elevated daily commuting experience, where a few extra pounds of scooter is more of a pro than a con.
Now lets go through our test results, the good and the bad before we head into to the nitty gritty details, shall we?
Real-life Test Data
| Model | Segway Ninebot P65 |
| --- | --- |
| Tested Speed | 24.8 mph / 39.9 kmh |
| Tested Range | 20.2 miles / 32.5 km |
| Acceleration | 3.24s |
| Weight | 59.3 lbs / 26.9 kg |
| Load | 265 lbs / 120 kg |
| Motor Power | 500W(900W) |
| Battery | 561Wh/48V |
Positive
Good amount of power
Reliable brand
Great quality
Wide footpad
Great riding posture
Feature-rich stylish display
Great handling
Heavy load capacity
Negatives
Initial brake adjustment needed
Heavy
No suspension
The In-depth Detailed Review: Segway Ninebot P65
Motor Power and Speed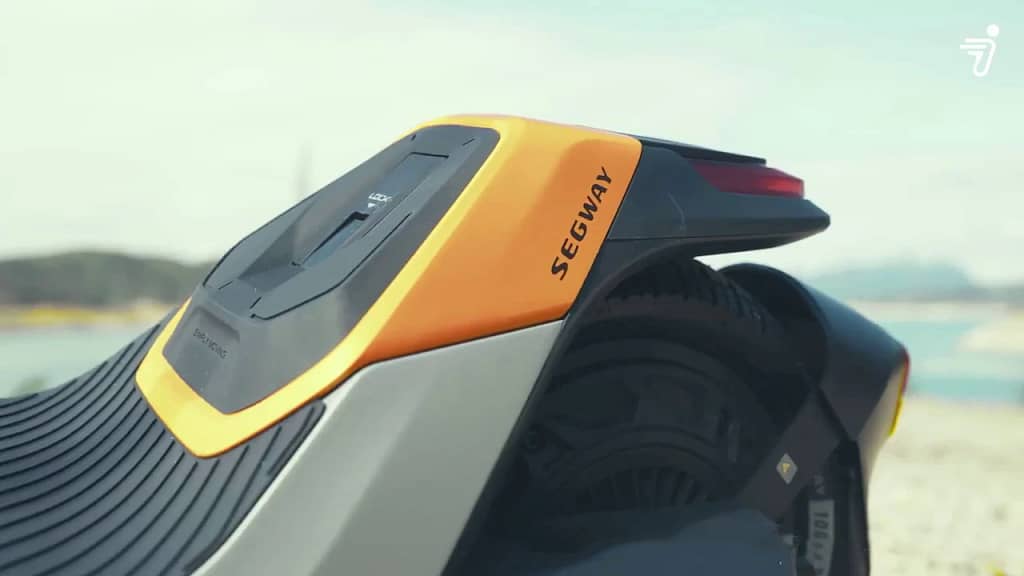 The P65 comes equipped with a rear-mounted 500W motor that makes the scooter capable of handling most normal hills, although it is a lot slower at doing so when you're encroaching the 265 weight limit. This means that if you're a heavier rider you should expect to give it a helping kick up steep hills.
During our test ride we were able to reach a top speed of 24.8 mph which is close enough to Segway's own 25 mph advertised speed. Our 165 lbs test rider was able to handle our 10-degree hill climbing test without any greater loss of speed which is to be expected with the above industry standard for commuters 500W motor that can deliver an impressive 900W peak output.
The acceleration of the P65 is on point and it was able to achieve our testing speed of 15.5 mph in as little as 3.24 seconds which is quite impressive for a scooter in this price-range. In comparison the new lighter Max G2 did the same test in 4.17s
Battery and Range
When we took the Segway P65 for a spin around our electric scooter testing route we were able to achieve a distance of 20.2 miles of real-world range. This is about the standard 50% drop from the advertised performance that we usually see on scooters. A good distance since it has a similar sized battery of 561Wh to the Max G2 but with a higher voltage of 48V in comparison to 36V giving it a better top speed and more torque. We always do our tests in the highest power mode and our testing track is on our own city streets with slopes, stops and starts like any other town. This way we can ensure we provide accurate data on what you can expect if you would buy a Segway P65.
The scooter's charging port is conveniently positioned at the front just below the stem and the P65 comes with the new built-in charger which means all you have to do is connect a 3-pin power cord. This is far more convenient for a commuter scooter since often you want to top it up before your return commute. The power cable is compact enough to fit inside the pocket of your pants.
Braking System
The P65 comes in hot with a front disc brake that works in seamless combination with the rear regenerative motor brake. It has ample braking power for a scooter with a top speed of 25 mph, although I am a little disappointed that the first thing I had to do out the box was to adjust it just a little to make it feel less jerky and weak. It wasn't to the point where I felt I was going to get thrown over the handlebar, but it was enough to make me feel uncomfortable riding with the main braking power in the front.
I always prefer having the main braking power in the rear and I would have liked the P65 to have a similar setup to the dual disc brake found on its bigger P-series brother the P100S. But for its power it's more than enough, you just gotta be a little more gentle while riding on slippery roads.
During our brake test the scooter came to a full halt within 13.1ft from a speed of 15.5 mph. In comparison that is about 0.6ft more than the braking distance of the more lightweight Max G2.
Ride Quality and Experience
The quality of the ride is great thanks to its large 10.5" pneumatic tires, but do note that even though the P65 is a quite expensive investment it doesn't come with a suspension system so going off-road is going to get a bit bumpy. But if you're mostly riding in city terrain it's going to be smooth sailing.
The scooter feels sturdy throughout the entire frame and the structure is very solidly built, something Segway scooters is famous for. The large footrest in combination with the rear little lip footrest makes it very comfortable to lean while curve taking, the rear lip also gives you great posture while braking. It feels a lot more heavy-duty than the lighter Segway Ninebot models.
Comment from our large rider: "It is spacious and comfortable to ride, it does get quite bumpy on roads with large cracks but not more than other non-suspensioned scooters. I had to give it a few helpful kicks up steeper than 10 degree hills in order to not lose too much speed and to conserve battery power."
Segway Ninebot P65 Features
Folding and Portability
The folding mechanism is easy to use and feels very secure once the latch is in place and it has a safety lock function that completely removes the risk for the latch to come loose while riding. There is no play in the stem and mechanism at all.
The scooter is definitely not super portable, but you can work with it as long as your daily routine doesn't involve a ton of carrying. It is quite the piece though so my guess is that it won't fit into a small car trunk.
Tires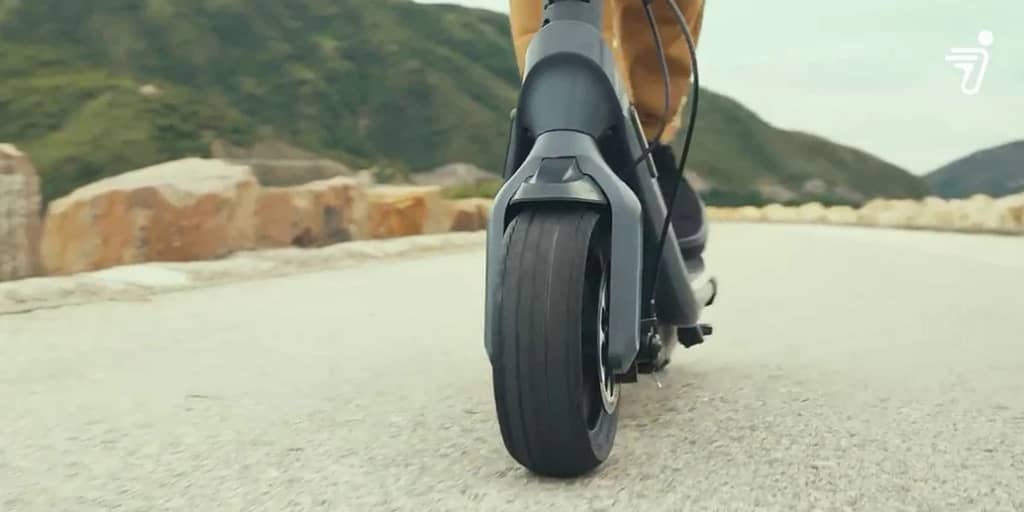 The P65 comes with large 10.5" pneumatic tires filled with Segway's new self-sealing gel which works wonders. As stated in many Segway reviews before you can literally ride over a large nail and it will just seal itself back together so you can continue your adventure.
The scooter's tires play a pivotal role in minimizing the impact of bumps caused by cracks and potholes on the road, and they excel in this function, thanks to their substantial width and size.
Lights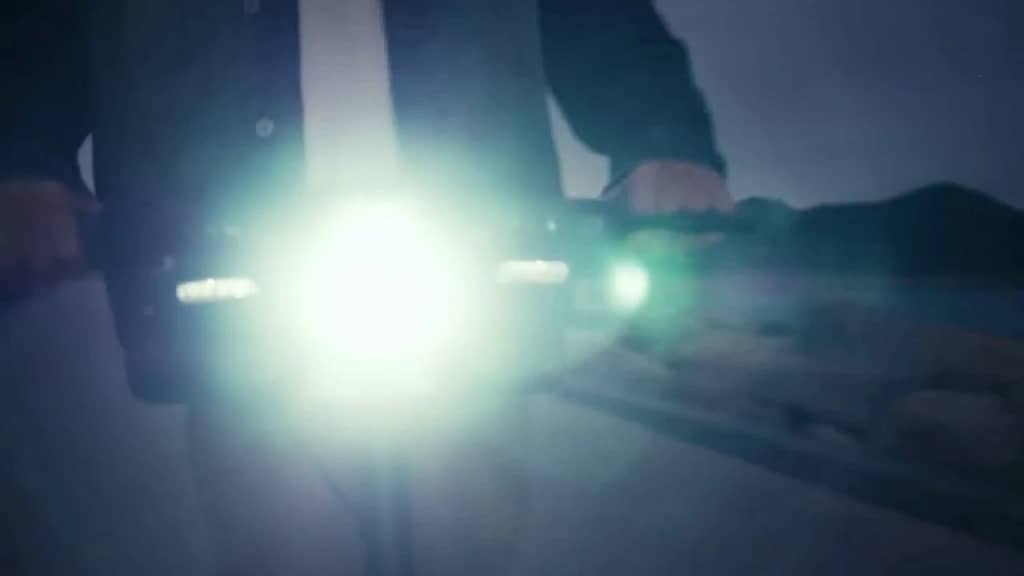 The scooter boasts an impressive headlight that performs exceptionally well. Nevertheless, for those frequently venturing out in the dead of night, I would suggest considering a second set of headlights to enhance visibility and ensure a safer riding experience.
For increased safety the scooter comes equipped with a set of really great turn signal lights and a bright tail light that flashes to indicate braking.
On top of this now pretty much industry standard lightning setup you get a pair of smaller RGB lights at each side that flashes at the same time as the turn signal which further enhances your visibility to others.
Cockpit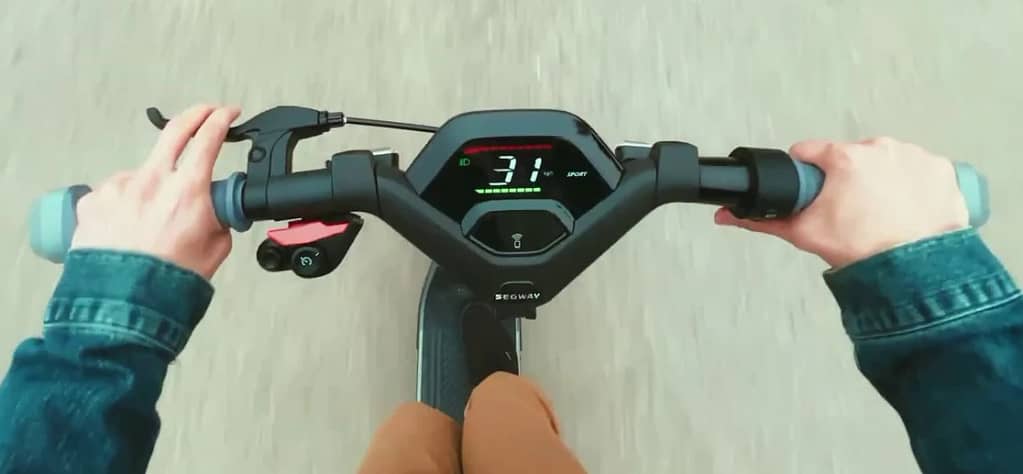 The P-series introduced an entirely new display never before seen on a Segway scooter. It is large and easy to read with good sized numerics and icons clearly showing you everything you might want to know about your ride.
On the handlebar you can also find a standard push throttle, brake lever, a knob for the turn signal, a button for the signal horn, and a mode/cruise control dial button.
The p-series also comes equipped with an NFC reader so that you need a special card to unlock your scooter, otherwise the alarm will go off. A neat little extra feature is that it also has an USB-C port for charging your phone on the go.
Build Quality
The quality of components utilized in the scooter is excellent, and the overall structure is robust, crafted from high-quality metals.
However, based on insights gathered by our Volscribe AI, which extensively scoured customer feedback on the internet, a few users have noted the need to occasionally tighten screws, as they tend to loosen after prolonged use.
The brakes are also known to require some adjustment after extensive use too, but that comes with the territory as the brake pads start to wear.
Safety Aspects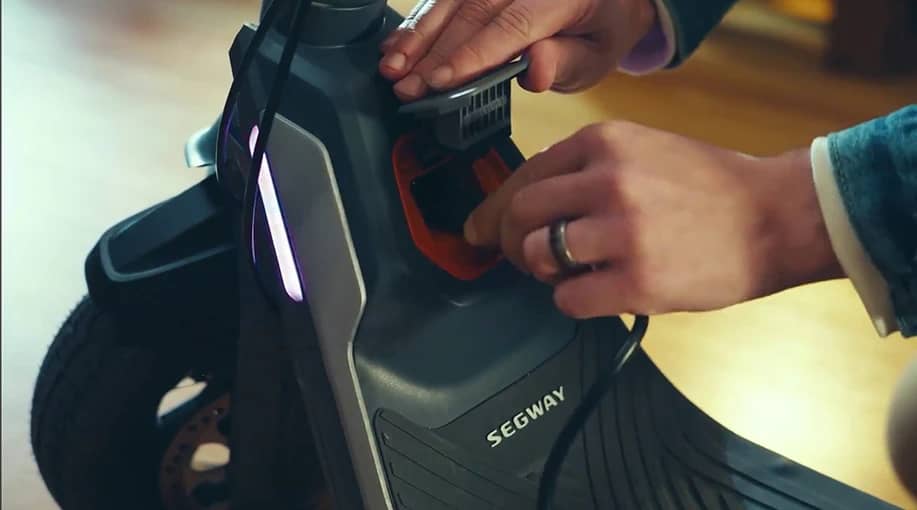 In terms of safety, Segway never fails to deliver a reliable quality ride. There are slight mishaps here and there along the way, but they've always been responsive to the community feedback, and kept bettering their products along the way.
Here are few things that I like about the Segway Ninebot P65 from a safety perspective:
Great visibility – Thanks to its sophisticated lighting system having everything from a brake light, to turn signals, a bright headlight, and the additional RGB lighting the scooter keeps you visible on the roads.
NFC keycard – With the NFC card requirement to start your scooter, the scooter will be locked with an alarm making it less prone to theft. We still recommend you locking it though!
Self-Sealing Tires – The tires come with what Segway calls "self-healing technology", in more mundane terms its a tire filled with gel that fills in any holes that occur in the tire so that you can continue to scoot on.
Segway Ninebot P65 Review Conclusion
The P65 is a solid choice for anyone looking to step up their commuting game. It delivers a good riding experience with a little extra performance under the hood in comparison to the lower tier commuter scooters.
It has a very appealing "new" design that can also be seen on the later Niu KQi electric scooter series. With its stronger motor and good-sized deck it fits perfectly for larger, more well-built riders, or if you're just looking for a scooter that enables a better, more stable riding posture.
It does come at a slightly higher price tag than the Segway Ninebot Max-serie scooters.
Let's recap the key aspects that make the P65 a noteworthy choice.
Pros That Speak Volumes:
Power Play: The P65 boasts a commendable power output, ensuring a swift and enjoyable ride.
Bang for Your Buck: Well-priced, offering affordability without compromising on quality.
Brand Trust: With Segway's reliable brand behind it, the P65 exudes confidence and trust.
Quality Craftsmanship: Built with top-notch materials, the scooter's structure is robust and enduring.
Spacious Ride: The P65 provides a generous footpad, contributing to a comfortable and ergonomic riding posture.
Visual Delight: Featuring an impressive display, the scooter combines style with functionality.
Handling Prowess: Enjoy a smooth and responsive ride, thanks to the P65's excellent handling.
Heavy Load Warrior: With a substantial load capacity, the scooter caters to a wide range of riders.
Cons That Deserve a Mention:
Brake Adjustment Needed: An initial adjustment might be required for optimal braking performance.
Weighty Companion: The P65 leans towards the heavier side, impacting its portability.
In conclusion, the Segway Ninebot P65 emerges as a compelling option for those seeking a reliable, powerful, and stylish commuting companion. Its blend of performance, brand trust, and thoughtful features positions it as a standout in the electric scooter landscape, offering an electrifying solution to elevate your daily commute.
Segway Ninebot P65 Technical Specifications
| | |
| --- | --- |
| Weight | 59.3 lbs / 26.9 kg |
| Folded size | 46.9 × 25 × 22.3 inch |
| Motor power, nominal | 500W |
| Top speed | 25 mph / 40 kmh |
| Range | 40.4 miles / 65 km |
| Battery capacity | 561Wh/48V |
| Battery recharge time | 4 hrs |
| Max load | 265 lbs / 120 kg |
| Brake | Disc+ Regenerative |
| Tire | 10.5 inch Pneumatic |
| Built-in lights | Head, Tail, Signal, RGB |
| Water resistance | IPX5 |
Competing Alternatives to the P65
Speed
Range
Load
Weight
Motor
Battery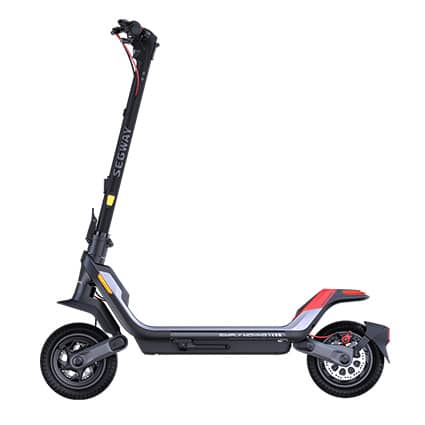 Segway P100S
Segway Max G2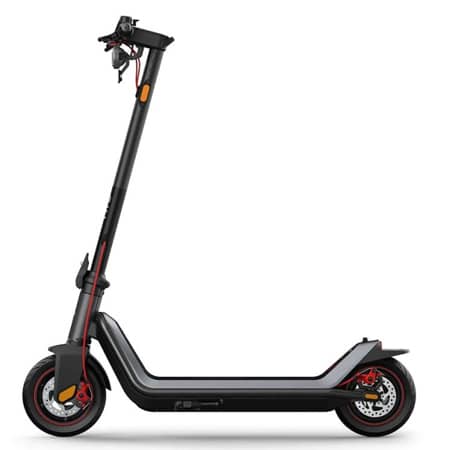 Niu KQi3 Max
*This data is not the advertisers specifics. It our results from testing the scooter in a real life setting using the highest power mode.
FAQ – Segway Ninebot P65
When was the Segway Ninebot P65 release date?
The Segway Ninebot P65 was crowdfunded at Kickstarter in July 2022, with deliveries starting to roll out in October 2022.
Does the Segway Ninebot P65 have suspension?
No, the Segway Ninebot P65 does not have any suspension system like on the P100S.
How do you unlock the Segway Ninebot P65?
You unlock the scooter using an NFC keycard that follows your purchased product. Without the aforementioned keycard you will not be able to unlock it.
How to factory reset a Segway Ninebot P65?
This can be easily done within the Segway Ninebot App or manually: Turn on the scooter. Hold the throttle and brake lever down fully. Turn off the scooter. Release throttle and brake lever. Finished, now you can start the scooter and it has reverted back to factory settings.
How do I unlock the speed restrictions on my Segway Ninebot P65?
If your Segway Ninebot P65 comes with a restricted speed you can unlock it(Proceed at your own risk: May get malware, void your scooters warranty, and/or break your local laws) by using the "DownG" mobile application on Google Play Store. You then change the last letter in the serial number(P65"I", P65"E") to a K, respectively an N in order to unlock its maximum speed.