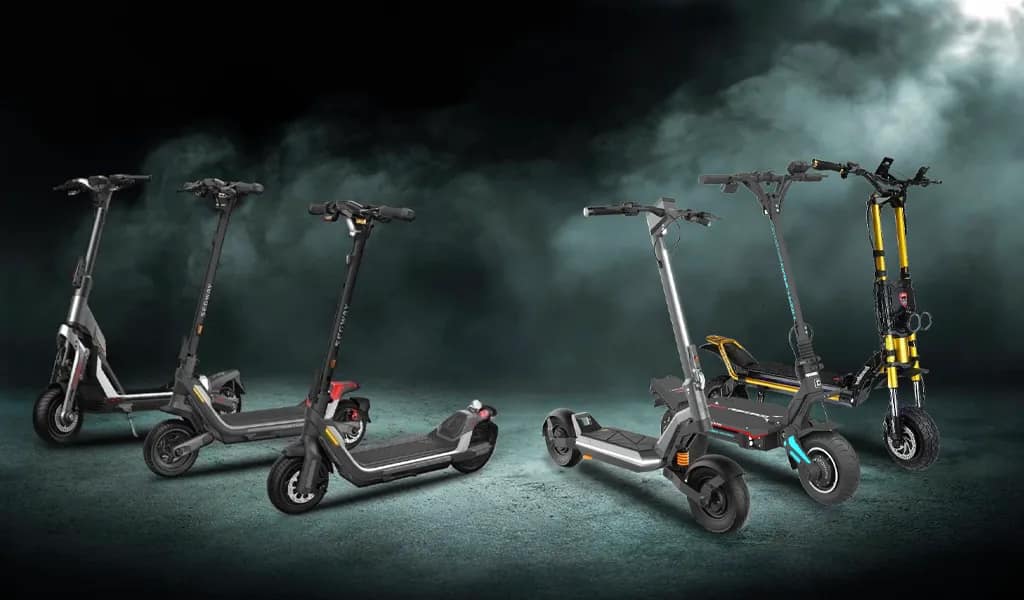 With over 200 tested electric rides under our belt, we embarked on a crucial mission: uncovering the best electric scooters. It is a tedious task because there's no universal solution, no one-size-fits-all. Electric scooters, much like their riders, exhibit unique preferences.
This formidable task took months of unwavering dedication and thorough groundwork. Countless hours were dedicated to hands-on testing, we actively sought input from the electric scooter community as well as 3rd party experts in the field, and we utilized our AI Volscribe to search through forums and reviews to gather verified-consumers input. Read more about our rigorous process here.
The result?
A complete guide to the best electric scooters that's not only highly detailed but easy to navigate and, most importantly, engaging to read(hopefully).
Despite the challenges, this journey is our greatest teacher. Immersed in thousands of customer testimonials and blending this invaluable wisdom with our own firsthand experience, we gain profound insights into the ever-evolving electric scooter market. We discern not only what people desire but also what most riders consider to be the top choices within each category.
Our commitment is to you, the future ride junkie, and in our eyes that includes detailed coverage of every electric scooter category imaginable, and ensuring that you can effortlessly pinpoint the scooter model that aligns best with your unique needs.
Now, pick a category that best suit you below, and let's embark on our quest to finding the ideal electric scooter tailored to YOUR NEEDS.
Best Electric Scooters For Commuting
Commuting is the most popular category, it is often the reason why people start to look at electric scooters in the first place. They want a more efficient and affordable way to get around on their daily errands, whether it be back and forth to work, or to get across the campus grounds between classes.
A commuter scooter is a model with low to mid-range power, they have a lighter structure than the performance class, can be easily folded and they excel while riding on even surfaces.
The ultimate commuter varies depending on the rider's needs. Whether you want an electric scooter that is optimized for longer commutes, zipping around in the city, or if you want something that gets you there fast. We've tested enough models to cover all the bases!
Here are our top 3 picks that will cover all your commuting needs, and should you want to delve into more options. Read our comprehensive comparison of all the best electric scooter for commuting.
When it comes to the ultimate electric scooter for commuting, the Apollo City is the front-runner. Its sleek design conceals a wealth of features that are almost too numerous to fully explore in a brief review summary – but we'll give it our best shot!
The 2023 Apollo City model boasts dual 500W hub motors, clocking in at a maximum speed of 31.1 mph (50 km/h) during our test ride. These powerful motors are complemented by a robust 48V/20Ah(960Wh) battery, providing a real-world range of up to 26 miles. With this kind of power under your feet, dependable brakes are a must, and the City doesn't disappoint. Equipped with a dual drum braking system, the Apollo City scooter delivers smooth yet prompt stops. What sets its braking system apart is the addition of a throttle-controlled regenerative motor brake, perfect for easing off during downhill descents or when full-force braking isn't necessary. This nifty feature also allows you to regenerate some battery power while on the move. Combined with its IP66 water rating, this electric scooter is suitable for riding in any weather conditions.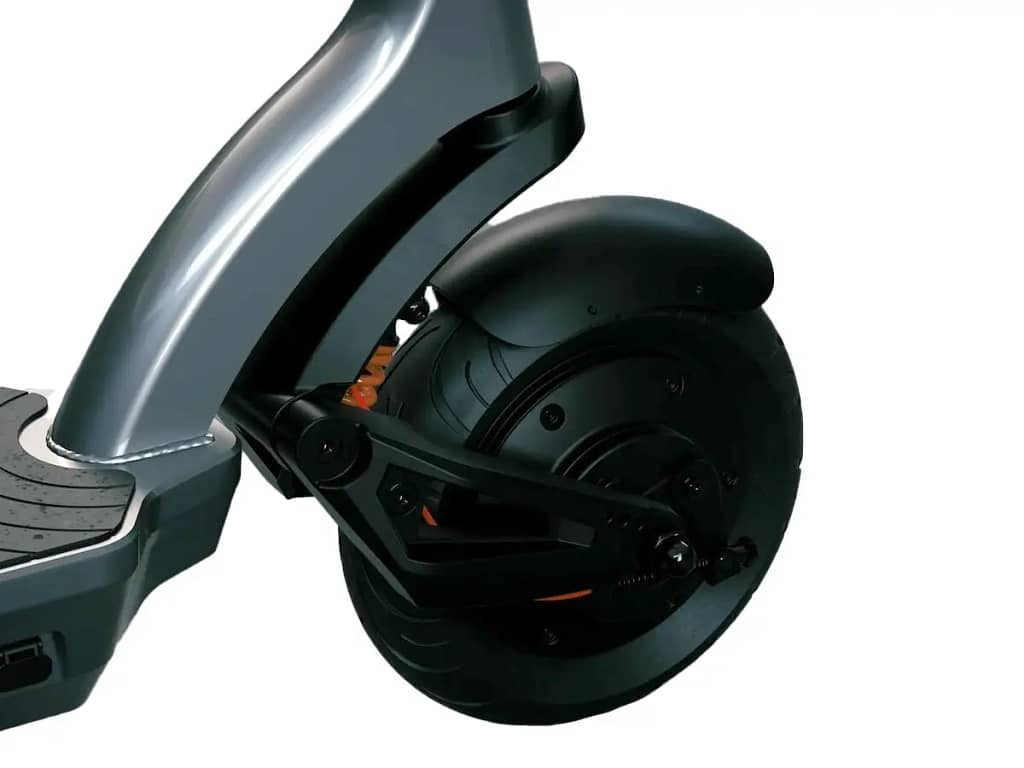 The scooter's visual appeal speaks for itself, but every aspect has been meticulously designed with rider comfort and safety in mind. Visibility is key when commuting, and Apollo's City scooter excels here, too, with turn signals on both the handlebar and frame, along with bright headlights and brake lights.
Thanks to its large 10″ self-healing pneumatic tires and a triple spring shock absorption system (two in the rear and one in the front), it ranks at the top among the smoothest commuter scooters available.
If you opt for the Apollo City, you're in for a genuinely enjoyable ride. It not only offers the ultimate commuting experience but also transforms the mundane daily task of getting places into exciting adventures.
NIU is still a fairly new electric scooter company, but they've made a big splash in the market pond. If you're looking to get as much range and power out of your dollar as possible their latest model the KQi3 Max is a real steal.
It is the most powerful in its series and comes equipped with a 450W rear-mounted hub motor which really packs a punch in terms of both speed and acceleration. We had no problem reaching a top speed of 22.1 mph and the fast acceleration makes it a blast to ride on. It is far superior to similarly priced models in the commuter class and handles even steeper inclines very well.
The motor is paired with a 48v/608Wh battery that gives you great mileage, especially if you're not going full speed. A worthy note is that usually in its price range models have 36v batteries and this bump to 48v really pays off in terms of power. During our test ride, we were able to reach 24.2 miles on a full charge riding with full power, just as we normally do.
It comes equipped with 10" self-healing pneumatic tires that give it some suspension, but nothing breathtaking and it can get a bit bumpy at times. It folds down nicely and the stem and locking mechanism is solid without play.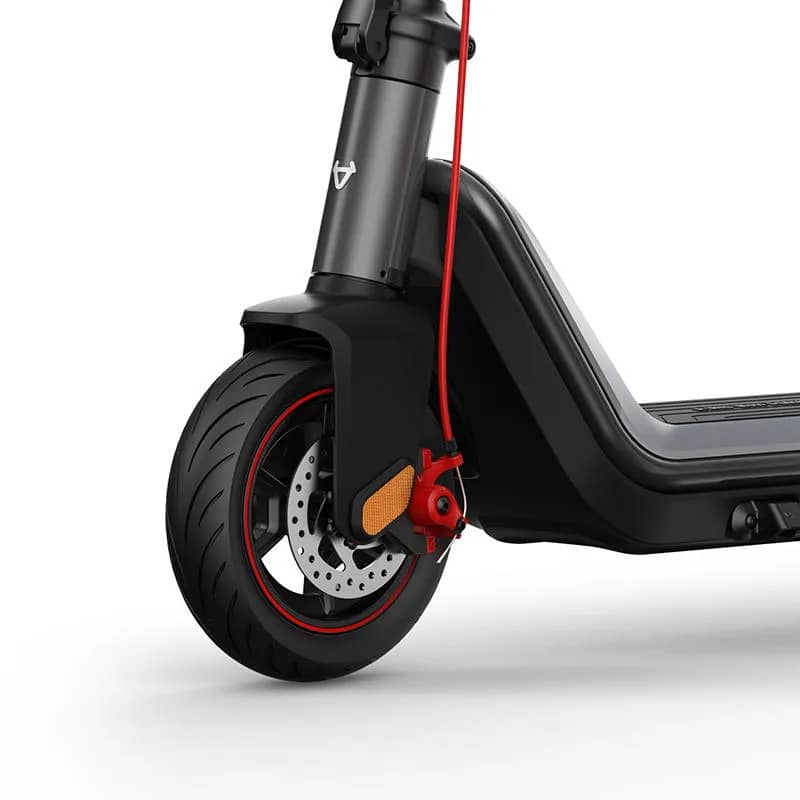 There is no lack of quality feel to the KQi3 Max and that is probably because it was built to be able to support heavy riders up to 265 lbs. It has a quality built frame with a wide deck and one of the best non-hydraulic disc brakes we have ever had the pleasure of using.
Its design is sporty and robust, but you can definitely see that it's not the lightest at 44 lbs it's light enough for you to carry it up a flight of stairs, but probably not much longer.
It does lack the signal lights that are common on many of the newer commuter scooters, but apart from that it has a full well-working lighting system.
The NIU KQi3 Max is the perfect commuting companion for those who want a quality scooter that gives them the most power per dollar.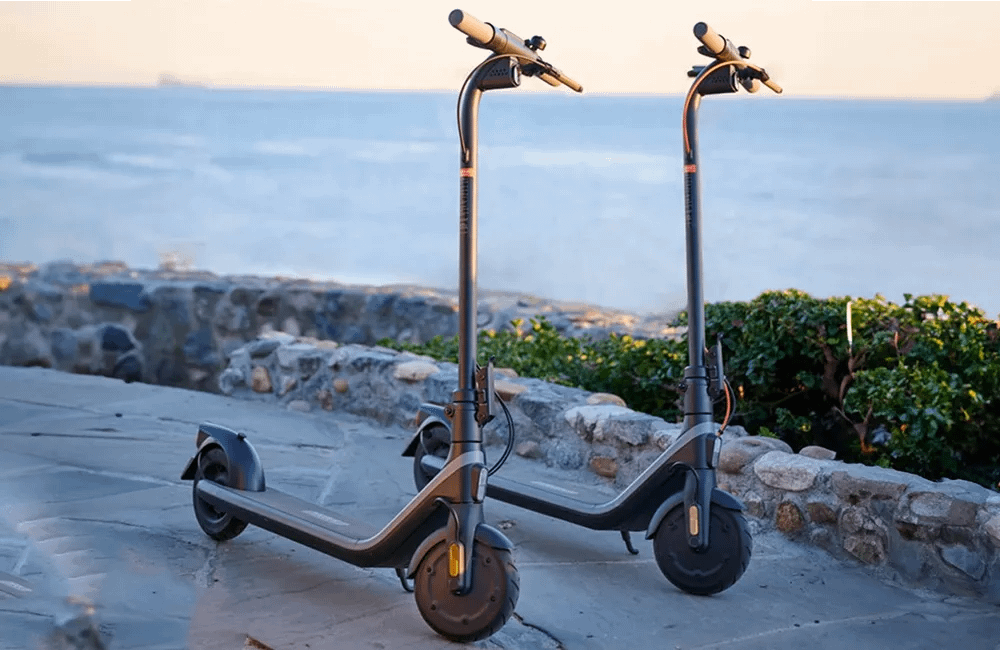 Introducing the Segway Ninebot E2 Plus, one of the latest electric scooters from this well-established brand. It's an excellent choice for budget-conscious buyers and beginners dipping their toes into the world of electric riding.
The E2+ boasts the timeless Xiaomi M365 design, complete with essential features like front and rear lights, a reliable kickstand, a user-friendly folding mechanism, and three versatile speed modes.
Under the hood, it's equipped with a front-mounted 300W hub motor paired with a robust 220Wh battery. During our testing, we reached a commendable top speed of 15.3 mph and covered a maximum distance of 9.8 miles. These figures are even more impressive when you consider that the E2+ costs less than half of the KQi3 Max.
One standout feature of the E2 series is the spacious new display. It's significantly larger and thoughtfully angled for enhanced readability compared to what you typically find on Segway scooters.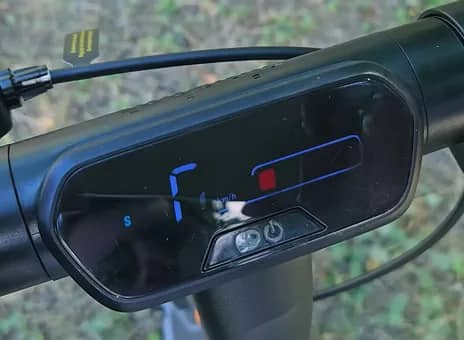 It comes equipped with 8.5" puncture-proof hollow tires that offer good grip and decent shock absorption. The E2 Plus also has Segway's signature drum brake on the rear wheel, combined with the regenerative motor brake, which delivers robust braking power.
While it may not be a speed demon, if your goal is to own a lightweight, easily foldable electric scooter ideal for navigating urban areas, the E2+ is an absolute must.
Best Long-Range Electric Scooters
This section is dedicated to the world of long-range electric scooters, where battery power reigns supreme, and where the thrill of covering substantial distances on a single charge is more than just a possibility; it's a reality.
But having lots of watt-hours isn't the only thing that makes an electric scooter go the distance. Not all batteries are created equal and you need to make sure the cells stand up to the test of time, on top of that everything else needs to be well-optimized too, so that you can squeeze out as much range as possible.
A long-range electric scooter, in our opinion, needs to have at least 25 miles of real-world range to even be considered. And it needs to do it in something other than the lowest power mode. I mean, who rides in Eco mode all day long? Boring!
These scooters are designed not just for efficiency, but to elevate your riding experience, ensuring that your adventures are limited only by your imagination.
Here are our 3 greatest picks for someone looking for an electric scooter with long range capabilities. For more options check out our in-depth article on finding the best long range electric scooter.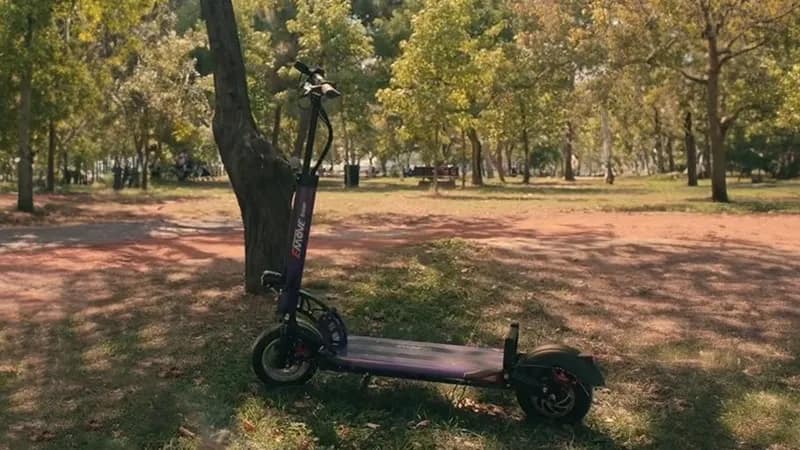 Ever since VoroMotor's launch of the E-move Cruiser in 2019, it's been the go-to model for people looking to get the most range per dollar spent. Through the years it has had multiple upgrades and its latest iteration is no different. Presenting the 2023 E-move Cruiser S, the eraser of what we in the industry like to call "range anxiety".
Surprisingly the new Cruiser comes in lighter than its previous version at 56.5 lbs, while not compromising on its quality or its ability to support heavier riders of up to 352 lbs. It delivers one of the best riding experiences in the sub-$1500 category and in terms of performance, it over-delivers in almost every test in comparison to similarly equipped scooters.
With a rear-mounted 1000W motor topping out at a tested speed of 31.9 mph you don't just get the range you get a pretty darn good amount of power to play around with. In fact, the Cruiser S outperforms almost every other scooter within the same power and price range when it comes to both acceleration and speed. The scooter has a 1560Wh large battery pack that uses 21700 lithium cells and during our test ride, we got an impressive 43.6 miles of range. With an advertised range of 62 miles, that is quite a remarkable achievement.
Riding is extremely comfortable thanks to a quad suspension setup with 2 front and 2 rear springs, paired with large 10" tubeless pneumatic tires. Thanks to its large deck you get a ton of foot space and that's also one of the features that make it such a loved scooter among heavier people.
It has a sine-wave motor controller and comes with a thumb throttle as standard, although you can opt for 3 other options: trigger, twist, and paddle, depending on your preference. Sine-wave also gives you a nice visible handlebar-mounted display with all the bells and whistles like a horn, mode settings, light switch, and even frame-mounted turn signals, all the things we've become used to with quality scooters.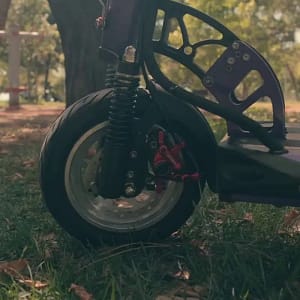 The Cruiser S comes equipped with front and rear disc semi-hydraulic Xtech disc brakes, on top of the well-optimized regenerative motor brake. Together they give you rapid and smooth braking power and there is little to no play in the brake levers.
There are a ton of more to be said about this great and versatile long-range electric scooter, much more than can fit in a short review summary. So make sure to read the full E-move Cruiser S review, and be prepared to get blown away.
It's a middle-weight electric scooter optimized for quality, comfort, and range. It is easy to ride, gives you great performance, and is highly praised amongst all types of riders from beginners to professionals.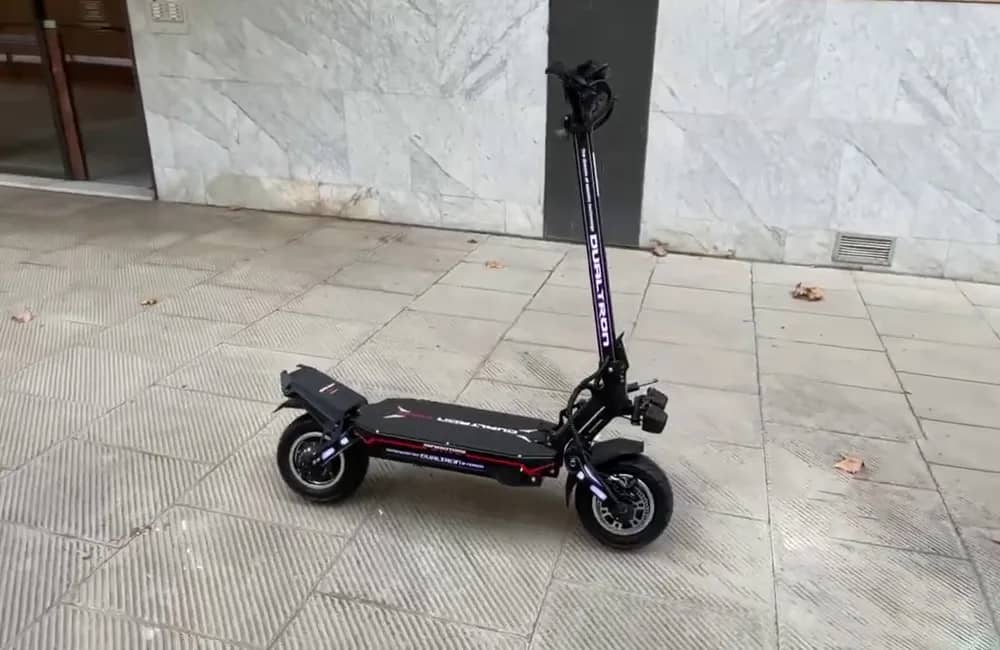 If you're the kind of person who's looking for the top of the cream when it comes to long-range electric scooters, then the Storm LTD by Dualtron is your ticket to heaven.
Fully equipped with all the latest and greatest stuff this powder keg of an electric scooter has far too many nifty features and functions to cover in a short summary, but we'll go through the most impressive ones.
It is one of few electric scooters running an 84v battery setup with 45Ah, giving it a total max output of 3780Wh. The advertised range is 135 miles, but as you know this is under optimal conditions, but the Dualtron Storm Limited did not disappoint with a mind-blowing 68.3 miles during our test ride.
Equipped with two insanely powerful hub motors with 5750W of peak power, that gives you a total of 11,500 watts propelling this beast of an electric scooter forward. The acceleration is snappy and it makes it really fun to ride During our test we were able to reach a 60.3 mph top speed, and we noticed a great safety future: The double tap trigger. This means you have to double-tap the trigger in order to unlock the full power of the motors, this is a great feature that makes it easy to avoid accidentally spinning out during curves.
You get a ton of other fun stuff like hazard lights, turn lights, front and rear lights, a horn, and a fingerprint reader with the ability to add u to 10 fingerprints. You also get a 4amp charger that is able to fully charge the large 3780Wh battery within 11 hours, if you use two simultaneously you can get that down to about 5-6 hours. The rigger is great and has zero dead-zone or lag and it makes it feel like you're wired straight into the motors.
For braking the Dualtron Storm is equipped with double hydraulic Nutt disc brakes of 150mm giving you ample stopping power, just have to brace yourself and hit the brakes and you'll slow down into a full stop in no time.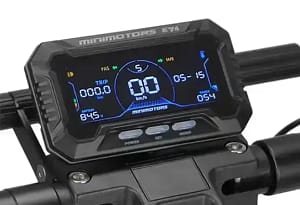 When it comes to comfort this scooter has a front and rear adjustable rubber suspension system that might feel a bit stiff to begin with, but they'll get softer as you go. You have large self-healing 11" street tires with some quite basic traction if you ask me. For city riding, I'd definitely go for a couple of racing tires or slicks as this monster has no problem with burnouts. The best thing is that the motors and rim are separate so you can have an additional set of rims for off-road tires and switch between them.
For extra stability when going at higher speeds, it comes with an excellent steering dampener as standard which does a great job. You get the longest deck of any electric scooter we've tested to date and it's plenty wide, and it has a rear grip-taped footrest. This monster scooter has no problems handling heavy adults.
It has a lower handlebar height in comparison to many other scooters within its category. But this is the way Dualtron does it across the board, so if you prefer a higher handlebar be prepared to buy a raiser. It suffers from the standard Dualtron squeak after riding it for a while, so make sure you have a canister of grease at home.
This scooter is a blast to ride and it has by far the best range out of any scooter we've tested so far. It is an excellent investment for the enthusiast who is already deep into electric scooter riding and is looking to up their ability to go far and do it fast and comfortably.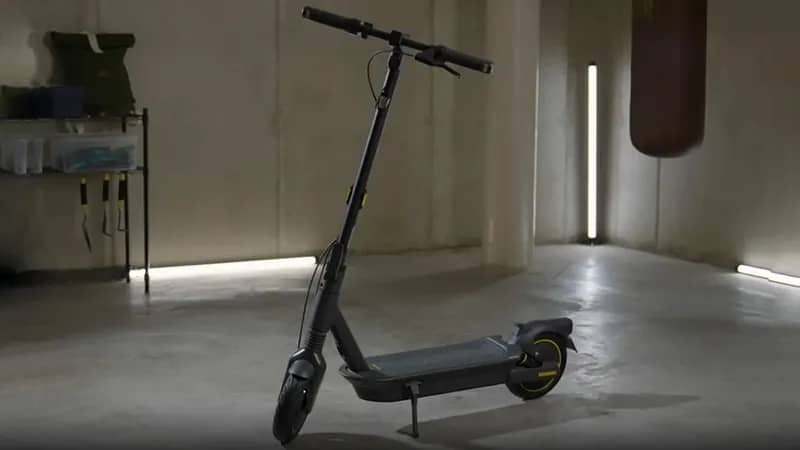 The predecessor to the world-famous Max G30 is Segway Ninebot's latest addition to the series, the Max G2. After 4 years of being one of the best-selling electric scooters, it was time for Segway to upgrade the famous G30, and upgrade it they did. The Max G2 comes with a better battery and a stronger motor, equaling better range, and a higher top speed, and it's gotten a lot of comfort and cosmetic updates.
It has a new performance-optimized 450W rear-mounted hub motor that can deliver a peak power of 1000W, which translates to a 21.1 mph top speed during our test ride. The scooter has the same battery capacity as the G30 of 551Wh, but thanks to the optimization of the scooter's battery management system as well as the motor it has a better max range, in a real-life setting you can expect up to 28 miles of true range.
You get a front hydraulic suspension as well as a double rear spring suspension system, making it one of the more comfortable and smooth long-range commuters in its price class. Paired with Segway's new self-healing 10" tires which have a good grip on most all surfaces, even during heavier rain.
On top of that, it's gotten a new larger and better display, a larger and more grippy deck as well as an improved folding system. The scooter is quite heavy, for what you get but at 42.1 lbs it is still far lighter than the two above-mentioned models.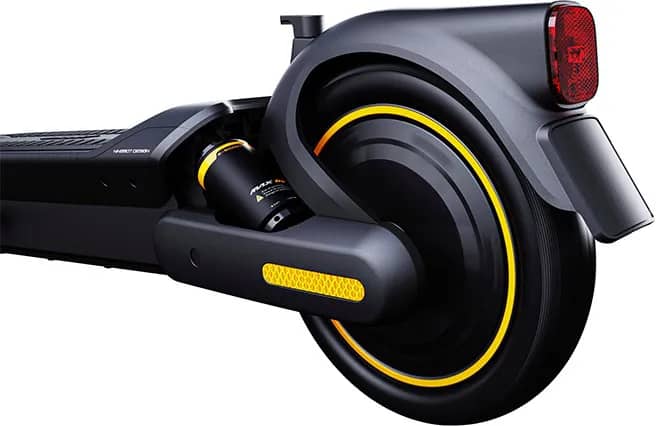 As with all Segway scooters, a lot of the Max G2's performance from limiting speed to adjusting the effectiveness of the regenerative brake are customizable in the Segway Ninebot app. It also has 4 different speed modes to choose between in order to limit the top speed of the scooter to the user's needs.
The Segway Max G2 is an electric scooter for those looking for a reliable push-and-play electric scooter that will withstand the test of time and handle every commute task you put it up against.
Best Electric Scooters For College Students
College life is an exhilarating journey filled with classes, exploration, and, of course, the need for convenient transportation of you and all those heavy books between classes!
In this section, we'll introduce you to electric scooters tailored to the unique needs of a college student, offering a smart solution for navigating expansive campuses and bustling urban environments.
The best electric scooters for college students strike a delicate balance between portability, performance, and affordability. They should be nimble enough to navigate crowded pathways and compact enough to fit snugly in a cramped dorm room. These scooters are your reliable companion, helping you effortlessly transition from one lecture to the next, explore nearby neighborhoods, and ride around completing various errands.
We've carefully curated a selection of top choices that are compact, budget-friendly, and provide a smooth and enjoyable ride for any present or future student. These scooters are more than just a mode of transportation; they're your key to making the most of your college journey.
Here are our 3 favorite electric scooters for college students.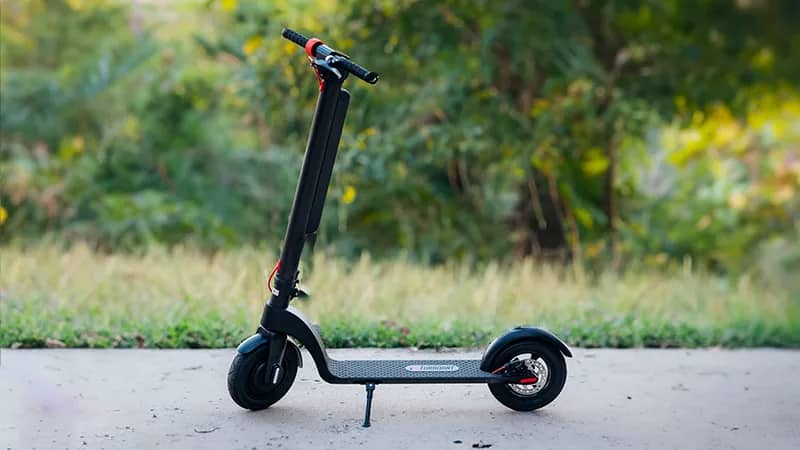 The X7 Pro from TurboAnt is a model that is somewhat close to my heart. Why you might ask? Well, I was fortunate enough to get the first version of the X7 back in early 2019 and that exact model stands in the most easy-to-reach spot in my garage. Because I still use it on a daily occasion today, 4 years later. I have yet to have to change or repair anything but a few flats, and that is a fairly simple process.
What you get with the newer model the X7 Pro is, well, everything. Let's start with the increase in rage. The new battery is still detachable but it is now attached to the stem, instead of inside the stem, much like on the ES-series from Segway. It is a 36V battery that packs a total of 360Wh, which means that you students can expect a real-world range of up to 17.6 miles per charge.
Since the scooter has a detachable battery you can extend your ride up to double the distance by adding an extra to your backpack, the one I suspect you're having since you are a student after all. In addition, detaching your battery makes the scooter much lighter and you can carry it far easier, it also makes the gripping of the stem much more comfortable. Also locking and leaving your electric scooter on the campus without a battery attached, will be a surefire way to deter thieves from even bothering with stealing it.
The TurboAnt X7 Pro comes with a 350W front-mounted hub motor that was able to achieve a top speed of 19.1 mph during our test. The speed and torque did decline quite dramatically hitting the sub 50-25% battery level range.
It comes with 10" pneumatic tires that use tubes which means it is prone to flats. It is quite easy to change them yourself, but if you prefer, any regular bike shop should be able to handle it for a couple of dollars. The tires give the ride excellent comfort and suspension for an electric scooter that comes with none and the deck is nice and thin having the battery and electronics on/in the stem.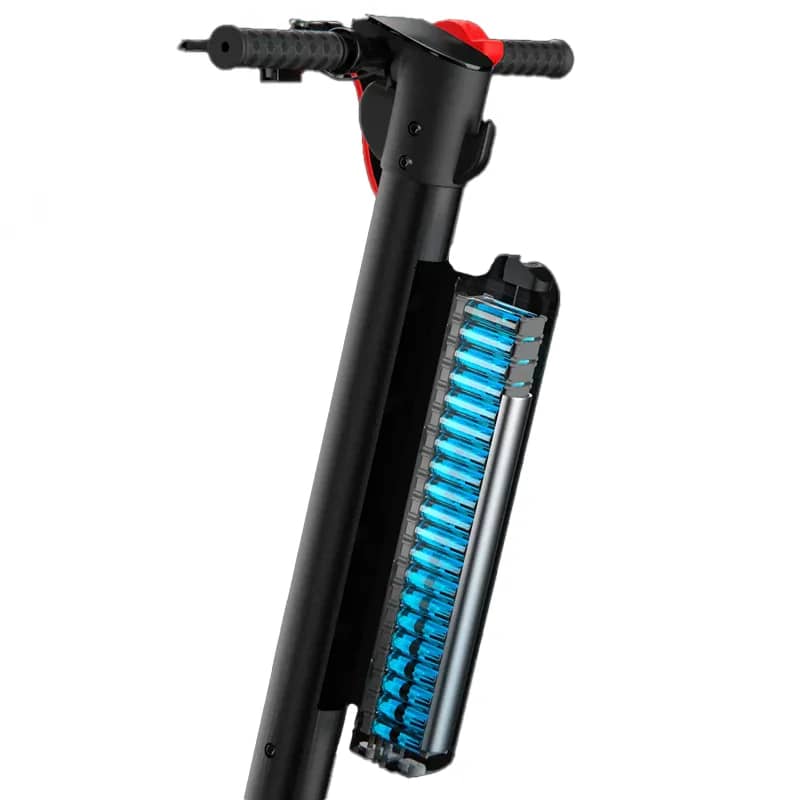 The X7 folds down nicely and if you detach the battery you have a really lightweight scooter to work with, it is a bit front-heavy when carrying it. But since it has a front-mounted motor that adds to better grip when you're riding it.
The X7 Pro is a great scooter for college students due to its adaptability. Having that detachable battery is going to be a really neat feature from many different perspectives. One being the theft deterring one, two being the ability to extend your ride, 3 being increased portability being able to have it in your backpack. So If you're looking for a nimble yet powerful electric scooter capable of handling the everyday tasks of someone living on a campus, take a good hard look at the Turboant X7 PRO.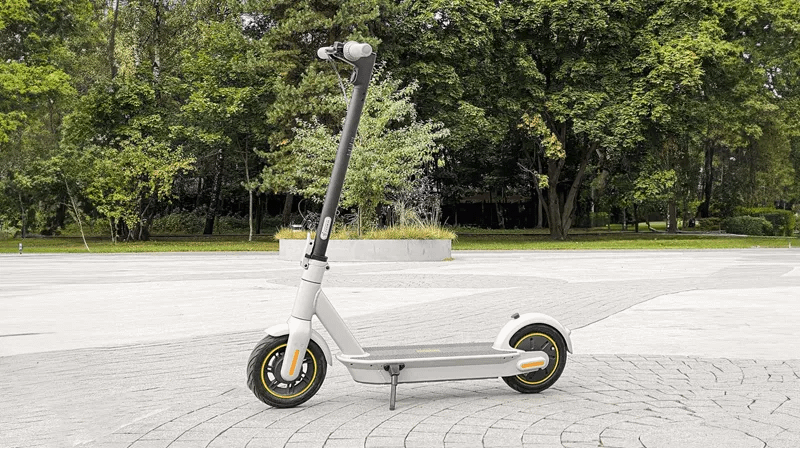 The lightweight champion of the Segway Max series is the Ninebot Max G30LP, where "LP" stands for lightweight and portable (or at least that's what my brain interpreted it as). The G30LP weighs in at a mere 38.6 lbs, almost 4 lbs lighter than the standard G30P.
It boasts a powerful rear-mounted 350W motor and a 367Wh battery, capable of reaching a top speed of 18 mph and covering a distance of 13.4 miles during our test run. Impressively, it performed almost as well as the original Max when tackling a 10% incline during our hill climbing test.
The G30LP features a front drum brake and a rear regenerative motor brake, providing competent braking power. However, it does require a bit more caution when braking on wet roads. Its "self-healing" 10-inch pneumatic tires, filled with Slime, offer a smooth and well-suspended ride. As expected from the Segway brand, you can count on high-quality and reliable performance, and the same holds true for this Max model. It has a slightly smaller deck compared to the standard Max G30 and a lower handlebar, making it less accommodating for taller riders. It shares the same frame as the original Max and folds down neatly, but its lower weight makes it more portable.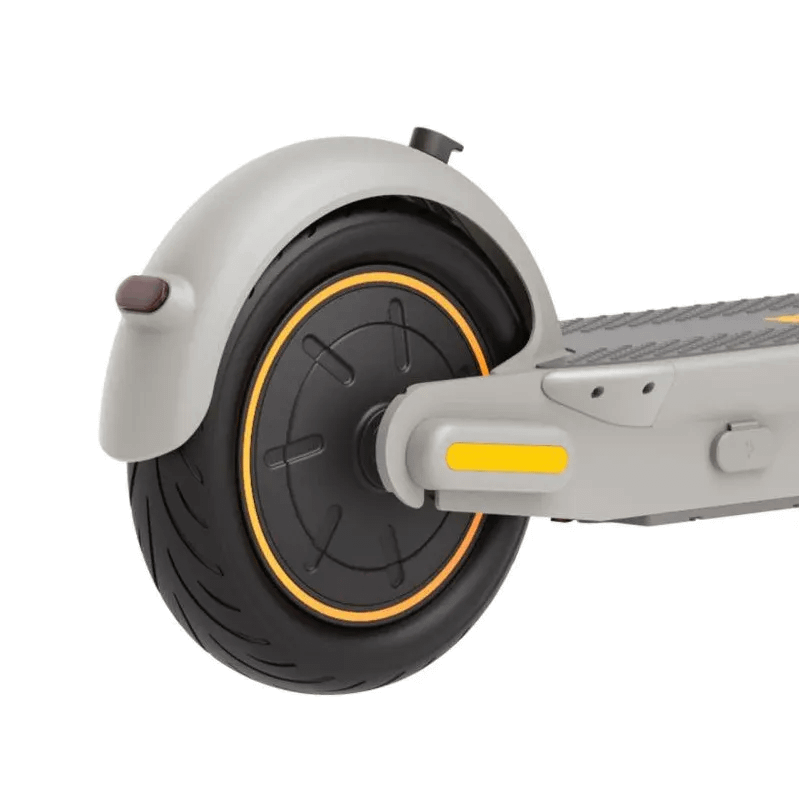 One of the main advantages that make the Segway Max G30LP an excellent choice for students is its built-in converter. This means you don't have to lug around a large bulky charger; instead, all you need is a regular cable, like the one used to power the library printer. I highly advise against stealing it, but you could borrow it for a short while to recharge your ride while perusing the bookshelves for a good read.
If you're looking for a reliable, easy-to-use ride around campus that can be recharged conveniently, then the Segway Ninebot Max G30LP is a fantastic companion for your campus adventures.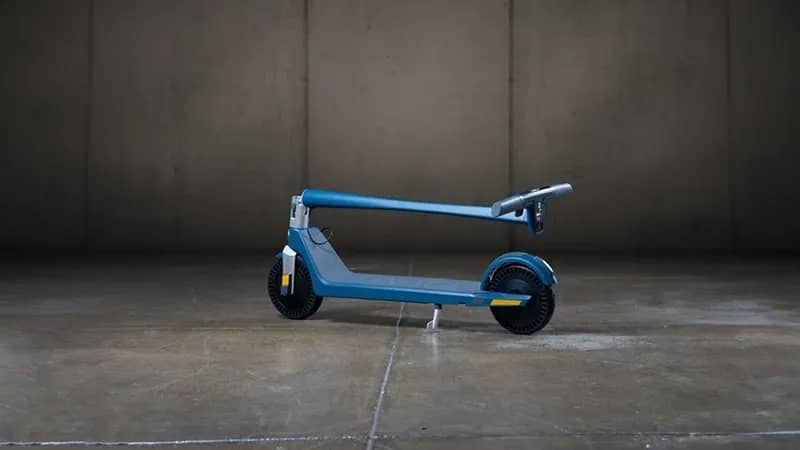 Unagi's unique approach to electric scooter rental sets it apart in the world of personal transportation. Unlike the usual scooter-sharing apps that scatter scooters throughout the city, Unagi offers a more personal experience by renting scooters on a monthly basis. For as little as $59 a month, you can enjoy their entry-level model, the One, while the premium Voyager can be yours for just $69 a month. If you decide to buy instead of renting you'll have to toss up a good $1,190.
These scooters are not only functional but also exude an elegant and modern design, making them ideal for college students seeking both style and convenience.
What sets the Voyager apart from the crowd of lightweight electric scooters, weighing in at under 30 lbs, is its dual-motor setup. Each motor boasts 250W, resulting in a combined 500W nominal power and an impressive 1000W peak power. With this configuration, the Voyager can whisk you across the campus at speeds of up to 19.4 mph, although do note I am a mere electric ride technician and have no clue what the campus regulations are.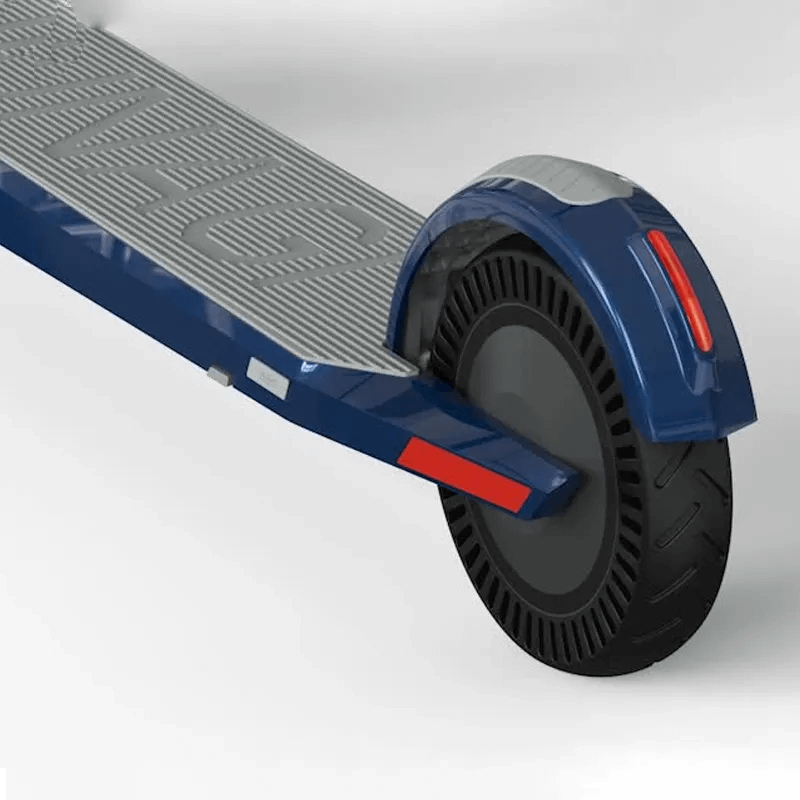 Powering these motors is a 36V 360Wh battery, and during our standardized testing, we achieved an impressive 19.8-mile range on a single charge. This range ensures you won't need to worry about recharging during your daily college activities.
The Voyager also excels in the braking department, offering a powerful regenerative brake and a rear foot brake for reliable stopping power. Its 7.5″ honeycomb tires provide excellent traction for city riding, although they may not be as comfortable on longer journeys over rougher terrain.
Whether you want to make a stylish entrance on campus or simply need a dependable electric scooter to navigate your daily routine, the Unagi Voyager offers a sleek design and performance to match. It's a winning choice for college students looking for both form and function in their daily commute. And let's not forget, with such a neatly packaged scooter you're bound to fit it into any dorm room!
Best Weatherproof Electric Scooters
Many times when you plan a ride Mother Nature doesn't always want to cooperate with those plans, and when it comes to electric scooters, that can prove to be quite the challenge. In this section, we'll introduce you to a lineup of electric scooters that are unyielding in the face of adverse weather conditions, be it rain, snow, or sleet.
Our selection of the best weatherproof electric scooters prioritizes one crucial factor: their ability to conquer unpredictable weather. These scooters boast high water resistance capabilities, which means they have a high IPX rating, ensuring they can effortlessly navigate through rain-soaked streets without missing a beat.
For those braving the icy depths of winter, we also have you covered. We recognize that solid rubber tires won't cut it when you're navigating snowy terrains. That's why we've considered electric scooters equipped with the right set of tires to provide the best possible grip, even in snowy conditions. However, we're not magical workers, you need of course adapt your riding style to the weather in some fashion.
Now let's explore a range of electric scooters that defy the elements, ensuring that your ride remains smooth and secure, regardless of what weather surprises may come your way.
Here are the 3 best all-weather electric scooters, so you can continue your journey with confidence, come rain or shine.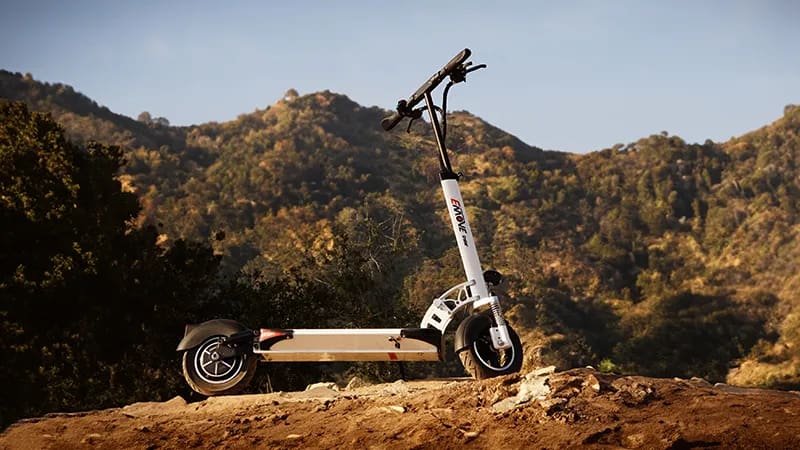 One of the best long-distance commuters is back to grab yet another top position, now in the category of weatherproof electric scooters.
The E-move Cruiser S is a fantastic IPX6-rated electric scooter that doesn't just handle the occasional splash of water according to our tests. We drenched it with a hose and then disassembled it to see what damage might have occurred. Nothing, literally not a single tiny drop of water had reached any of the crucial points such as the inside of the Cruiser's motor or battery, so we went on to the rain-riding phase of our test. We rode the Cruiser for a good hour in the pouring rain and although I myself was very wet due to the rain, the splash guards did a great job protecting me from any water getting thrown up from behind.
At first glance, the front splash guard on the Cruiser S looks a little bit tiny, but if you consider where the water goes as it spins, you see that it does the job.
It utilizes semi-hydraulic disc brakes so you need to be cautious, but there were no signs of alarm when riding. Thanks to its disc and motor brake combo it was able to keep about 75-80% of its normal brake effectiveness.
The Cruiser comes with a single rear-mounted hub motor of 1000W(peak 1600W). It has rapid acceleration and we were able to reach a good 31.9 mph top speed. Something I like about the E-move scooters is that their advertised performance does not differ much from what we achieved in our tests, and considering we do all our testing in the highest P-setting and in a real-life setting, that is quite remarkable.
The motors are powered by a large 52v battery of 1560Wh able to deliver a realistic distance of up to 43.6 miles, which should be more than enough to cover most people's needs.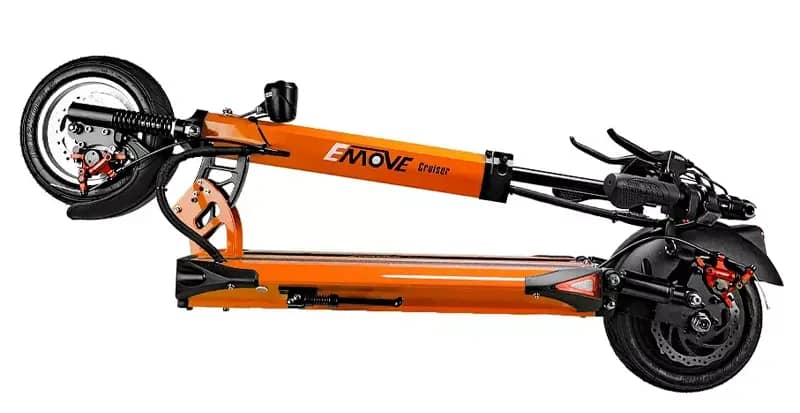 It is a bit heavier than your standard commuter scooter, with its sturdy structure and large battery it weighs in at 56.5 lbs and can accommodate riders up to 350 lbs.
The large 10" pneumatic car-grade tires have a good pattern for pushing water aside and they give excellent grip during both rain, dry, and even snow. However, when riding on snowy surfaces I suggest you don't fill the tires to the recommended PSI, make it 10-15% less. This provides you a bit wider grip and makes the ride much more stable and "grippy".
A nice reliable sine-wave 25A controller with a display and a responsive thumb throttle that lets you make slight adjustments to speed without accidentally pushing it too deep.
The E-move Cruiser is an electric scooter that would fit most people's needs. It is a bit heavier than your average commuter, but it also goes at least two times further on a charge, and its sturdy structure gives it 100+ lbs extra load capability in comparison to regular commuters like the Segway Ninebot Max.
If you are looking for an electric scooter able to handle any commute and to do so no matter if the roads are filled with snow or water, the Cruiser S will deliver the most reliable and enjoyable ride. No other electric scooter comes close to offering the same amount of performance and quality per dollar as Emove.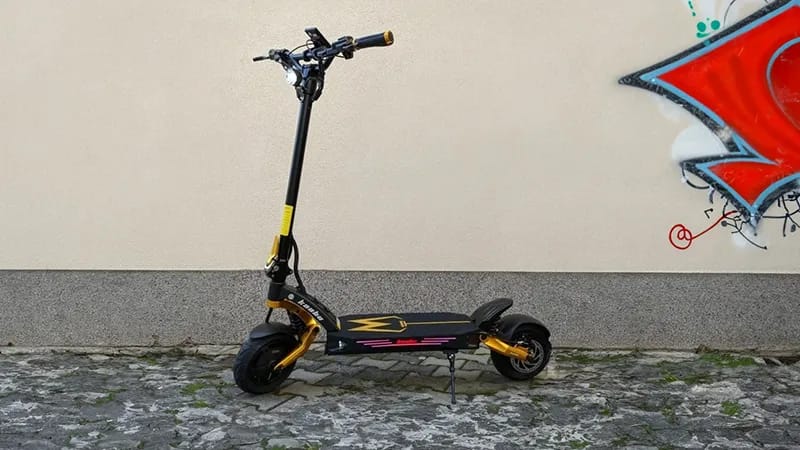 Straight out of the box, the new Mantis from Kaabo proves to be an exceptional all-terrain electric scooter. Boasting an IPX5 classification, it confidently handles snowy weather conditions, although there's always a slight risk involved. The scooter's tires feature an impressive profile for navigating snowy roads on their own. However, for those seeking an even more snow-proof grip and enhanced quality during icy rides, consider opting for a second set of studded snow tires. That's right; Voro Motors offers a specialized tire set designed explicitly for Mantis users who want year-round riding capability. These 10-inch tires sport a deep profile and large studs to ensure exceptional grip, whether you're tackling snowy roads or navigating pure ice.
The Kaabo Mantis King delivers a significant power punch right at your fingertips. Outfitted with dual 1100W hub motors, this equates to over 4200W of peak power. During our testing, we achieved an impressive top speed of 44.7 mph, and the acceleration is nothing short of fantastic, yet it retains a smooth speed transition thanks to its 30A Sinewave controller.
Equipped with a 1440Wh 60V battery featuring Samsung cells, the Mantis King provides a real-world riding distance of 38.5 miles on a single charge.
In terms of ride comfort, the standard 10-inch hybrid tires offer some suspension but can be a bit noisy. The most substantial improvement in comfort comes from the front and rear hydraulic suspensions, which are adjustable via a small dial, allowing you to fine-tune them to your preference.
The folding system has seen improvements, making it significantly easier to fold the new Mantis King GT compared to earlier versions. However, it's worth noting that the stem isn't as fixed as in similarly powerful models.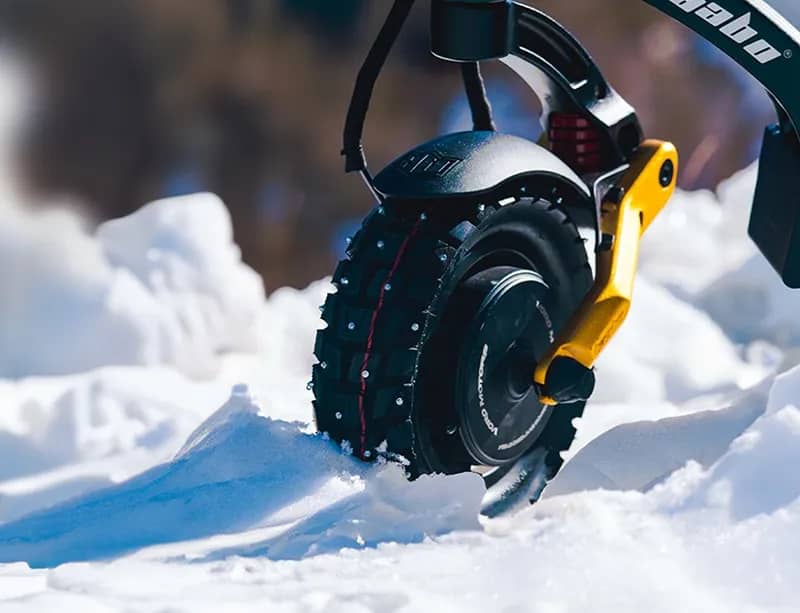 Another winter riding perk is the presence of dual hydraulic disc brakes, which remain unfazed by freezing temperatures. While the discs may experience a slight reduction in braking power when wet, we didn't notice any significant differences. Paired with the steel studded tires, you'll still come to a halt much sooner than any other electric scooter with standard tires.
It's challenging to encapsulate the greatness of this electric scooter in such a short summary, but if you're in search of an electric scooter that can confidently handle the winter months while excelling in warmer or wetter conditions, then the Kaabo Mantis King GT is tailor-made for you.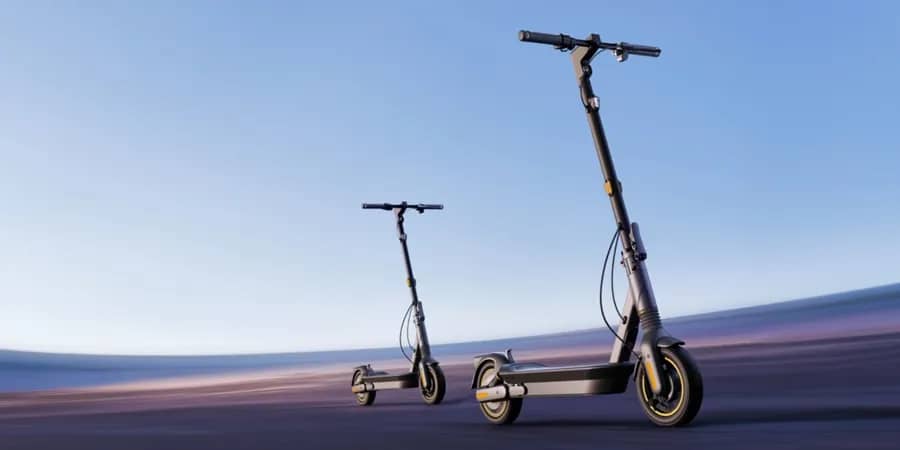 My first Segway Ninebot Max G30 has 4 years of riding on its neck. I've used it in both heavy rain, snow, and burning heat, yet it just keeps on delivering. That is why I like to suggest the Max G30 to consumers looking to strike a bargain. The G30 is a bit more expensive than similar scooters in its performance range, but not by a lot, and none that has proven to be as reliable as the Max.
The Max G30 comes with a 350-watt rear-mounted hub motor that we clocked to 18.4 mph. The acceleration is good and it achieved 15.5 mph in 5.3 seconds from a standstill, the motor also boasts ample power to get up our 10% incline test. The best part about the Max is that it packs a quite large battery in terms of its price, 551Wh. It translated to us being able to get a total of 21 miles out of it during our test ride.
The scooter is IPX5-rated which means it has good protection against rain. If you ask me the best in its class, apart from its latest version the Max G2 which has even better water resistance. My old Max still rides super well to this day after having been used in all types of weather for 4 years.
If you are looking for an affordable electric scooter that can handle the occasional rainy commute then the Segway Ninebot Max G30 is a must, if you want a bump in performance and water protection you can opt for the new slightly more expensive Max G2.
Best Electric Scooters With Seat
Here it is all about comfort and convenience: the best electric scooters with seats. These scooters are designed to offer a riding experience that's a cut above the rest, prioritizing rider comfort.
One of the primary advantages of an electric scooter with a seat is the added stability it brings to your ride. If you're navigating uneven terrain, dealing with mobility issues, or simply prefer a seated position for better balance, these scooters are a game-changer.
Imagine cruising through the city or along scenic paths at higher speeds, all while seated comfortably. These scooters are tailored to provide a smooth, enjoyable ride, even when you're pushing the throttle to its limits.
Some electric scooter models come with add-on seats, allowing you to detach the seat when you prefer to stand or reattach it for a more relaxed journey. It's all about flexibility and catering to your specific needs.
So, whether you're looking for a scooter that accommodates a disability, offers enhanced stability, or simply provides a more comfortable ride, our top picks in this category have got you covered. Say goodbye to sore legs and hello to the 3 best seated electric scooters that will enhance any commute.
The Roadrunner V2 from Emove is not your average electric scooter, it has a unique design similar to a smaller bike with footrest instead of pedals. Its unique design gives you a really comfortable seated position and the handlebars are easy to adjust depending on your posture/height. The seat, featuring memory foam, cradles your backside with a supportive yet gentle embrace, making extended rides an absolute pleasure. Combine these features with the convenience of a removable battery, a dual motor setup, and generously sized 14-inch tires, and you're in for an incredibly enjoyable and comfortable ride.
There's no middle ground with the Roadrunner; it's purpose-built for comfortably seated commuting. The 14-inch pneumatic tubeless tires provide respectable shock absorption on their own, and Emove takes it a step further with a high-quality Manitou Absolute spring suspension front fork, conveniently adjustable with a simple dial.
The Emove Roadrunner V2 has a dual motor setup with a 350W hub motor in the front and a 500W motor in the rear giving you a total of 850W nominal power at your disposal. During our test ride, we were able to get it up to 36 mph and the acceleration was rapid yet smooth enough not to feel jerky.
You can expect a real-world range of up to 35 miles on a single charge, and as noted the scooter has a detachable battery which means you can double that range with a spare battery. With a commendable weight capacity of up to 330 lbs, this robust machine offers ample speed and distance, even for riders on the heavier side.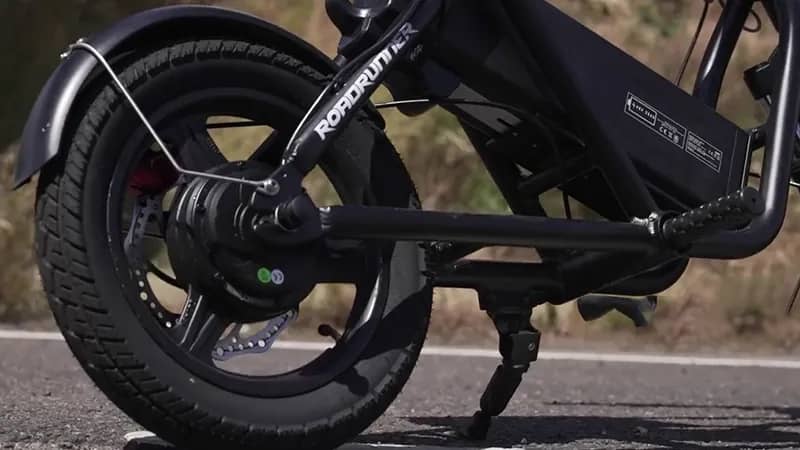 Impressively, its portability remains unhindered despite its resilient build, tipping the scales at 63 lbs. The foldable handlebar and tool-free peg removal further enhance its convenience. Safety remains paramount, with features such as turn signals, brake lights, rear and headlights, ensuring secure navigation amidst traffic.
We recommend the Emove Roadrunner V2 as a great choice for those in search of a plush, steady ride imbued with a formidable punch of power, all while upholding ease of control and operation. Without question, it stands out as one of the most luxuriously comfortable rides we've had the privilege of testing, without the slightest compromise on the thrill factor!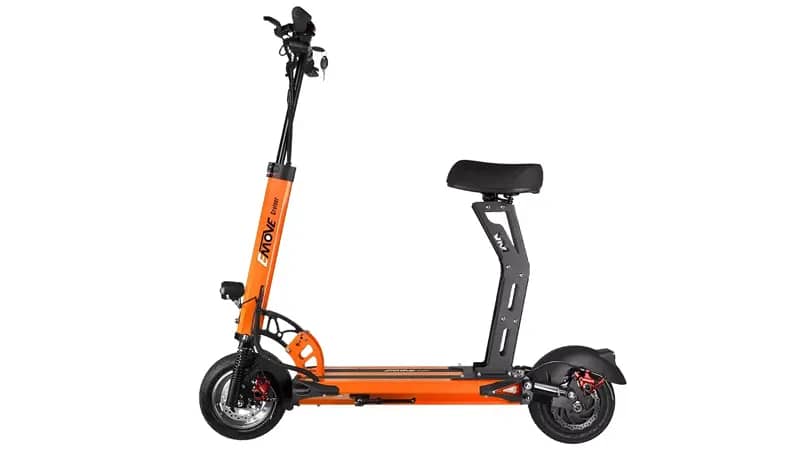 With the risk of getting repetitive here, we are going to give you the basic stats and then look at the Emove Crusier S's benefits specifically as an electric scooter with a seat attachment.
You get a very durable high-performance scooter with a 31.9 mph top speed and 43.6 miles of range, confirmed and tested by us. By far one of the most waterproof electric scooters on the market and is the number 1 choice for us in multiple categories, and it's no different when it comes to the best electric scooter with a detachable seat. The Cruiser S has a long deck, which gives you plenty of space for your feet and a seat, this lets you stretch your legs while riding.
When you get the seat it comes with a metal base that can be easily attached to the far rear end of the deck through pre-drilled holes. The seat itself is comfortable, plushy, and has ample space for both small and bigger bottoms. It is a must-have accessory for the Cruiser S, especially considering the range this bad boy is packing. The scooter is so roomy that you can even add a storage case underneath the seat for some extra packing. The seat is adjustable, as is the handlebar height, so you can customize them both to your liking for excellent riding posture.
As we have noted plenty of times before the Emove Crusier S is the bang for your buck in terms of range per dollar, and it's miles apart from the competition. If you're looking for an electric scooter that is great for both shorter standing commutes, and longer commutes while comfortably seated, then the Cruiser S is the perfect fit for you.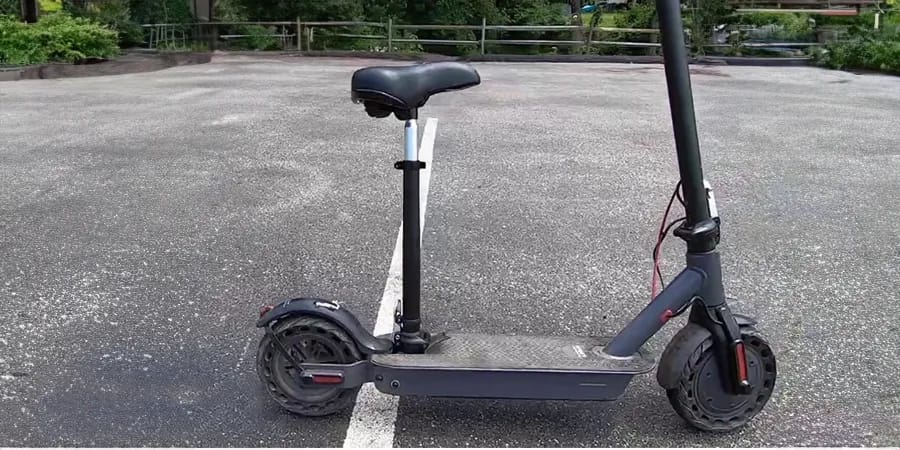 The S2 Pro from Hiboy is a very popular commuter scooter and for under $500 you can get it with a detachable seat much like the above Emove Cruiser S. While being the budget option, it still packs a good amount of power.
During our testing of the Hiboy S2 Pro, we were able to reach a maximum top speed of 18.6 mph and the 36V 417Wh battery was able to push me around for a total of 14.7 miles in the highest power mode. The S2 models come with a mobile app and different speed modes.
The seat attachment has a comfortable large seat with some suspension to it, you can adjust it in height and it was really quick and easy to install and detach upon need. It feels very sturdy and durable, yet using aluminum it doesn't add a noticeable weight to the scooter. And the best part is you can still fold it and lift the scooter, not hindering the portability of the S2 Pro at all.
The drawback of the S2 Pro is its tires, equipped with 10" solid honeycomb tires and a rear dual-spring suspension it still doesn't handle cracks and caveats as well as a scooter with pneumatic tires.
If your main focus area is to get around cities where the roads are nice and pristine the S2 Pro is going to give you ample range and power to do so while being comfortably seated may I add!
Best High-Performance Electric Scooters
Welcome to the high-performance section of electric scooters, where power is king!
If you crave power, speed, and an overall exceptional riding experience, then you're in the right place. Our focus here is on the best of the best when it comes to electric scooters, the thoroughbreds of the scooter world.
These scooters are all about pushing the boundaries. They pack a serious punch, boasting powerful motors that propel you to unimaginable speeds. If you need to cover a substantial distance without breaking a sweat, these machines boast batteries two times or more, bigger than your regular commuter scooter.
But it's not just about speed and range. No because with power comes responsibility, so these rides need to have unbeatable durability and sturdiness. These scooters are built like tanks, with robust structures that can handle even the most daring ride junkies(and yes, I am talking about myself).
They come equipped with larger tires that provide exceptional grip, ensuring you stay firmly planted even on less-than-ideal surfaces. Suspension systems that are top-notch, providing a smooth and comfortable ride, even at breakneck speeds. Many of these scooters are equipped with not one, but two motors, delivering jaw-dropping acceleration and torque.
Safety is paramount, and that's why these high-performance scooters come with high-quality brakes that can bring you to a halt in an instant. When you're riding on the edge, you need to trust your scooter to respond quickly.
Yes, these scooters might come with a higher price tag, but what you get in return is a top-tier riding experience that's worth every penny. If you demand the best in terms of speed, range, build quality, and overall performance, our top picks in this category will not disappoint.
Buckle up ladies and get ready for our top 3 best high-performance electric scooters!
If you're looking for a high-performance electric scooter that is among the best in the class while still not costing you a fortune, then the Kaabo Wolf King GTR is exactly what you're looking for.
Boasting a crazy 13,340W of total peak power across the 2 brushless hub motors we were able to reach a top speed of 65.2 mph which is just out of this world crazy. And the best part is that it still felt super stable. I did squat down to reduce wind resistance, which admittingly felt a little bit sketchy at those crazy speeds. I love high-speed riding, but I'm also used to riding longboards, snowboards, and dirt bikes from the moment I learned to walk and I use gear worth thousands of dollars to make sure I am as safe as possible.
The GTR has the same-sized 72V 35Ah battery as the GT Pro, providing a total of 2419Wh of power to the motors through a 160Ampere peak 2-in-1 sinewave controller. During our test ride, we were able to get a 44.4-mile total range, which is slightly lower than the GT Pro. The main reason for that is that you have a lot more power at your disposal and that made us ride at a higher average speed throughout the test.
The new sinewave controller gives the scooter a crazy amount of power from the start and in the highest S mode, burnouts are inevitable no matter the speed. Which makes it a little frightening to use in a city environment. That is why I highly suggest you use the new traction control system. Usually with traction control the scooter feels slower and less fun, but with the Wolf King GTR it gives you more control and better handling so it actually makes the riding experience more fun. Traction control also makes riding more aggressively easier, which if you're looking at a scooter with this caliber, probably is how you're going to ride it. But apart from the S mode, you get around 8 other modes to choose from, all else include the ability to have traction control.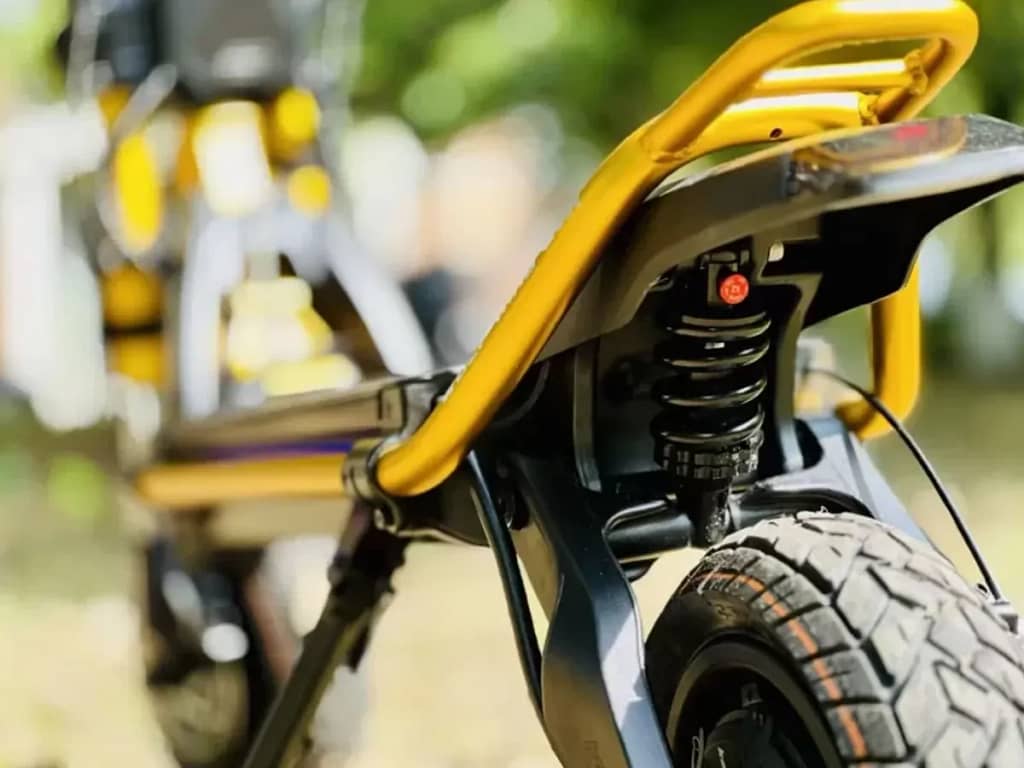 Acceleration is among the best clocking in at 3.4 seconds up to 30 mph, and with every new top-of-the-line model coming out pushing the boundaries I reckon we will see sub 3s times in the near future.
Just like the newer Segway GT models, the GTR comes with large robust fully hydraulic disc brakes, that are much thicker. Giving them not only far superior braking performance but also makes them less likely to overheat and bend.
In terms of riding experience and comfort the dual stem gives the Wolf King models impeccable stability during high speed, even without a steering dampener which is needed on many single-stem scooters to avoid wobble at high speeds. With that sturdiness combined with its complicated but solid folding latch mechanism, there is zero wiggle room. The 12"x4" hybrid tires have a good track profile that doesn't make much noise no matter the surface you're riding on, and thanks to having a separate rim and motor you can easily have a separate set of off-road or racing tires to change between. The tires are tubeless and self-sealing to avoid the headache of flats.
One of the best suspensions we've tested to date and they are both adjustable, the front suspension already has a pretty stiff pre-load so it's pretty much only usable for heavier riders as most lightweights like myself are going to go with the smoothest. The rear suspension is dial-adjusted, where you can adjust the actual bounce-back strength, something that is getting quite common nowadays. During our test ride, we never bottomed out even when jumping down some pretty high curbs.
The new suspension setup gives the GTR a crazy high ground clearance, which translates to quite a step down when you stop at red lights.
The 12" hybrid tires in combination with the raw power and high peak output made the GTR a blast to ride off-road and it shoots up even the steepest hills we tested.
It has a new lightning system all around except for the headlight which, to be honest is one of the best already, you get turning lights and rear lights as well as hazard lights when you put it in walk mode. The turning lights even have indicators on the large 4.2" display. A display that is easy to read in any lighting and is pretty much as waterproof as a display can get.
On the display, you can do and read pretty much everything about what's going on with the Kaabo Wolf King GTR, into the nitty gritty details.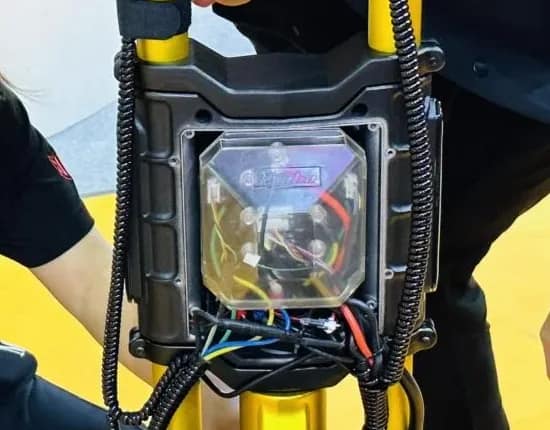 So who are the customers that buy the Wolf King GTR?
It is not for the faint of heart, the traction control and sturdy design make it easy to ride so anyone can ride it, and with 8 modes and customization at your fingertips, you can pretty much set it up to fit anyone. But I would argue that the GTR is for those of us with an inner daredevil, who love to have an aggressive ride style. Even though you get all this power at your fingertips, Kaabo has done an excellent job at making sure the handling of the scooter is up to par with its power. The Wolf King GTR delivers an excellent ride for a lot less than many of its competing alternatives.
Here we're looking at a scooter that's struck a great balance between performance and price. Super powerful to get the adrenaline pumping, conquer hills, and tackle those longer commutes, yet affordable enough that you feel you've struck a bargain, and the Wolf King GT Pro has it all.
At its current price, it is the bang for your buck electric scooter when it comes to performance per dollar and let's be honest, its quality, handling, and performance are just a nudge of what you get with its bigger brother, the GTR we discussed above.
The Wolf King GT Pro in comparison to the GTR's 2-in-1 has a dual Sinewave 50amp controller located in the same spot in between the stems for excellent cooling. This setup powers two 2000W motors with a combined peak power of 8400, which gave us a maximum speed of 61.2 mph. The motors are activated by a thumb throttle instead of a trigger throttle like on the GTR, the acceleration is smooth but very impactful and it takes off with a burnout.
The motors are powered by the same 72V 35Ah batter, but with less powerful motors it delivers a longer real-life range of 55.4 miles. That is about 10 miles further than we got on the latest version, GTR, although our average speed was a few mph lower on the GT Pro test ride.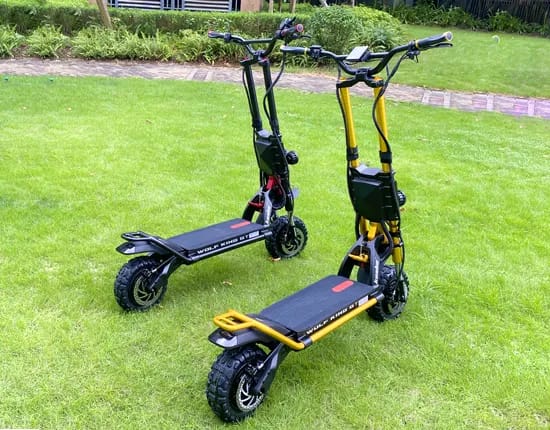 In terms of stability and handling, nothing really compares to the double-stem build of Kaabo's Wolf King series. This setup really makes the scooter feel really solid riding at higher speeds, combined with a folding system that is tedious to work with but further increases the scooter's impressive stability.
The GT Pro reached 30 mph in 3.8 seconds, that's only 0.4 sec slower than the new GTR. Thanks to its Sinewave controllers it is very comfortable to ride and has a very smooth and precise acceleration control that avoids feeling jerky.
In comparison to most other high-speed electric scooters, the suspension, hydraulic brakes, controllers, and 11" self-healing tires make the Wolf King GT Pro feel much safer at high 50 mph speeds than I feel on many single-stem scooters at 30-40 mph.
It truly is a blast to ride on and for what you pay you get a ton of power and performance. The Wolf King GT Pro is definitely the perfect PPQ blend(Price, Power, Quality).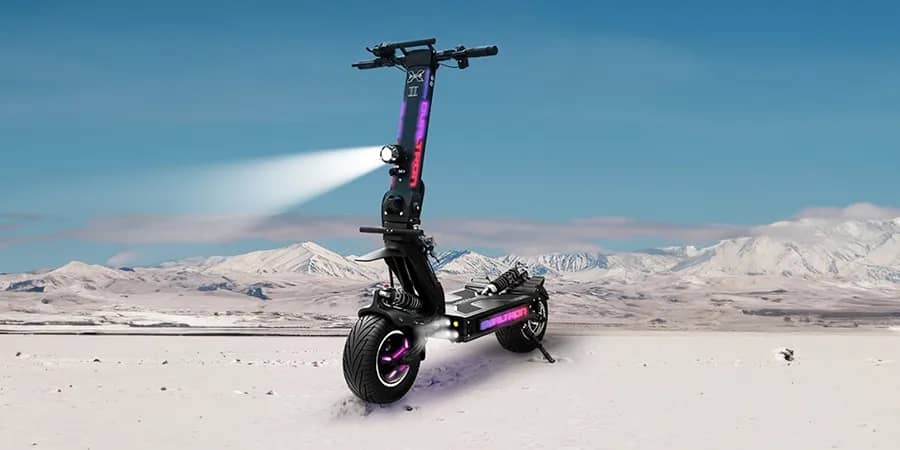 Got a need for speed?
The Ultimate drag racing electric scooter is the Dualtron X limited. It is exactly what you're looking for if your only care in the world is you want to go fast and more importantly, to do so while still feeling safe and comfortable at 60mph+ speeds. With a push of the throttle, you'll feel the adrenalin start pumping as you whizz past your fellow trafficker's at breathtaking speeds of up to 62.4 mph.
The Dualtron X LTD is among the fastest production electric scooters on the market to date, but it's also one of the more expensive ones coming in at $6,995. But this is the section for crowning the best and fastest model available to the masses, and there is no hesitation that the X Limited is the best handling fast electric scooter. Much thanks to its incredibly heavy weight of 182.8 lbs, but also its impeccable suspension system that is highly adjustable so you can fine-tune them to the rider's preference.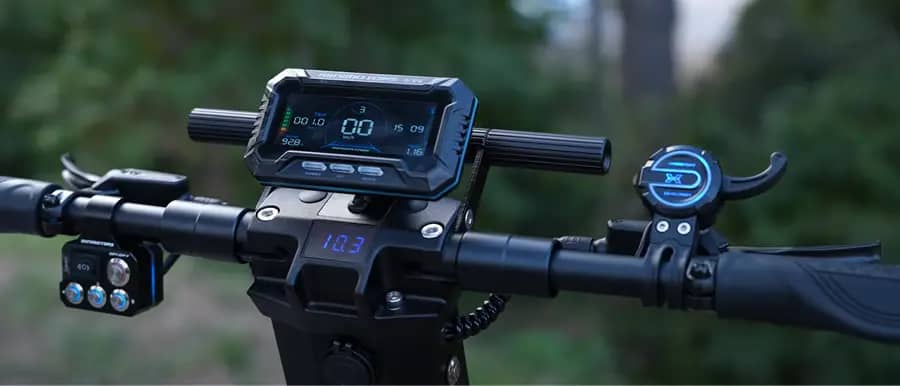 Dualtron is famous for being one of the top producers of high-performance electric scooters so it makes perfect sense that they'll be the ones to deliver such a monster. We've already gone over the Dualtron Storm Limited which is the electric scooter with the best range, but the fact is that the X delivers an even greater real-world range at 85.4 miles of total range thanks to its 84V system and 60Ah(5040Wh) battery. An interesting fact is that 220Wh of those cells are mounted in the stem.
Comparing the Dualtron X limited to any other scooter is a bit unfair to competing alternatives like the Wolf King series which cost half the price. The X really delivers above everything else in terms of quality parts and build.
The X batteries go through not one but two square wave controllers peaking out at 70Ampere each. These give the perfectly optimized 2000W motors a crazy amount of torque and power, delivering a 6000W peak output.
During the test run the Dualtron X Limited was able to deliver a consistent 62.4 mph, it might not be as fast as the Wolf King GTR's 65.2 mph, but it does deliver much better handling at high speeds and the X's 50 extra pounds helps a lot with handling but eats up a few mph.
The suspension system is unbeatable and just looking at the size difference of the springs and tires in comparison to the Wolf King scooters you can see why. It's smooth as butter to go both up and down curbs with and you really can adjust it to either be super soft almost like a trampoline, or stiff if you're a heavier rider.
The 100W front headlight lights up the entire road without any issues and the fully customizable mood lights make sure you definitely don't go unnoticed while riding at night. The X Limited has a large EY4 display with anti-glare to perfection and bright popping colors. It covers all the important stuff and the only downside I have is that you have to use it to go all the way over to the middle in order to switch gears. I would have loved something reachable from the handlebars.
Just as the GTR it comes with 160mm large rotors and a 4-piston brake that really delivers incredible braking power.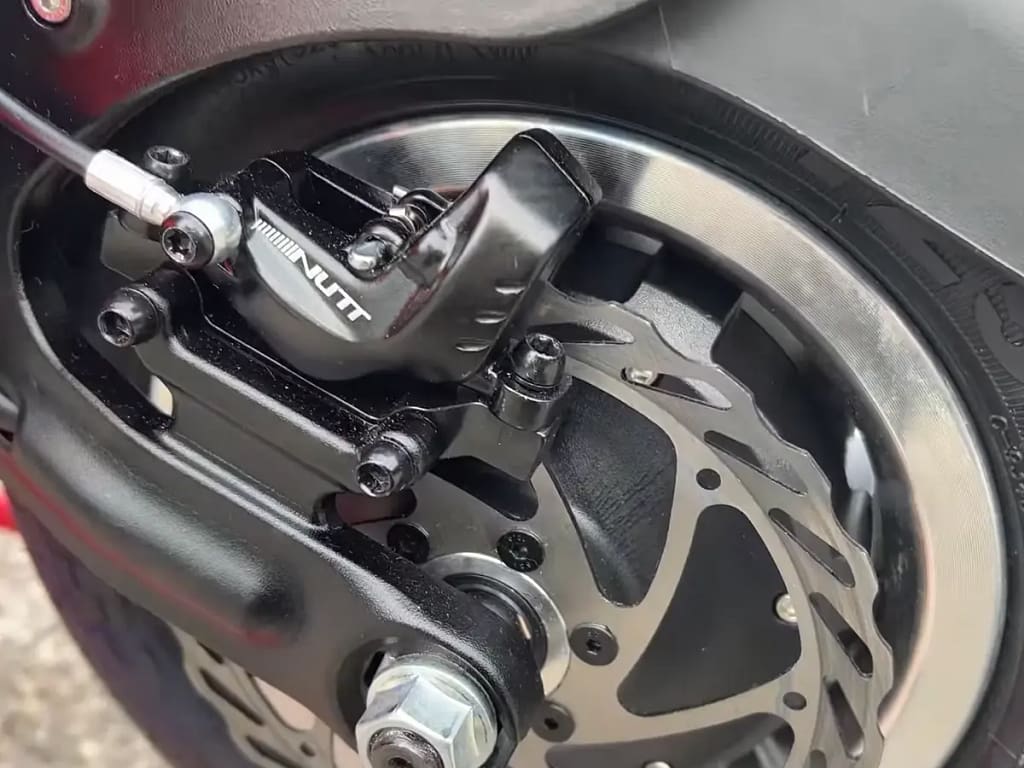 The Dualtron X Limited is for those of us who love to ride fast and to do so a lot. You need to be someone who doesn't have an issue paying a bit extra for that great high-speed handling. The reason we think the X is the best fast electric scooter is thanks to its ability to handle high speeds 55 mph+, and combined with its impressive range you can go full throttle as much as you want!
Best Lightweight Electric Scooter
Here it's all about portability, weight, and folding. These scooters are great for those of us who need a nimble commuter that can deliver great short to medium rides and then be neatly folded together into a compact package, lightweight enough to carry up a few sets of stairs, fit into a trunk, or take on the bus.
But just because they're lightweight doesn't mean they aren't powerful enough to handle riders' everyday needs.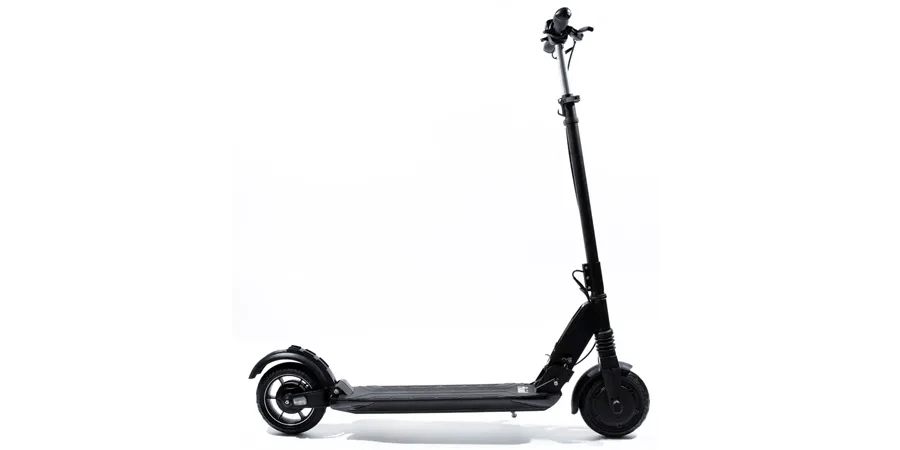 The Mosquito Fluid packs a ton of power for such a small and lightweight electric scooter. Built with high-quality parts by the popular scooter brand FluidFreeride who has years of experience with performance electric scooters you can bet the Mosquito is going to be pushing boundaries. The Mosquito is the result of a collaboration with the seasoned lightweight electric scooter manufacturer E-twow who has over 8 years of experience with portable electric scooters.
The Mosquito comes with a strong front-mounted 500W motor that makes this lightweight zippy scooter the fastest in its class, it combines its impressive speed with a 9.6Ah battery that delivers a longer range than most of its competitors. We benchmarked it at a crazy 27.4 mph in terms of top speed and 17.1 miles of total range during our testing. Both are pretty remarkable numbers for such a lightweight electric scooter.

Thanks to its compact size, extendable handlebars, and neat folding system it makes for a great urban commuter that you can easily load into a trunk, onto a bus, or any other public transport. It is a sweet and fun ride with great acceleration and hill-climbing capabilities. However, the dual front and rear suspensions are great, but combined with solid 8" tires it still isn't enough to soak up shocks from bad roads like a set of pneumatic ones would.
The Fluid Mosquito is the perfect electric scooter for anyone looking for a nimble, yet very powerful urban commuter. It is an awesome scooter for city riding that packs a ton of fun thanks to its zippy feel, but if the roads in your area aren't in great condition, the 8" solid tires will be a bit of a downer.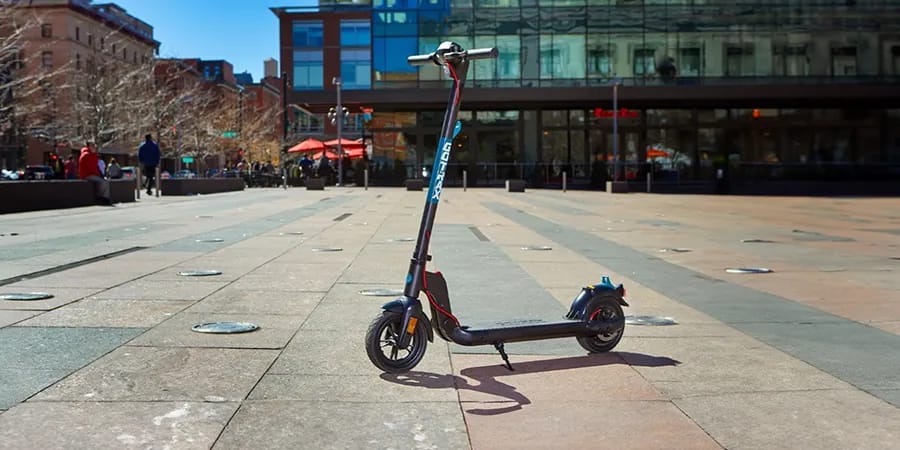 The Apex model from Gotrax is one of their latest portable models coming in hot with a front-mounted 350W motor that is able to reach speeds of up to 17.4 mph. Equipped with a 36V 7.8Ah battery we're able to cover a total of 12.8 miles before it gave out and needed a fresh charge. It has 8.5" pneumatic tires which in combination with its double rear-mounted spring suspension actually makes for a darn comfortable riding experience.
It comes with a bright and colorful center-placed display that is easy to read and informs you of everything you need to know about the ride. In terms of braking power, you get a good-sized disc brake in the rear in combination with the industry standard motor regenerative braking that gives the Apex ample stopping power for a scooter that doesn't push past 20 mph.
At 33 lbs it feels very portable and it folds down and latches on to the rear fender in a very balanced way making it easy to load or lift up and down a couple of stairs. It comes with all the basic lighting such as a bright front headlight and tail/brake lights. It is definitely not for the bigger guys pushing above the 220 lbs upwards the upper limit of 264. It works but it just won't be much of a thrilling ride.
The Apex Max is a great family scooter that can accommodate both the grown-ups as well as the younger kids. It's an easy-to-ride scooter and has two different speed modes that let you adjust the top speed. The Apex is a good-looking scooter with a great balance between performance and price.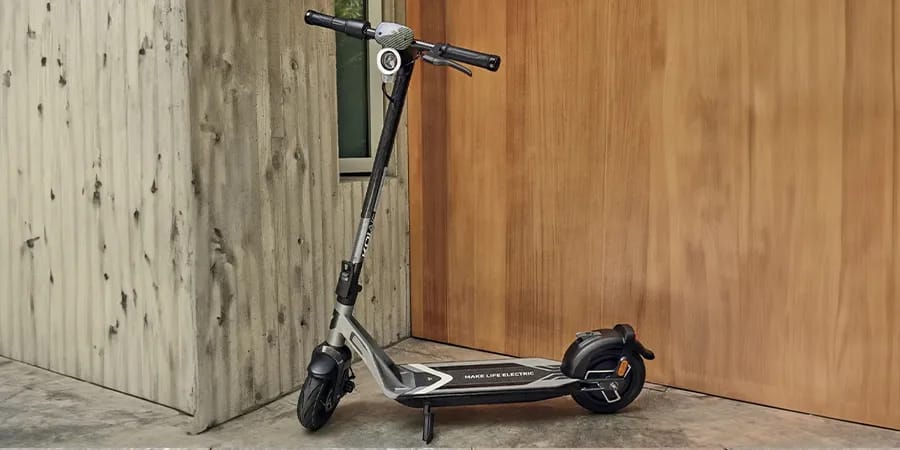 Here we're taking a peek at two exciting additions to the ever-evolving NIU electric scooter family: the Niu KQi Air and the KQi Air X. While these sleek scooters aren't available for a hands-on test just yet, we've had the privilege of virtually exploring their unique features.
What makes these models stand out in the world of lightweight, portable electric scooters?
It's the impressive use of carbon fiber in their construction.
With over 70% carbon fiber material in the Air and 100% in the Air X. These scooters redefine the standards for both power and portability. They're incredibly lightweight, making them some of the lightest scooters around, and they still manage to pack a punch, offering more power than their peers in the same weight class. But, as you might expect with such innovative design and materials, there's a difference in price. These new NIU models are projected to have an MSRP between $1,400 and $1,800, depending on your choice. While this might seem steep, there's talk of early-bird pricing as low as sub-$1,000, which could be quite appealing.
When it comes to handling, these scooters are super lightweight and easy to maneuver. The Air weighs just 26.2 lbs, and the Air X is only 0.4 lbs lighter. They've replaced the traditional thumb throttle with a half-twist throttle for smoother speed control, especially on uneven terrain.

The primary difference between the two seems to be that the standard Air uses a carbon fiber mixture, while the X goes all-in with a fully carbon fiber build, resulting in just a 0.4 lbs weight difference.
Now, let's talk about performance. Both scooters share a 350W motor and a 451Wh LG battery, promising a top speed of 20 mph and a range of 31 miles. But remember, real-world numbers are usually about half of the stated range, so expect around 15-20 miles on a full charge. The rear-mounted motor has a peak power of 700W, providing ample hill-climbing ability and smooth acceleration. From what we've seen in a third-party digital walkthrough, they promise an exciting, agile ride.
NIU is known for top-notch engineering, and it shows in the design of these Air models. They're not just high-performing; they're stunning to look at. Both come with a single front a disc brake and a rear motor brake that appear to do the job well. The NIU electric scooter app lets you customize functionality and performance, one of the best scooter apps in our book. Plus, an NFC card makes locking and unlocking a breeze. With handlebar-mounted turn signals and NIU's signature halo front light, along with tail and brake lights, safety is a top priority.
Thanks to clever design choices, NIU has managed to streamline the scooter's components while widening the deck for a spacious and comfortable ride—all while keeping the weight impressively low. These are remarkable feats of engineering.
The Air series is perfect for those who want a lightweight, portable scooter that doesn't skimp on performance and can reach a zippy 20 mph.
Best Heavy-Duty Electric Scooter
Welcome to the heavy-duty electric scooter section of our guide, where we cover the tough workhorses of the electric scooter world.
If you're someone who needs a scooter that can handle more than just the daily short commute, then you've come to the right place. These electric scooters are perfect for riders riding with a little extra baggage, if it is groceries, food deliveries or just a solidly built rider these scooters doesn't give a damn.
In this corner of the scooter universe, it's all about muscle, sturdiness, and resilience. These scooters come packing some serious power under the hood and they excel at more tedious tasks such as handling heavier loads and rougher terrain.
With big, sturdy tires and large wide decks, they'll keep you planted firmly, even when the terrain gets challenging. You can expect it to be a smooth ride too, thanks to their state-of-the-art suspension systems designed to soak up any uneveness in the terrain.
These scooters also come with top of the line braking systems, highly optimized performance parts and are built using top-notch quality materials to give you a safe and amazing riding experience.
Now, while these scooters might come with a bit of a price tag, you're investing in a reliable scooter that will withstand the test of time and deliver great performance for years to come. If you're the kind of rider who needs an electric scooter that can handle a bit of weight and still deliver a fantastic ride, then let us present you with some great option. Stay tuned for our top three picks in this category, and get ready to meet the best heavy-duty electric scooters out there!
The fastest electric scooter, best dual motor scooter and now the best off-road electric scooter. The Kaabo Wolf King GTR just keeps on bringing home the bacon when it comes to high-performance awards and the off-road class is no different.
Since we've already covered a lot of the great features of the GTR under our dual motor awards section we will put a lot more focus on what makes it such a great off-road scooter.
First of all when your going off the beaten path and hitting those wooden dirt roads, or sand banks you want to do so with large pneumatic tires. The new GTR version of the Wolf King comes with a set of self-sealing 12" x 4" all-terrain tires that do an excellent job on any surface. But if you want to pick it up a notch you can easily do so. The scooters rims and motors are separate which is great for any user since it makes switching out a faulty motor, or fixing a flat tire much easier, but also gives us really nerdy users the ability to have a separate set of off-road rims and easily switch between them.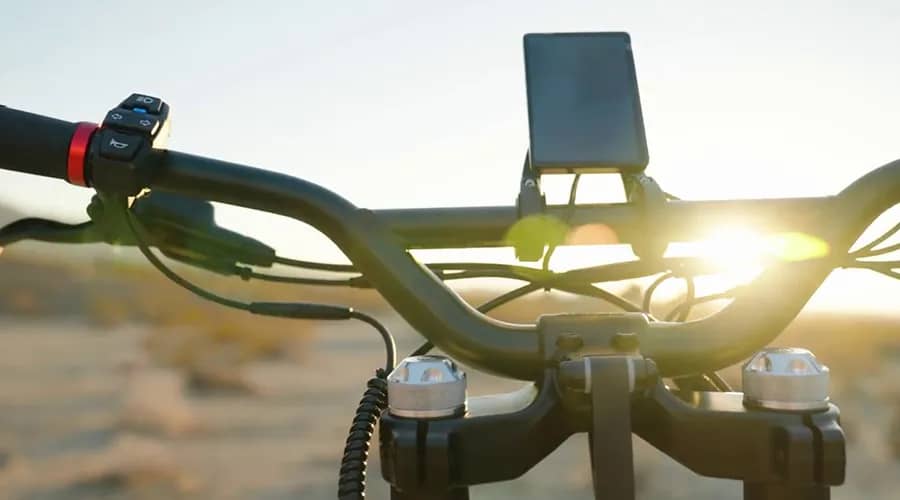 During our test ride the Wolf King GTR delivered an insane top speed of 65.2 mph which is just crazy, especially consider the fact that its price is far lower than many competing alternatives with similar or less performance. This new record breaking top speed is achieved through two 2000W brushless motors giving you 13,340W of peak power at your fingertips. These motors are powered by a massive 72V system with 2419Wh of total battery power, it's equipped with a new are controlled through a 2-in-1 sinewave controller with a peak output of 160Ampere. This is enough to push you up to speed fast, in fact it took us no more than 3.4 seconds to reach 30 mph making it explosive and fun riding off-road. During normal high-speed riding in a more urban environment you can expect to get up to 44 miles on a single charge, this is what we got during our standard test.
Hills are no issues on the King GTR as it just flew up the various hills, jumps and other obstacles in our off-road test course. It's front and rear suspension is adjustable, but for someone my size(around 170 lbs) it does feel a little stiff even when dialed into smoothest. However, during off-roading this proved to be just perfect, I didn't bottom out once and the riding was smooth, fun, and thrilling.
The front fork and new suspension gives the scooter a massive 9.3" ground clearance which means you pretty much zoom across any rocks, branches or other obstacles you may come across on your adventures.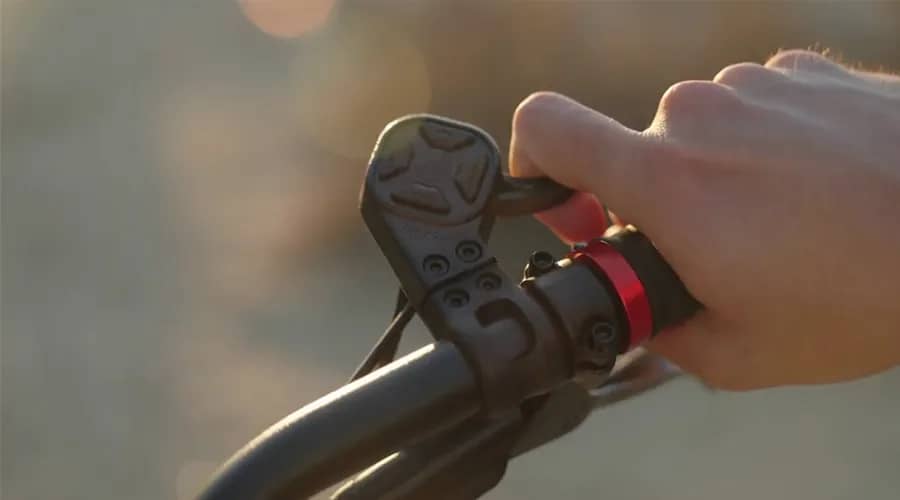 Kaabo just keeps on delivering high-quality models at a lower price tag and with better performance than its competition. So it comes to no surprise that the Kaabo Wolf King GTR takes home the trophy in so many different categories. If you can afford its $3,995 price tag and want the best of the best when it comes to off-road capabilities then the Wolf King GTR is what you're looking for.
However, if you think the GTR is a bit too pricey. Then we would highly suggest that you have a look at the Kaabo Wolf Warrior X GT which will give you the most off-road capabilities per dollar spent!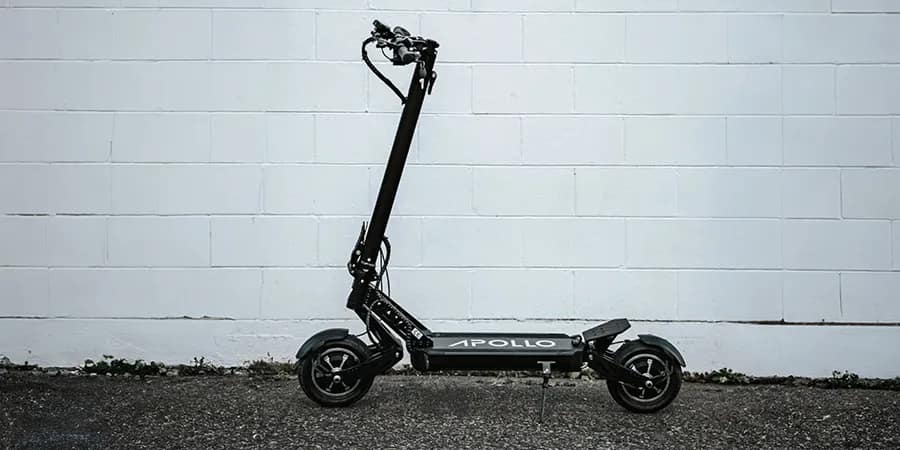 The Apollo Ghost delivers an impeccable ride for our more robust riders out there. The scooter offers a great balance between power, portability, and price so that you can go far and fast without breaking the bank.
With a dual 1000W motor setup powered by a 52V 18.2Ah(947Wh) battery you get a lot of power to push you through your commute. The Ghost has a great adjustable rear and front suspension system that together with its quality frame can accommodate riders up to 300 lbs perfectly. The springs are quite stiff so it actually delivers far superior comfort to heavier riders than lighter, which is but one of the reasons why we recommend it.
You can expect to get a good 25.4 real-world miles on a single charge and that is more than enough to cover most peoples daily usage. When were talking top speed we were able to push the Apollo Ghost up to 33.8 mph and the best part is we barely lost any speed when we tackled our regular hill tests. Even our more sturdy test rider well over 200 lbs were able to keep a high and steady speed up our 20% test hill.
It comes with some really good lightning covering the standards such as headlight and tail light, but also has lights underneath to increase visibility at nights. The scooter itself is remarkably portable for such a power package, weighing only 67 lbs and folds down easily.
The overall construction is great and gives no room for wobbling and you can rest assure that the Ghost is built to be pushed to its limits. And when you feel you've had enough the disc brakes are among the best in this price range, which is another really valuable perk for a heavier rider.
The Apollo Ghost can accomodate any user sub 300 lbs, but I think anyone around 200-240 lbs is going to get the most out of it. At a great price, you get a scooter with a ton of power and a long history of delivering an impeccable ownership experience to its buyers.
If you're considering utilizing an electric scooter as a delivery driver for food or parcels there are a few key things you're going to have to make sure your prospective electric scooter can tackle. First of all you want it to be reliable, we can't have breakdowns in the middle of our working day now can we. Second it needs to have enough power to last you throughout the day and up any hills, while being nimble enough to zip through traffic for maximum efficacy. Thirdly you need to be able to quickly and easily secure it to make sure its still there when you return.
The Emove Cruiser S ticks all these boxes and more, providing you with an electric scooter with great handling, long range, and it's actually our waterproof award winner which means you don't have to let the weather dictate your ability to work.
The Cruiser is about as safe and reliable an electric scooter you can get, and if standing up for an extended amount of time doesn't tickle you fancy, then you can opt for the detachable seat and zip around comfortably seated. It is super user-friendly fitting for anyone from beginners to expert users
It packs an efficient and strong rear-mounted hub motor of 1000W(1600W peak power) which gives you a maximum speed of 32 mph, plenty enough to keep up with the traffic flow. It's robustly built and has all the bells and whistles in terms of bright good display, different modes, turn signals, headlight, brake/tailight, yes everything you need for safe city riding.
The most crucial benefit that plays to the Emove Cruiser S advantage as a deliver scooter is its large 1560Wh battery that gives you a real-world range of up to 43.6 miles on a single charge. This isn't some fantasy number either, it is in the highest gear mode and during regular urban riding with inclines and all.
There deck is large enough for you to stand comfortably, or have ample space for your feet if you use the seat attachment.
Overall the Emove Cruiser S is one of our favorite electric scooters here at Aridejunkie. It might not have the latest and most eye-catching design, but it delivers a ton of performance and a heck of a fun rider experience to its rider, and that at a fraction of the cost of similarly powerful scooters!
Best Electric Scooter for Beginners
If you're new to the whole electric scooter craze it might feel a little overwhelming and complicated. There are hundreds of brands and thousands of models with different specifics and various other complex features.
But fear not, we are your ticket to the easy, thrilling rides that won't break the bank. These scooters are designed with newcomers in mind, offering a hassle-free introduction to the joy of electric scooting.
Simplicity is their superpower. Beginner scooters should be a breeze to handle and designed for riders of all skill levels to enjoy. With straightforward controls, you'll master them in no time, making your learning curve a smooth ride.
But it's not just about ease – it's also about the fun factor. These scooters bring a smile to your face with a great balance between performance, price and utility. You'll enjoy every moment of your ride, as you start to discover the excitement of electric mobility without having to pay a hefty price for it.
In short, beginner electric scooters are your first step into a new world of micro mobility where you get to learn the ropes and enjoy all the benefits that electric scooters will bring into your life.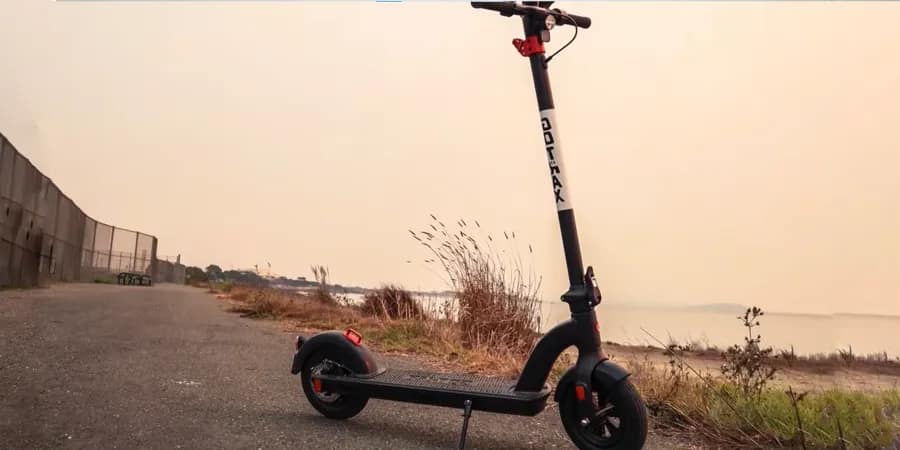 The Gotrax G4 is a reliable step-in model that is very popular among new riders mainly due to its well-balanced performance and price ratio. It delivers a good performance, comes from a well-established brand, and it you get a lot of scooter for your dollars.
The G4 is equipped with a 500W rear-mounted hub motor that is able to propel its user up to a maximum speed of 20 mph(our maximum during our test run was 19.2 mph). It comes with two speed modes, maximum being 20 mph, and a 15.5 mph limit. This makes it easy for you to limit the top speed starting out so that you can get a feel for how things work. The handling is sturdy and easy to maneuver and everything is very straight forward when it comes to using it. Grab the handlebar, give it a kick, press the throttle and off you go. Since it has everything in moderation, you're very unlikely to get into any serious trouble with the G4.
The heart pumping out energy to this beloved newcomer ride is a 36V 374Wh battery that we were able to get a total of 13.7 miles of real-world range out of.
The Gotrax G4 has a similar folding system to other scooters in the beginner/commuting class and it latches on to the rear fender so that you can lift the 37 lbs scooter easily with a firm grip around the stem. A neat feature that is unique to this scooter is that it has a built-in numeric locking mechanism. You can pull out a wire near the bottom of the stem and lock it. I wouldn't put too much trust in the lock, but I regularly forget mine, so it does come in handy quite often.
The deck is 6.7" wide and long enough for even large feet to find a comfortable and secure position. It comes with a center-placed large display that is easy to see no matter the weather. It does lack suspensions, but makes up for it by 10" pneumatic tires that do a great job at reducing shocks from bumps along the way.
The G4 is for any adult or teen south of 220 lbs who is just starting out riding electric scooters. You get a reliable model that has withstood the test of time and delivers a moderate yet thrilling ride time after time.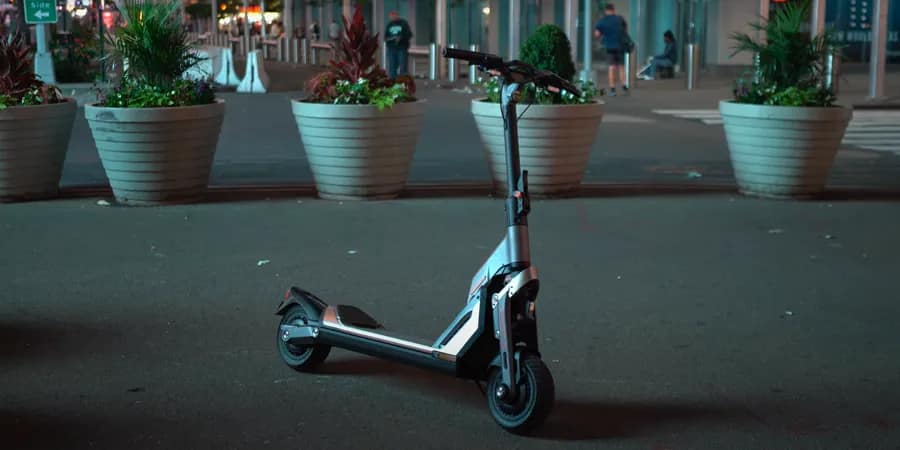 If you're already an avid user of electric scooters and have a good chunk of hours on a regular commuter but want to take a big leap up into the cool kids club. Then the Segway GT2 is going to be everything you're looking for and more.
Don't let the fact that this is Segway's first attempt at making a performance grade electric scooter fool you, because they put some serious engineering time into their new GT-series. It is a bit more costly than others with similar performance, but it does come from a reputable brand with a long history of delivering great service and products, and the GT2 does nothing else than just that.
The entire scooter reeks of design perfection and it doesn't just look good, it rides perfectly too. There is no other electric scooter in the performance class that reaches the level of stability and sturdiness that Segway has achieved with their GT-series and that is the reason we recommend it as the perfect ride for an experienced rider who's yet ventured into the thrilling world of high-performance scooting.
The GT2 is a beast of an electric scooter and weighs a whopping 116 lbs making it a not so portable unit. But the weight is also one of the parts that adds to its exceptional handling and stability during high speed riding. It's 2 x 3000W motors were able to push us forward in up to 42.6 mph and the large 1512Wh battery gave us a total range of 31.3 miles.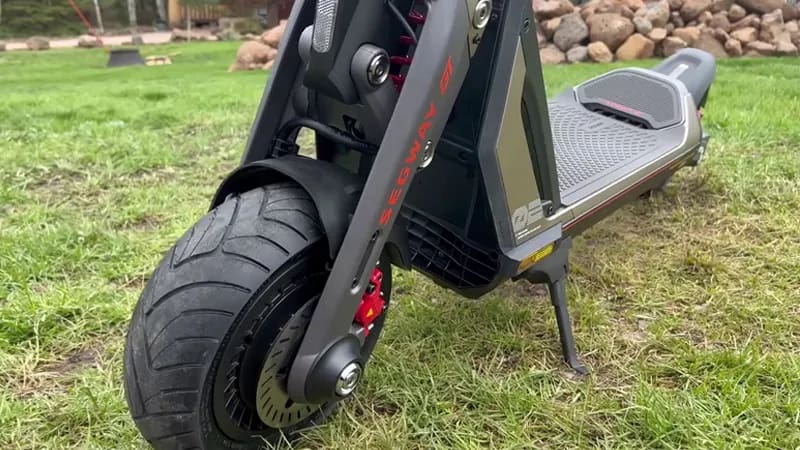 It rides super smooth thanks to its massive front and rear suspension, an enormously spacious deck, 11" self-healing pneumatic tires, and a rear foot rest extension so you can really get into a solid position when riding at high speeds.
The new display is huge and even though its semi-see-through it is super bright and easy to read. You also get turn signal, a bright headlight and brake/tailight, plus a ton of extra features and controls both on the scooter and in the Segway scooter app.
The Segway Ninebot GT2 is one of those scooters where you can hardly go wrong, and if I had to pick one thing that works against it, it's the price tag. As a standard reliability, great support and an amazing track record has led to Segways models also being a tad more expensive. But not enough to make it a deal breaker, the GT2 is one of the smoothest high-speed electric scooters on the market and if you're just taking the step up from your average commuter, the GT2 is going to rock your world.
The GXL V2 is yet another electric scooter from Gotrax, a company with a proven track record of creating reliable and high-quality entry-level electric scooters.
The GXL V2 is an excellent starter scooter if you're intrigued, but not yet convinced that electric scooters is something for you. It doesn't boast a ton of power, but it has enough(187Wh) to get you around on shorter commutes no longer than 8-9 miles and it does so at a good speed and most importantly with the rider feeling safe. Thanks to its 8.5" pneumatic tires the ride is very smooth and relaxing, and it's folding mechanism is super simple so you can fold it down on a whim.
It boasts a 250W energy-efficient front-mounted hub motor that is capable of reaching a real-world speed of up to 14.9 mph which is a great mediocre speed for someone just kicking off their scooting career.
The scooter is very light at 27 lbs which means it suits well as a last-mile solution, or to accompany you on your public transit journey. It has a 220 lbs weight limit but it provides the best ride to people south of 200 lbs.
The Gotrax GXL V2 is going to give you a taste of the freedom and benefits that you can expect to get with an electric scooter and at less than $300 bucks it is a steal. Get rolling and you'll see what all the fuzz is about and we'll have you fully converted into a ride junkie in no time!
Best Electric Scooter for Kids
The future of our society, the cherished jewels in a parent's life, and the bright beacons of hope for our world – kids hold a special place in our hearts. As a parent of three precious jewels myself, I understand that their safety is paramount.
When it comes to letting your kids embark on the adventure of riding an electric scooter, regardless of their age, you'll find your heart racing as they roll down the road for the first time. I'd like to say that it gets easier with time, but here at Aridejunkie.com, honesty is our policy, and I won't sugarcoat it.
Here at ARJ, we've rigorously tested hundreds of electric scooter models, with one primary goal in mind: finding the best models for specific people's needs. When it comes to kids our main focus and goal is ensuring the safety and enjoyment of your children while they ride. Our commitment to meticulous testing and research has left us with the following selection of electric scooters to be the most suitable for kids from toddlers and up to young adults.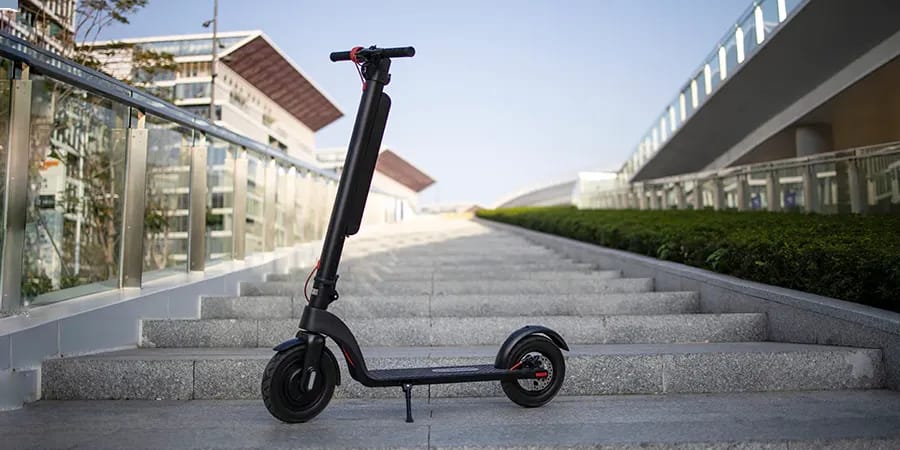 One of my all time favorite electric scooters, the TurboAnt X7 Pro. My standard first edition X7 still stands in the garage closest to the door for easy access after 4 years of usage and it still runs as smooth as the day I got it. The battery might have lost a good 30% on mileage but that's to be expected. The scooter keeps on delivering a comfortable and simple riding experience and that is one of the reasons why I recommend it for teens.
Both me and my boys have has used it extensively for both longer and shorter commutes. With a 360Wh large detachable battery, you can have a spare on in your backpack and eliminate any range anxiety. With just a single charge we were able to get a total of 17.6 miles out of it during our test.
The X7 Pro is equipped with a 350W front-mounted hub motor in combination with the stem-attached battery make it a bit front heavy which gives you better traction. It comes with an easy to use bright center-placed display, a headlight, tail light, and a rubber coated throttle for increased grip.
The scooter weighs in at 33 lbs which isn't the lightest in it's class but it is one of the more affordable scooters. A neat feature of detachable batteries is that you can throw em in a backpack, or carry it separately and get that down to around 25 lbs.
The large 10" pneumatic tires give excellent shock absorption on rougher roads and they keep a good grip on both wet and dry surfaces.
If you want to bring a smile to a teenager's face, the TurboAnt X7 Pro is a fantastic choice. It's the perfect commuting companion for school, trips to see friends, and everywhere in between – essentially, the X7 instead of you will become their primary mode of transportation. That's what I call a win-win.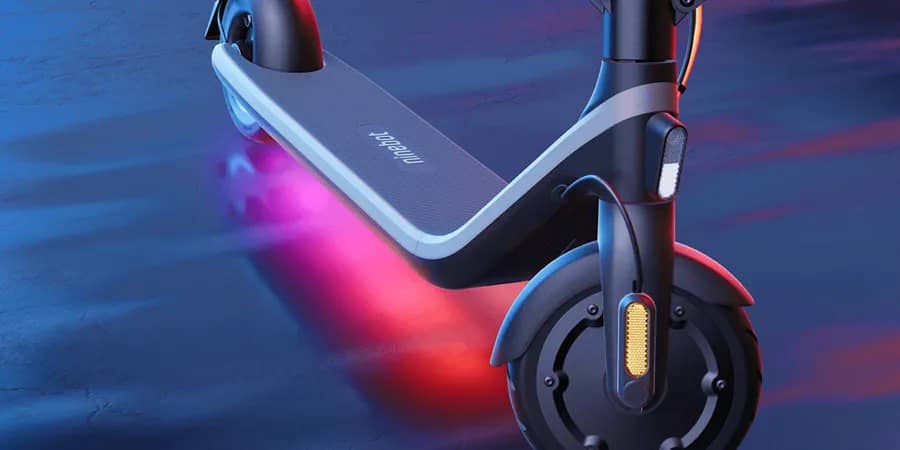 A lot of people suggest specific kids built electric scooters, but with 2 boys of my own in this range I highly advice against it. The range of those scooters is always quite low, although kids this age doesn't put a lot of extra load on their scooters giving them better range, kids this age also forget to plug in the charger frequently.
This is why my boys have been using Xiaomi M365-style scooters since they were around 8 or 9. This style of scooter is pretty much the basics of scooter design these days, meaning as they grow and you give them a more powerful scooter, the handling of that scooter will still feel familiar to them.
That is why I love the Segway Ninebot E2, it has the familiar design of the standard setter m365 but has built upon it. One of the perks is you can opt to go for either the E2 or the E2 plus, where the E2 plus. The only difference between the two are a 250W versus a 300W motor giving the plus version a higher 15.3 mph top speed over the standard E2's 12.5 mph. Remember this is the speed we achieved in our test with a 165-170 lbs rider. The scooter has a great ability to push kids up inclines far over the advertised 12% if its a lighter kid riding on it. Another great thing is the 8.5" hollow tires, they give enough suspension to reduce shocks from any caveats in the terrain, while being fully puncture proof. Believe me that after your 5th tube change in 3 month you are going to regret your decision if going with a tube. Pneumatic tires do a better job at handling cracks and unevenness, but for this age group, I say the trade-off is not worth it.
The scooter is light enough so they can handle it with ease and at 31 lbs you will in the trunk when going on any family adventures. Quality-wise its superior to a lot of the alternatives out there, while still having a very attractive price.
If your kid is looking for a great starter scooter and are between 9-13 the Segway E2 is a great electric scooter companion that can stick with all them all the way into adulthood.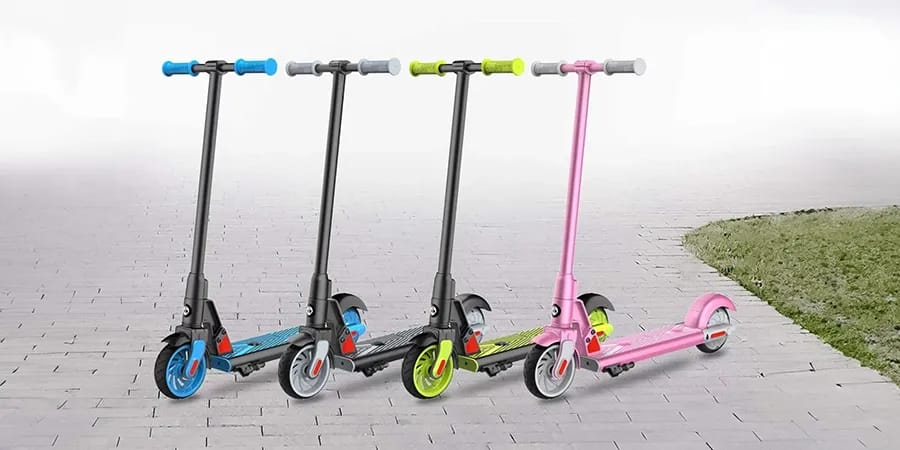 The Gotrax GKS kids electric scooter takes aim at the younger generation of our society with a completely unique way of controlling the acceleration and deceleration. It has two gravity sensors on the deck one closer to the front and one near the rear where you also find a classic kick-scooter fender brake. The kids put their front foot on the front gravity sensor and can then use the scooter as a regular kick scooter, once they reach 1.5 mph through kicking they can choose to place their other foot on the rear sensor and this is when the motor kicks in to work. A truly ground breaking way for kids to safely enjoy riding an electric scooter and it so easy, soon as they remove the rear foot from the sensor the scooter's motors disengage and they can then put it to a full stop using the fender-brake.
The GKS is equipped with a 150W 6" motor and hard rubber tires able to get you a good 7 mph top speed which is more than enough for these younglings. Another great feature of the Gotrax Kids Scooter(GKS) is that it has a quite large battery of 50Wh, pretty impressive for a scooter weighing less than 18 lbs. This will give your little ones a good few hours of riding per charge and it takes a mere 3 hours to get them up and running again.
A perfect model for younger ride junkies who want to start using an electric scooter for leisure and commute. Great way to get to school on those stressful monday mornings and it makes it a blast for them, which means less complaints for us parents and that is a welcoming side-effect.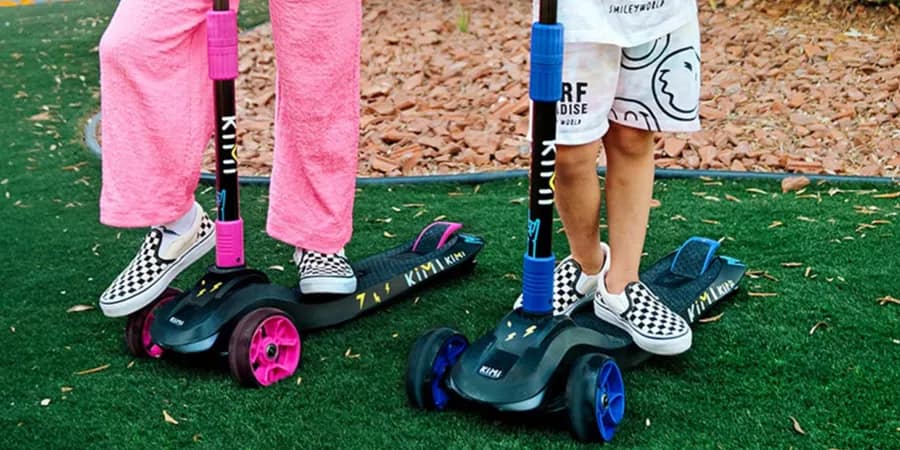 For this range of electric scooters both our testing capabilities and model availability are a bit hampered. But I do have one particular electric scooter in mind that is a perfect fit for a toddler. My daughter used the Kimi 3-wheeled toddler electric scooter for a short period of time before she went on to a 2-wheeled model and we gave it away. So we reached out to see how it had been holding up and to our surprise it had been used extensively by this now 4-year-old and he was still actively using it.
They raved on about it like I do about a top-of-the-line performance scooter so it must have been put to good use and here is a recap of what they had to say. They noted that it was super simplistic to use having only a button that needed to be pressed for the scooter to go forward. It provided hours of riding time before they ever had to consider recharging it and they estimated it to take about 3hrs to get it back up to full charge. The wheels have LED lights built in to them which wasn't just cool to look at but actually gave a bit of extra visibility in the late evenings and while inside in low-light rooms.
The scooter has both a regenerative braking built in which is engages as you let go of the power button and a classic foot-brake in the rear.
They couldn't recommend it enough to anyone with a 2-4 year old out there who wanted to try out how it is to ride an electric scooter. Perfect step-in model for a soon-to-be electric ride junkie.
Best Electric Scooter By Price
When it comes to electric scooters its quite obvious that there are a lot of different models, and their prices as well as their performance ranges quite heavily. If you're just starting out you can easily find a decent beginner-scooter model that provides everything in moderation for under $300. While the high-performance electric scooter models can go for as much as $7-$10k depending on brand and their performance.
In this section we are going to look at electric scooters from a price standpoint and categorize them accordingly into different price categories ranging from $300 all the way up to $The-Expensive-Ones.
Remember not all electric scooters are worth their price tag. There are scooters out there that have 50% less performance but cost 50% more, this is one of the reasons why we think it might be helpful for us to give you a few good recommendations for each price level. The electric scooters we've chosen to include here have all been tested by us and are what we would consider bang for your buck models. They might not be the best of the best, but they are the best models you can get in that particular price range.
Under $300 – Affordable Electric Scooters
In this price range we're looking at the most affordable electric scooters out there, and altough these picks might be really cheap, they also pack a great amount of power for their price. Which means for what you pay you get the most bang for your buck.
In this price range you can't expect miracles but what you can expect is a good 8-13 real-world miles on a single charge, an average top speed of between 13-16 mph, and the ability to tackle modest hills around your city.
If you want to delve deeper into the best practices when buying a scooter on a budget, read more in our affordable electric scooters guide. If not, then here are five of our favorite budget-friendly electric scooter picks:
Under $500
In the sub-$500 category its quite a good climb up in terms of power, especially when we're talking range and torque. These scooters are far better at tackling inclines, get you up to speed faster, and you can go much further on a single charge. We're not yet up to the super comfy rides, but already you can see a lot of quality and comfort improvements such as a more robust folding systems for a more solid stem, larger air-filled tires for better handling of cracks and bumps, and overall sturdyness and ability to handle heavier loads up to 250 lbs.
In this category you can expect a speed of 15-18 mph, stronger motors, a better range averaging around 15-20 miles per full charge.
Under $1000
In the sub-$1000 category we can easily find a ride that would solve anyones daily electric scooter needs. Here we can really see the great performance per dollar show itself. You get an all-round well balanced electric scooter that has good power, range, comfort, and quality. Nothing is left out and these scooters don't just deliver a superior riding experience thanks to their increase in features and quality. They will also be able to withstand a heavier beating and thus stay with you for a much longer time than the budget alternatives. This means that putting down a larger sum starting out often turns out to be the cheaper alternative in the long run.
In this category you can expect to get a very comfortable riding experience, everything from frame quality and stability, to suspensions and tires have been designed in order to up your electric scooter comfort level ten-fold.
You also get far more powerful motors that can easily deliver a good 20-25 mph of speed, tackle the more challenging hills in your area, and take you on longer 25+ mile rides. These models are still considered to be portable, although we are starting to reach the end of that era.
Under $2000
Now we are starting to scratch the surface of what is the upper end of electric scooters, mediocre isnt gonna cut it anymore and these scooters come with a much more exclusive feel to them.
At this price range you're getting the next level of electric scooter riding experience, these scooters have the power, quality and range to take you an a ride unmatched by the low-end models. In my honest opinion, this is the range where you should consider investing if you are really serious about utilizing the benefits of an electric scooter to the fullest.
At this price point you can expect getting a dual motor setup with larger batteries, resulting in speeds of around 30-45 mph and a range around 25-45 miles. You also start to see a lot of extra features, greater brakes, better suspension, and more sturdy builds. This is at the level where builds, motors, and batteries become so large that they're no longer considered portable. They are still foldable, and you can load em into a trunk of a car etc. But you just don't pick them up and walk up the stairs anymore, at least not as effortlessly.
$2,000 and Up
Get ready to unleash your inner adrenaline junkie as we dive into the world of high-performance electric scooters that are pure beasts on the road.
In this electrifying collection, we've handpicked the most thrilling models that promise a riding experience like no other. Brace yourself for mind-blowing top speeds exceeding 60 mph, jaw-dropping real-world ranges spanning from 35 to a whopping 80 miles on a single charge, and motors amped up to 84V, peaking at over 13,000W+. These powerhouses deliver insane torque, lightning-fast acceleration, and heart-pounding speed. With the largest batteries in the industry, they're not just quick, but they also offer exceptional range.
Consider this the place where we infuse your DNA with a potent dose of electric scooter enthusiasm, transforming you into an unstoppable ride junkie.
Get ready to experience the ride of your life!
Honorable Mentions: InMotion RS, Dualtron X, Bronco Xtreme, Weped, Rion are all great scooters that didn't make it onto the list for various reasons. Some aren't what I would call a retail electric scooter since they're custom made upon order and we've had a hard time finding someone who has one to test them out. While others are just a bit too expensive for what they have to bring to the table.
Top Electric Scooter Brands
There are plenty of great brands out there offering their electric scooter solution to consumers. Some cater to the high-end crowd while some focus on the more simple average user, and others put their energy into making affordable models to fit any budget.
They all serve their goal of satisfying a customers need and in each category there are a few who reign supreme, within their segment they deliver the best quality, performance, and quality for the price.
Here are not just ours, but also our fellow Ride Junkies favorite brands. These are brands that we've all grown to love over the years, whom have all improved and withstood the test of time. For a detailed walkthrough of each brands models, press the logo:
Rigorous Research and Data-Driven Recommendations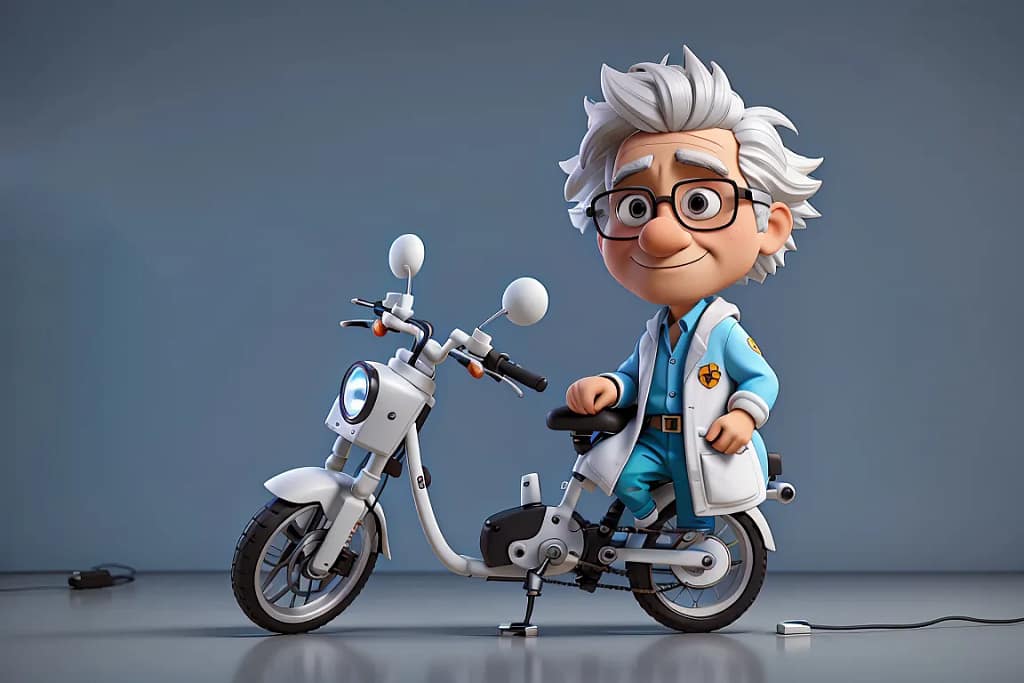 Our electric scooter recommendations are rooted in rigorous research and data analysis. We don't solely rely on our own testing, although we do dedicate extensive hours to hands-on testing of each scooter featured on our website. That's merely the initial stage in our meticulous three-step evaluation process.
Here is a short walkthrough of our 3-step process to creating accurate, unbiased, and authentic electric scooter reviews:
Extensive hands-on testing and quality control by us
Consume hours of 3rd party expert content, trusted rider's opinions, and video reviews
AI Volscribe scours verified forums, reviews, and comments for user input
Step one is where we go down into the nitty gritty and test the electric scooter models extensively and then benchmarks their performance and quality. Our testing course is the same for each model and it includes the following:
10-20% hill climb
Brake test from 15 mph
Range test under normal(real) riding conditions always in the highest power-mode
Maximum speed test
Acceleration test 0-15, 0-30, 0-Max
Quality control of each part, welding, and overall structure
PS! All of the aforementioned tests adhere to industry-standard practices for vehicle testing and are consistently conducted with a rider weighing 170 lbs. Our instruments are always calibrated before each test.
The second step involves leveraging trusted external sources, such as other industry experts and fellow ride enthusiasts. We diligently examine their reviews and spend, on average, a good few hour dissecting real rider commentary videos for each model. This meticulous approach serves to cross-verify our own testing data and ensure that no crucial details are overlooked.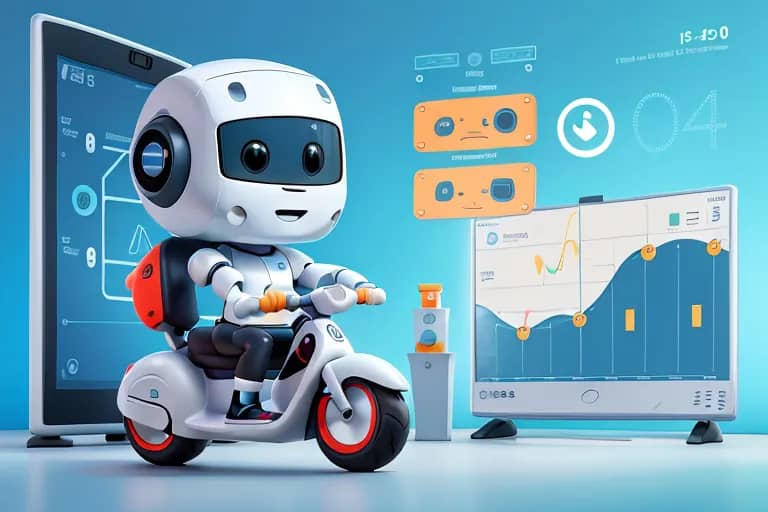 As part of our third and final step in delivering the most accurate data possible, we enlist the assistance of our own AI bot, Volscribe. Volscribe scours the internet for verified customer reviews, scrutinizes forums and Reddit threads for complaints regarding errors or inadequate support, and thoroughly investigates all aspects concerning the electric scooter model under consideration.
This comprehensive three-step process reflects our unwavering commitment to providing unbiased reviews. We believe that these extra efforts not only enhance the accuracy of our recommendations but also instill trust in our work.
How Do I Choose the Right Electric Scooter for Me?
As we've said on numerous occasions throughout this article, there are no one-size-fits-all when it comes to electric scooters. People buy and use electric scooters to solve a vast range of different goals and tasks. Hence why we think the best way to know what you need is to ask yourself a set of questions.
The following questions have been carefully crafted in order to help you find the right electric scooter. Answer them and you will know exactly what you are looking for.
Reason for purchase – Leisure, fun, commuting, world domination, what is the reason you are looking at acquiring an electric scooter?
Who will ride it – Are you buying for an adult, a kid, or a teen?
Load – Depending on your weight you can either go lightweight, or with a more robust.
Portability – Do you need a scooter that's easy to carry and store, or are you more concerned about performance and features?
Range – How far do you estimate you'll need to go in-between charges?
Speed – Do you have to go far and need to cover the distance quickly, or do you prefer a more modest top speed?
Terrain – Where do you plan to ride it most often? Is it flat pavement, hilly areas, rough terrain, or a mix of all?
Budget – How much can you afford to invest in an electric scooter?
Warranty and Support – Extended warranty, or would you prefare spare part availability and do-it-yourself?
Comfort – What level of comfort do you want in terms of suspension, tires, or even a seat?
Once you've gone through and answered these questions you are going to have a good understanding of what is most important to you. Then all you have to do is rate each answer according to importance and let your budget determine how far it'll take you towards the best electric scooter for your needs.
What Are the Pros and Cons of Electric Scooters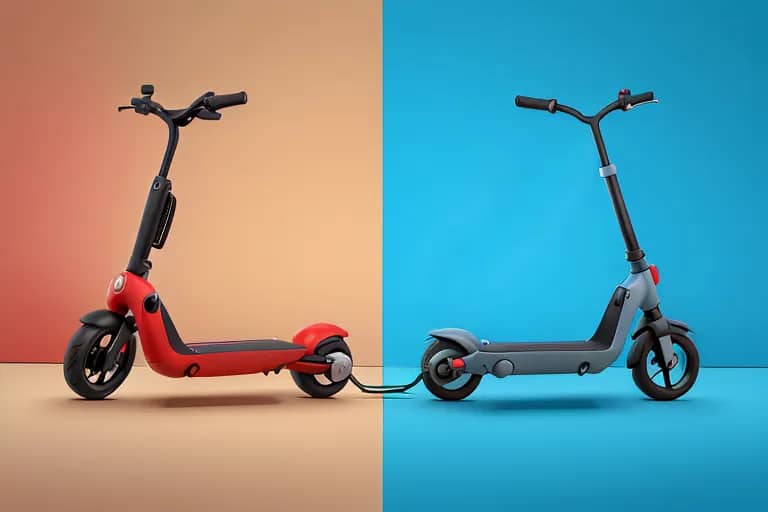 Electric scooters have a ton of great benefit for both you, the environment, and others around you. In this section we are going to highlight the benefits and the shortcomings of electric scooters.
Pros
Easy to learn: The learning curve is steep and it doesn't take a new rider more than a few hours to get the hang of it.
Environmentally friendly: Electric scooters are energy efficient and reduces not only pollution levels, but traffic congestion, and noise levels in cities.
Low maintenance: Electric scooters require very limited maintenance if you store and care for them correctly.
Time saving: You can save a ton time utilizing an electric scooter to get across high-traffic areas in comparison to a car.
Cost-effective: Electric scooters are typically cheaper to operate and maintain compared to other modes of transportation like motor vehicles or a public transport pass.
FUN: We can't foget about the fun-factor. Personally this is one of the biggest reasons why I love using an electric scooter as my main transportation.
Cons
Weather Dependence: They are more susceptible to adverse weather conditions, such as rain or snow, which can affect their performance.
Safety Concerns: Like bikes and motorcycles, electric scooters come with safety risks, particularly in areas with heavy traffic or badly maintained roads.
Regulatory Challenges: Electric scooters may face regulatory hurdles and restrictions in certain areas, affecting your ability to utilize them. Make sure you know your local laws and regulations before investing.
Initial Cost: While they are cost-effective in the long run, the initial purchase price of an electric scooter can be relatively high for some people.
Are Electric Scooters A Worthy Investment?
We could simply say a resounding 'YES', but let's elaborate our perspective on the matter.
The price range for electric scooters is quite vast, with more modest models available for under $300, while the high-end ones start around $1,000 and climb rapidly.
The choice largely hinges on your intended use for the electric scooter. While it might initially seem like a substantial upfront expense, the long-term savings are remarkable.
Charging costs for electric scooters vary based on battery size and efficiency. The battery and motor's effectiveness significantly influence mileage per Wh. While electric scooters differ, a rough estimate suggests it'll cost you less than fifty cents to charge a moderately powerful electric scooter. If you manage to cover 10-15 miles on a single charge, that translates to roughly $0.03 per mile. Compare this to the U.S. Department of Energy's reported cost of $0.58 per mile for cars. And with todays economy we know that estimate is probably way lower than the actual cost too.
Maintaining and caring for your electric scooter reduces any maintenance needs, and when repairs are required, spare parts and labor costs are considerably lower.
In conclusion, investing in a high-quality electric scooter from a brand with a proven track record is undoubtedly a worthwhile long-term investment.
Conclusion
We've embarked on a journey through the world of the best electric scooters, guiding you on how to choose the perfect model, introducing you to the top electric scooter brands, and highlighting the models that truly deserve your consideration in each category.
We firmly believe that this guide is the most informative, reliable and up to date resource available for anyone looking to buy an electric scooter. By now, we trust you have a crystal-clear understanding of which model aligns best with your needs and desires.
Our dedication to this guide involved countless hours of hands-on testing, extensive research, and gathering real-world feedback. We've left no stone unturned to ensure you're equipped with the knowledge needed to make an informed decision.
So, with your newfound wisdom and our unwavering support, it's time to take that exciting step – place your chosen electric scooter in your shopping cart and click your way to a world of thrilling rides. Stay safe and enjoy the journey, future ride junkie!