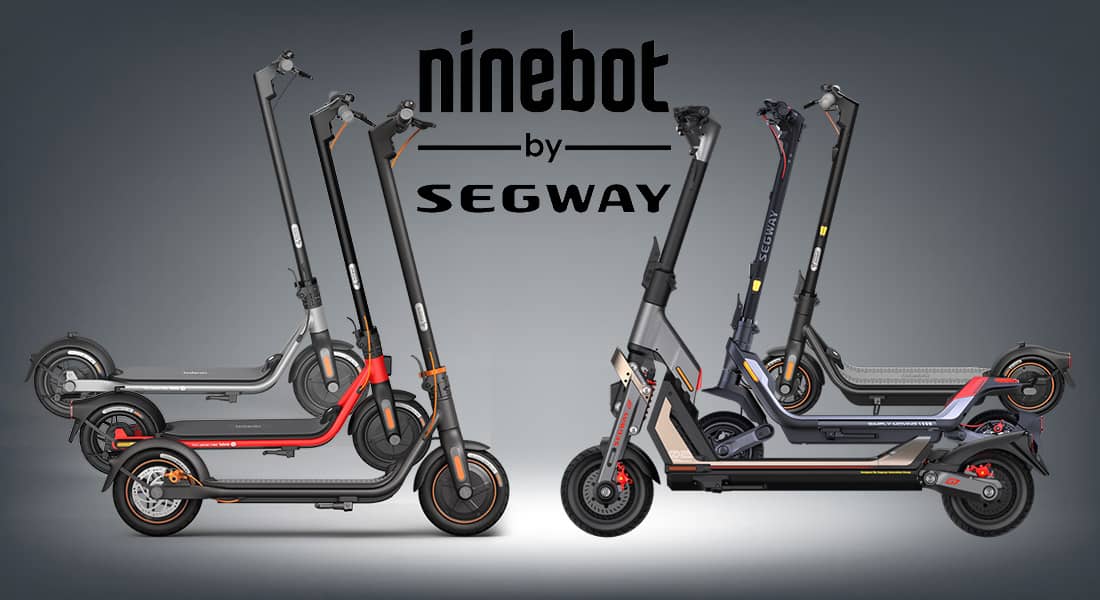 Segway Ninebot is one of the leading brands in the electric scooter industry and they have one of the largest selection of models. However, there is one issue I cannot overlook.
Even with my 7 years of experience in the field, navigating and understanding their model lineup is a headache. And if it's challenging for someone whose job is to keep track of these things, one can only imagine the difficulty for a prospective buyer.
Here you are trying to figure out what would be the best Segway Ninebot electric scooter for your needs. And you have 29 different models, many of which share identical designs, similar names, and very little structure to how they're named.
That's where I come in. In this article, I aim to bring structure to the line-up of Segway Ninebot scooter models, so you can easily differentiate between them and make an informed decision about which one would best suit you.
In all modestly, I was the one who minted the model terms, ES3 and ES4. The model names Segway then snatched up and use to this day for its original ES-series models with battery packs. So rest assured when I say you are in good hands here!
Segway Ninebot Electric Scooter Models – Comparison Table
Let's start it out with a simple comparison table for ease of understanding. Here you can check and compare every Segway Ninebot model's specifics, as well as our own hands-on testing data to make sure they are able to deliver what you need in a real-life setting.
| Model | Top Speed (mph/kmh) | Range (miles/km) | Our Speed (mph/kmh) | Our Range (miles/km | Battery (Wh) | Motor Power (W) | Tire Size (inch) | Net Weight (lbs/kg) | Payload (lbs/kg) |
| --- | --- | --- | --- | --- | --- | --- | --- | --- | --- |
| Ninebot Max G2 | 20 / 32 | 43.5 / 70 | 21.1 / 33.9 | 27.8 / 44.7 | 551 | 450 | 10 | 42.1 / 19.1 | 220 / 100 |
| Ninebot Max G30P | 18.6 / 30 | 40 / 64 | 18.4 / 29.6 | 21 / 33.8 | 551 | 350 | 10 | 42.1 / 19.1 | 220 / 100 |
| Ninebot Max G30LP | 18.6 / 30 | 25 / 40 | 18 / 29 | 13.4 / 21.5 | 367 | 350 | 10 | 38.6 / 17.5 | 220 / 100 |
| Ninebot P65 | 25 / 40 | 40.4 / 65 | 24.8 / 39.9 | 20.2 / 32.5 | 561 | 500 | 10.5 | 59.3 / 26.9 | 265 / 120 |
| Ninebot P100S | 30 / 48 | 62.1 / 100 | 30.1 / 48.4 | 32.9 / 52.9 | 1086 | 650 | 10.5 | 72.5 / 32.9 | 265 / 120 |
| Ninebot GT1 | 37.3 / 60 | 43.5 / 70 | 35.6 / 57.3 | 22.8 / 36.7 | 1008 | 3000 | 11 | 105 / 47.6 | 331 / 150 |
| Ninebot GT2 | 43.5 / 70 | 55.9 / 90 | 42.6 / 68.5 | 31.3 / 50.4 | 1512 | 2×3000 | 11 | 116 / 52.6 | 331 / 150 |
| Ninebot F25 | 15.5 / 25 | 12.4 / 20 | 15.3 / 24.6 | 9.1 / 14.6 | 183 | 300 | 10 | 32.4 / 14.7 | 220 / 120 |
| Ninebot F30 | 15.5 / 25 | 18.6 / 30 | 15.5 / 25 | 14.7 / 23.6 | 275 | 300 | 10 | 33.3 / 15.1 | 265 / 120 |
| Ninebot F40 | 18.6 / 30 | 25 / 40 | 18.1 / 29.1 | 16.7 / 26.8 | 367 | 350 | 10 | 34.8 / 15.8 | 265 / 120 |
| Ninebot F65 | 18.6 / 30 | 40.4 / 65 | 18.4 / 29.6 | 20.8 / 33.4 | 561 | 400 | 10 | 48.5 / 22 | 265 / 120 |
| Ninebot E2 | 12.4 / 20 | 15.5 / 25 | 12.5 / 20.1 | 10.5 / 16.9 | 220 | 250 | 8.5 | 31.3 / 14.2 | 198 / 90 |
| Ninebot E2 Plus | 15.5 / 25 | 15.5 / 25 | 15.3 / 24.6 | 9.8 / 15.8 | 220 | 300 | 8.5 | 31.3 / 14.2 | 198 / 90 |
| Ninebot E22 | 12.4 / 20 | 13.7 / 20 | 12.7 / 20.4 | 10.1 / 16.2 | 184 | 300 | 9 | 29.8 / 13.5 | 220 / 100 |
| Ninebot E22 Plus | 15.5 / 25 | 28 / 45 | 15.4 / 24.7 | 18.2 / 29.3 | 220 | 300 | 9 | 29.8 / 13.5 | 220 / 100 |
| Ninebot E25 | 17.4 / 28 | 15.5 / 25 | 16.9 / 27.2 | 10.2 / 16.4 | 215 | 300 | 9 | 33.1 / 15 | 220 / 100 |
| Ninebot E45 | 18.6 / 30 | 28 / 45 | 18.4 / 29.6 | 16.3 / 26.2 | 368 | 300 | 9 | 36.2 / 16.4 | 220 / 100 |
| Ninebot D18 | 15.5 / 25 | 11.2 / 18 | 15.2 / 24.5 | 7.7 / 12.4 | 183 | 250 | 10 | 32.6 / 14.8 | 220 / 100 |
| Ninebot D28 | 15.5 / 25 | 17.4 / 28 | 15.3 / 24.6 | 14.3 / 23 | 275 | 300 | 10 | 40.6 / 18.4 | 265 / 120 |
| Ninebot D38 | 18.6 / 30 | 23.6 / 38 | 18.2 / 29.3 | 17.6 / 28.3 | 367 | 350 | 10 | 35.9 / 16.2 | 265 / 120 |
| Ninebot D40x | 18.6 / 30 | 23.6 / 38 | 18.2 / 29.3 | 17.6 / 28.3 | 367 | 350 | 10 | 42 / 19 | 265 / 120 |
| Ninebot ES4 | 18.6 / 30 | 28 / 45 | 18.3 / 29.5 | 16.4 / 26.4 | 374 | 300 | 8 / 7.5 | 30.9 / 14 | 220 / 100 |
| Ninebot ES2 | 15.5 / 25 | 15.5 / 25 | 15.4 / 24.7 | 9.4 / 15.1 | 187 | 300 | 8 / 7.5 | 27.6 / 12.5 | 220 / 100 |
| Ninebot ES1L | 12.4 / 20 | 12.4 / 20 | 12.2 / 19.6 | 7.2 / 11.6 | 184 | 250 | 8 / 7.5 | 24.9 / 11.3 | 220 / 100 |
| Ninebot Air T15 | 12.4 / 20 | 7.5 / 12 | 12.1 / 19.5 | 3.9 / 6.3 | 167 | 250 | 7.5 / 6 | 23.2 / 10.5 | 220 / 100 |
| Ninebot Kids C8 | 8.7 / 14 | 6.3 / 10 | 8.6 / 13.8 | 3.5 / 5.6 | 54 | 130 | 6 | 17.4 / 7.9 | 110 / 50 |
| Ninebot Kids C9 | 11.2 / 18 | 6.2 / 10 | 11.2 / 18 | 3.1 / 5 | 55 | 180 | 6 | 17.9 / 8.1 | 132 / 60 |
| Ninebot Kids C10 | 11.2 / 18 | 6.2 / 10 | 11.2 / 18 | 3.1 / 5 | 55 | 180 | 6 | 17.9 / 8.1 | 132 / 60 |
Why You Should Buy a Segway Ninebot Electric Scooter
But there are more benefits to choosing a household-name scooter:
You can rest assured that your new product is thoroughly tested under the harshest conditions not only by the company itself, but also by millions of users, and geeks such as ourselves.
Any questions you will ever have will have been answered a thousand times over on the internet, so a solution for any questions is often no more than a few key presses away.
A large selection of models ranging from kids models to lightweight commuters all the way up to high-performance monsters.
Those things alone should convince you that a Segway Ninebot scooter would bring you effortless scooter ownership, to its greatest extent.
Portable Commuting Segway Ninebot Electric Scooter Models
These scooters do well in both urban and suburban areas having performances that range from 12-20 mph in speed and about 12-40 miles per charge in range.
They are usually lightweight, easy to use, and fit perfectly for various short to middle-distance commutes such as to school, work, or to quickly zip around on some errands.
You can rest assured no matter how far you need to scoot, there is a model for your commute. For a deeper dive on the subject read our best Segway Ninebot electric scooter commuter guide.
High-performance Segway Ninebot Electric Scooter Models
These are the top-of-the-line heavy-duty models that will zip past any ordinary electric scooter commuter out there. These scooters do not only have much more power in terms of both battery and motors. They're also far more robustly built and come with a lot of extra stability and suspension in order to provide you with a superior riding experience even at higher speeds.
Their superior power and more robust construction make them ample electric scooters for heavy adults to ride on. These electric scooters have no issue handling riders from 265 to over 300 lbs!
Their speed range between 25-40+ mph and you can squeeze out an impressive 40-62 miles from a single battery charge.
On top of this, they come with a lot of great features that you won't find on the more budget-friendly options used for commuting. These Segway Ninebot models are for those who have a need for speed and are ready to take their scooter riding to the next level.
Should you want to explore performance scooters in more depth make sure to check out our article for the best heavy-duty performance Segway Ninebot electric scooters.
Kids Segway Ninebot Electric Scooter Models
These scooter models are the perfect fit for very young aspiring riders up to teenagers. They vary in power slightly between 8-11 mph in top speed and have a maximum range per charge of about 6 miles.
These are no powerhouse scooters, but for a child, they are great choices as their first electric scooter. They have all the safety functions you as a parent want to have for your kid and they are super easy to learn, operate, and maneuver.
If you're in your later teens I would highly suggest going for one of the commuter options since those will be able to accommodate you into your adult years. The lack of distance per charge on these kids-friendly models will likely have you craving for more as you grow. For a guide focused on the world of kids' electric scooters read our continuously evolving article on how to find the best electric scooter for your kids.
Picking The Right Segway Ninebot E-scooter For Your Needs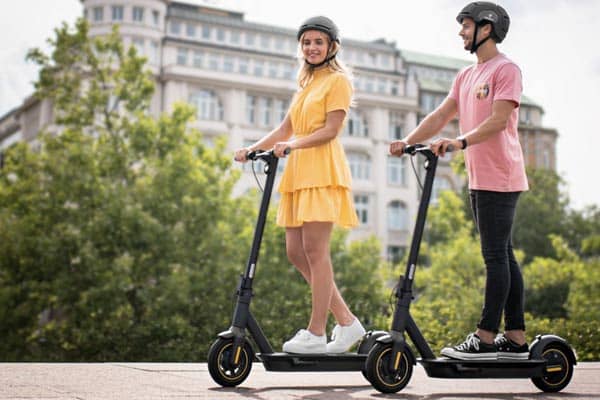 In order to help you determine which model would best suit your need, here are a few questions you need to ask yourself.
As of writing this guide, there are 29 different Ninebot scooter models and counting, and our job is to narrow it down to THE 1. These questions have been thoughtfully and carefully crafted in order to help guide you through the process of narrowing down your choices.
Riders Age – Consider the user's age as some scooter models are lighter and less powerful to better fit young adults and kids. While an adult will need a more robust machine with higher performance and comfort.
Fitness & Strength – How much are you able to carry? Think about any instances where you might have to carry your electric scooter. Could be up a flight of stairs, loading it into the trunk of a car, or just navigating through a narrow opening.
User's Weight & Length – Self-explanatory heavier users need to make sure that the model they pick is capable of providing them with enough power to get them around comfortably and safely. Consider your length to make sure the handlebar is at a sufficient enough height for good control and that you have enough space for your feet.
Mobility & Balance – If you suffer from any type of mobility issues or just might not have the best balance. Then that are also important factors to consider. Some models have seat attachments and will give you a much more comfy seated ride.
Experience – What is your prior experience with electric scooters, or even with just a regular bike/kickscooter?
Where do you ride? – This is the more important section I would argue. Here we need to think about our future usage. Are you going to be zipping around city streets or more suburban areas? Or will there be rough terrain involved like gravel roads or perhaps even a bike trail in the woods? How far do you need to be able to go on a single charge and how fast do you want to get to your destination?
How much can it cost? – It always comes up, how much are you willing/able to pay in order to get what you need? Let's start by separating the need and the want. Make sure you're not overspending by aiming for more power than you actually need. Set a budget and stick to it. There is a Segway Ninebot e-scooter that fits everyone's wallet, ranging from $150 up to thousands depending on how much power you want at your disposal.
Review Summary of Each Segway Ninebot Model
Here I'll share a short review summary of each model and their real-life performance data that we have achieved through rigorous hands-on testing. What the advertisement says, isn't always the case. For a more in-depth view of each model, check out their individual full review.
Review Summary
The G2 is the latest rendition in Segway's popular Max scooter line-up. Following in the steps of its predecessor the G30 which was the most popular commuter scooter on the market. With a bunch of new upgrades, the G2 is truly set up to carry the torch forward.
It comes with a 450W rear-mounted hub motor boasting a top peak output of 1000W giving it great incline abilities as well as a top speed of up to 22 mph.
Equipped with a 551-Wh battery pack featuring optimized settings, the G2 unleashes a staggering maximum range of 43.5 miles. Say goodbye to range anxiety and embrace the freedom of extended journeys.
It has large 10" special self-sealing tires and both a front and rear suspension system providing excellent riding comfort and great handling.
So, hop on the G2, feel the surge of power, and embrace the adventure that awaits. With its impressive features and remarkable capabilities, this scooter is poised to conquer the roads and capture the hearts of riders everywhere.
Pros & Cons
Who is it for?
The Segway Ninebot Max G2 is a commuter's dream come true and can accommodate users up to 265 lbs. Whether you're embarking on a short trip or a long-distance journey, this scooter is designed to provide unbeatable comfort and exceptional performance. It's the perfect choice for those who refuse to compromise on their commuting experience.
With its new enhanced features, the Segway Ninebot Max G2 offers an unparalleled level of comfort and capability. You'll enjoy a smooth ride, free from the hassles of crowded buses and traffic congestion. The only requirement is that you can handle the slight increase in weight, which is a small trade-off for the incredible benefits it brings.
Review Summary
The Segway Ninebot Max G30, our former number 1 commuter scooter, continues to hold a solid position at the top and remains highly impressive even after many years on the market.
It offers everything you need in a commuter scooter, and then some. With an impressive battery range of up to 40 miles in eco-mode and a solid top speed of 18.6 mph, it delivers exceptional performance.
This scooter has proven its durability and capability over the years, as my first model is still intact to this day despite having been heavily used.
The scooter features a powerful 350W rear-mounted hub motor, offering comparable performance to the Max G2, alongside a battery with a capacity of 551Wh. With three different speed modes, it caters to riders of all skill levels, ensuring ease of use.
The braking system consists of a front drum brake and an electrical regenerative motor brake, providing efficient and reliable stopping power when needed.
Pros & Cons
Who is it for?
The Ninebot Max G30 offers an affordable and dependable option for those seeking a commuter scooter. While it may not be the lightest or most portable choice, it compensates with an exceptional range per charge, surpassing other models in its price range.
With its comfortable 10″ tires and wide footpad, it provides a pleasant riding experience, though I advise against it for heavier users.
If you weigh 220 lbs or more, I recommend considering the G2 or exploring higher-end models like the P-series scooters for better performance.
Review Summary
The P65 exudes an electrifying allure, designed to captivate the hearts of commuters who crave both power and exhilaration. With an impressive battery range of up to 40 miles and a solid top speed of 25 mph, this extraordinary scooter unleashes exceptional performance, delivering an unforgettable riding experience.
Harnessing the power of a robust 500W rear-mounted motor, the Segway Ninebot P65 propels riders with remarkable strength. Paired with its high-capacity battery of 551Wh, it offers an extended range that leaves room for even longer excursions than what you'd be able to achieve on a more basic commuter.
This exceptional electric scooter is equipped with robust 10.5″ self-sealing tires, ensuring a smooth and hassle-free ride while shielding you from the inconvenience of flats.
The P65 also comes with a brand-new transparent display. Despite its transparent nature, this cutting-edge display boasts remarkable readability in all weather conditions and is packed with a ton of neat features.
Pros & Cons
Who is it for?
It is an ideal companion for commuters up to 220 lbs seeking a harmonious blend of power, endurance, and reliability. Its impressive range and robust performance make it a perfect choice for those needing to navigate bustling city streets with ease and confidence. Furthermore, riders who value durability, stylish design, and a thrilling riding experience will find solace in the embrace of the P65.
While it offers an exceptional riding experience, it's worth noting that due to its larger size and weight, riders seeking a more compact and portable option may find it less accommodating.
However, for those who prioritize power, endurance, and a large touch of elegance, this scooter is poised to be their trusted steed, transforming their daily commute into an exhilarating adventure.
Review Summary
The P100S is the top tier of Segway's P-series scooters. I would say it's a high-level commuter electric scooter aimed at customers who are opting for a faster, longer, and more comfortable commuting experience.
It should not be compared to the likes of the D-series or Max scooters which are lightweight, for the masses commuter scooters.
The P100 brings a completely new design, everything from the cockpit to the frame has been optimized to provide a reliable and efficient commuting machine.
It comes packed with a bunch of new features, a 650W motor, and a 1086Wh battery pack providing an exhilarating top speed of 30 mph(48km/h) and a range of up to 62 miles per charge during optimal conditions.
Pros & Cons
Who is it for?
The Segway Ninebot P100 is definitely not for your average commuter. It's solely aimed at those of us craving more on every aspect of our scooter and the P100 delivers on its promises.
If you're going to be using your electric scooter extensively, can greatly benefit from an increase in both comfort and performance, and can work with a heavier-than-normal scooter then the top P-series scooter is a really solid choice for you.
It comes at a higher price, but for someone like myself who uses his electric scooters for hours on a daily basis, it is a worthy investment for sure.
On top of that, if you're one of our sturdier riders, you'd be happy to know we had a friend test the P100 which weighs 250 lbs and he was amazed by how well it performed.
Review Summary
Now we're talking pure power and ultimate riding experience, the top of the cream when it comes to electric scooter riding. The GT1 is the single-motor version of Segway's top-tier high-performance electric scooters. It has the reliability and quality that we have become used to with Segway scooters, but times 10.
Performance-wise the GT1P comes equipped with an air-cooled 1400W rear-mounted hub motor that can deliver speeds of up to 37.3 mph, and it can go from 0-30 mph in 7.5 seconds.
On top of this, the new design is just breathtaking with a dual hydraulic suspension system that can be easily adjusted for personalized maximum performance, front and rear disc brakes, and 11-inch puncture-proof tires.
The scooter can easily handle up to 331 lbs of load and there is definitely no lack of foot space for the larger riders out there. Powered by a large 1008Wh battery you can get up to 43.5 miles on a single charge, and with the new dual-charging system you can refresh its power within a few hours.
Definitely not a scooter for the faint of heart, but if you're looking for the ultimate riding experience, look no further!
Pros & Cons
Who is it for?
Well, the GT1 is definitely for those of us looking to get places and to do so quickly, comfortably, and efficiently.
It is a blast to ride and you really feel secure even at higher speeds thanks to its sturdy structure and ample braking power at your fingertips. This is definitely a scooter for those who take their riding seriously and not for the everyday short-distance commuter.
Perfect choice for the big boys out there who are tired of having to walk up hills due to lack of power. The GT1 can handle heavy adults pushing past 300 lbs.
For me, it's a no-brainer if you're looking for a high-performance scooter, and by getting a Segway GT1 you know you have reliable support and after-sales service should you ever run into any issues.
Review Summary
The GT2 is the crème de la crème of Segway Ninebot electric scooters. It boasts both a rear and front-mounted 1400W hub motor for a combined 2800W of power at your fingertips. That gives the scooter enough strength to tackle most any hills with ease as well as reach speeds of up to 43.5 mph, and it can do 0-30 mph in 3.9 seconds.
With such power, you need sufficient braking too and that is achieved with a front and rear disc braking system that provides more than enough braking power to smoothly bring this beast to a stop when you need it to.
In terms of design and structure, the GT2 is just like the GT1 with a dual hydraulic suspension system in the front and rear that can be adjustable to your liking for maximum comfort and traction. It boasts a 1512Wh 50.4V battery that is said to have a maximum range of up to 55.9 miles a charge.
On top of all this power, you have a plethora of features to customize your ride's abilities to handle any task you two set out on.
Pros & Cons
Who is it for?
Well, simply put the GT2 is for anyone looking to get the most out of their electric scooter riding. No normal person would go and buy such a machine only to take it around the block or go on simple commutes. No, the GT2 is for those of us who have embraced electric scooters as our main way of getting around, and we want to do so efficiently, comfortably, and while having as much fun as possible!
It can accommodate anyone up to 331 lbs and it does so with ease, even our heaviest test pilots have concluded that this is probably the best Segway Ninebot scooter for a heavier person.
But all this amazingness comes at a price, the scooter is quite expensive, and not only is the price higher, but it also weighs 116 lbs. If size, price, and weight aren't an obstacle to you, then you're in for a ride of a lifetime.
Review Summary
The Segway Ninebot F25 is the embodiment of efficiency and comfort, a perfect companion for those who navigate through city streets on a daily basis. This model isn't about breaking speed records or conquering off-road trails; it's all about offering an exceptionally smooth ride that turns mundane commutes into delightful journeys.
The F25 stands out with its robust build quality and sleek aesthetics, based on the Xiaomi M365. Underneath its elegant exterior, you find a 300W motor powered by an efficiently optimized 255Wh battery pack. While it might not be as strong as its older brothers, this electric scooter still offers up to 15.5 mph (25 km/h) top speed and enough torque to take you up most city hills – making it ideal for urban commuting.
On a fully charged battery and being conservative with your riding you can expect a maximum distance of 12.4 miles.
The F25 looks and feels a lot like the Max-series scooters but just with a bit less power.
Pros & Cons
Who is it for?
The Segway Ninebot F25 shines brightest in the hands(Or should I say feet?) of everyday commuters seeking reliability over adrenaline-inducing speeds or extraordinary off-road capabilities.
If you're someone who spends considerable time traversing concrete jungles rather than rocky trails, then this could be your dream scooter! As long as you feel adequate with the offered 12.4 miles range which often is enough.
While it might command a higher investment compared to other entry-level scooters given its features set – if reliability, comfort, decent speed & range are what you seek from your e-scooter experience – then look no further than Segway Ninebot F25!
Review Summary
This is the next step up in Segway Ninebots F-series. The F30 comes with a larger battery of 275Wh giving it a great 18.6 miles of range. It also does help the scooter in terms of its ability to tackle hills as it slightly outperformed the F25.
In terms of power, the scooter comes with the same 300W motor which results in a similar top speed of 15.5 mph. It comes in a slick M365 design and it is just as reliable as you would expect a Segway scooter to be.
It comes with 10" self-sealing tires that offer some decent shock absorption while also eliminating the need to change tires. Which is for a lot of people(me included), such a relief!
Pros & Cons
Who is it for?
The F30 just like any other F-series scooter is a great electric scooter for commuting. The main focus of the F line-up is on providing riders with options so that they can get a well-balanced scooter that fits their needs. This second-level scooter is probably the one that would fit most people's daily commuting needs with its 18.6 miles maximum range.
It can handle riders of up to 220 lbs and does so very well. Just make sure the 300W motors are enough to handle your hills back home, otherwise, you might want to opt for the F40 which kicks it up a notch in terms of overall performance.
Review Summary
The F40 is where things start to change more drastically in the F-series. On the F40 we kick it up a notch in terms of power. On it, we find a new 350W front-mounted hub motor combined with a larger 367Wh battery. This provides the scooter with an ample amount of power than the earlier F-series models.
Expect an impressive 18.6 mph top speed and the ability to ride for up to 25 miles on a fresh charge.
With excellent m365 design and various riding enhancing features such as speed modes and the ability to highly customize its performance to your liking within the Segway app makes it a fantastic commuter scooter.
Pros & Cons
Who is it for?
The F40 was when it arrived a really solid choice for any commuter looking to tackle their daily city adventures. But as the Segway Max G2 entered the market with its awesome performance and sick range, the F40 fell off a bit.
It handles and feels quite similar to the Segway Max, but it's important to check the pricing to make sure you strike a good deal.
As prices fluctuate and sales happen I would keep an eye on the F40 for a price of about $100 or more less than a Segway Max, that is a steal in my book!
The F40 has the advantage of the F-series in having a more powerful motor which also means it can accommodate a larger load of up to 265 lbs. At the right price, this scooter is a definite buy and it'll bring you trouble-free scooter ownership for a long time ahead.
Review Summary
The top-level electric scooter in the F-series is the F65 with another 50W added to its motor power topping it out at 400W. This high-level commuter also has its hub motor mounted in the rear for increased control and stability when you zip down the city streets at up to 18.6 mph.
In terms of comfort, it's larger than the other F-series scooters and has pneumatic 10" tires that provide extra suspension, traction, and overall greater comfort to the ride. Additionally, it has a larger battery of 561Wh providing you with a range of 40.4 miles. It is the predecessor to the Max-series and just by that, you know you're in for a solid and comfy ride.
But all this comes at a cost of weight, the F65 weighs in at 48.5 lbs and that makes it one of the heaviest commuters while not bringing a lot of extra performance.
Pros & Cons
Who is it for?
The F65 is for those of you looking for a fantastic riding experience. Be vary though and make sure to see where it is priced as the Max G30 and G2 scooters come with an overall superior performance, I would make sure that the F65 is priced a notch below those for it to be a worthwhile investment.
If you can find it at a good price point this is a great scooter for anyone who needs quite a lot of range for their daily commutes and doesn't really worry much about its weight or portability. It can accommodate any rider up to 265 and it does so very well.
Segway Ninebot E2 & E2 Plus
Review Summary
Yet again we have a scooter that comes in two different options and that is the Segway Ninebot E2. What sets the E2 apart from the E2+ is a larger 300W respectively 250W motor, and the customizable 256 RGB ambient lights mounted underneath the deck. That gives the E2+ an advantage when it comes to top speed in terms of 15.5 mph in comparison to the standard E2's 12.4 mph, and a slight increase in its ability to tackle hills. Equipped with a 220Wh battery that opens up a maximum range per charge of 15.5 miles.
Its frame is a redesign of the famous commuter M365 from Xiaom and it has a new larger more visibly appealing display. Overall the E2 is a great electric scooter for regular everyday commuting where portability is key. The third lightest scooter in Segway's commuter line-up, beaten only by the two lesser scooters Ninebot E22 and ES1L.
Pros & Cons
Who is it for?
The Segway Ninebot E2 & E2+ is for anyone looking for a reliable commuting electric scooter that has a high level of portability. Perfect as a last-mile solution thanks to its low weight of 31.3 lbs, and easy folding. Due to its size and weight, it fits in most car trunks or as a reliable +1 passenger on the train/bus.
Just remember that with a lightweight scooter, there are trade-offs in terms of weight limit(198 lbs) and its ability to handle inclines.
Segway Ninebot E22 & E22 Plus
Review Summary
The E22 & E22 Plus is an updated version of Segways first ever line-up, the ES-series.
The difference between the two models is that E22+ will come with an extended range due to a detachable battery on the stem, the same difference as between the original Segway Ninebot ES1 and ES3.
Its mainly built to be highly portable and lightweight, so its performance is far from impressive. You get a 300W motor that maxes out at 12.4 mph, combined with a slim and lightweight 184Wh battery that supports a range of up to 13.7 miles. However, if you opt for the E22+ with its detachable battery you can expect a much longer ranger of about 28 miles and a speed boost to 15.5 mph.
On the features side, it doesn't have a ton going for it either, simplicity is what the E22 has to offer. But it does have the basics like a nice folding system and Segway's usual speed mode function and so on.
Pros & Cons
Who is it for?
The E22 is definitely not the scooter for the power-hungry or heavier riders. No, it's built to carry lighter loads and to give its user a really lightweight and portable electric scooter.
If you need a last-mile solution but might need the ability to go on longer rides from time to time then the E22 is a great option. With the ability to attach the second battery onto its stem, you can easily skip it when you're going for shorter commutes keeping it lightweight and portable.
The maximum rider weight that the E22 can carry is 220 lbs and it does handle riders close to its limit quite well due to its powerful 300W motor. It comes with 9" Segway Foam-filled tires that provide some decent shock absorption and are puncture-proof. 
Segway Ninebot E25 & E45
Review Summary
Just as the E22 is the upgraded version of the ES1, the E25 is the latest version of the ES2, and the E45 comes with extra battery juice just like the ES4. They have the same original design but with some updated features.
The scooters come with a front-mounted 300W motor with Segway's new 9-inch dual-density tires. This in combination with the small but effective front shock is enough to provide you with far superior comfort and traction than its sibling the E22, or even the old ESx models.
The E25 has a top speed of 17.4 mph and a range of up to 15.5 miles, in comparison to the E45 with its extra battery pack gets a whopping 18.4 mph and 28-mile range.
It boasts a solid braking system that has multiple brake functions tuned to perfection in order to get you to a nice soft stop.
Pros & Cons
Who is it for?
I would recommend the E25 and E45 to a beginner who is looking to dip their toes in the electric scooter ocean. They offer good power and are just so simple to operate that I even let my grandma ride one. You can customize the brakes and acceleration along with a ton of other features inside the Segway Ninebot app which makes it fit perfectly to your particular riding style.
They can easily handle riders up to 220 lbs without any greater performance reduction. If you start out with the E25, you can always upgrade it to an E45 by simply buying the optional battery pack and you get another 12.5 miles extra range and even a 1.2 mph boost to top speed.
Segway Ninebot D-Series – D18, D28, D38, D40X
Review Summary
The D-series scooters consist of 4 different models with very limited differences between them, hence why we have merged them into one.
These models differ in terms of maximum rider weight, net weight, range, climbing angle, battery capacity, motor power, and tire type. The D38E offers more range and power, while the D18 is the lightest option, and D28 is where you find the middle ground between performance and weight.
The easiest way for us to demonstrate their differences is by providing them side by side in the table below.
While the D18, D28, and D38 have their performance-based distinctions, they share the same fundamental scooter design and functions. The D40x on the other hand is simply just a D38 with a seat attachment on it.
As long as you pick the option that reflects your needs you will be getting a cheap and solid commuter. All Scooters come with the following features. A similar design to the all-time popular and heavily versatile Xiaomi m365, equipped with air-inflated 10" tires to provide you with a less shaky ride.
You have a front-positioned motor with a built-in regenerative brake and a rear drum brake, that together provides efficient braking and control while doing so.
When it comes to speed modes, you have four options to choose from: Eco, Balance, Power, and Walking. Eco mode prioritizes range, allowing you to cover longer distances on a single charge, although it provides slightly less power. On the other hand, Power mode maximizes the scooter's speed and acceleration, offering a thrilling ride.
For a balanced combination of range and power, the Balance mode is the ideal choice. And last, but not least, let's not forget about the Walking mode, which comes in handy when you need to walk alongside your scooter. I use it for situations like carrying heavy grocery bags where you can simply stroll back home with the bags hanging on your handlebar.
Pros & Cons
Who is it for?
The D-series offers a range of riding modes, allowing users to adapt their riding experience to different terrains and preferences. This makes them ideal for individuals who commute in diverse urban environments with varying road conditions.
Moreover, the easy 2-step folding mechanism makes the D-series scooters convenient for those who need to carry their scooters on public transportation or store them in limited spaces.
These scooters are especially suitable for riders who value range options, as the D-series offers various models and different battery capacities. Commuters with longer daily trips can opt for the models with a larger battery, while those with shorter distances may prefer the lightweight option.
The D-series may not be the best choice for users seeking advanced shock absorption or who intend to ride in more extreme weather conditions.
In the end, I think the Ninebot KickScooter D-series is great at catering to urban commuters and riders looking for customizable, portable, and versatile scooters.
Review Summary
Part of Segway's first batch of electric scooter models is the powerful ES4, a high-performance model perfect for cruising through the city streets. It's the same scooter as the ES2 but with a battery pack giving it increased performance.
It comes with a 350W motor and a 337Wh battery providing a maximum range of 28 miles and a top speed of 18.6 mph.
But here's the cool part – it actually has two battery packs. The first one is a built-in pack, while the second one is detachable and conveniently located on the stem. Imagine you being able to carry around an extra half-pack of juice in your backpack for those moments when you need those extra few miles to finish your ride!
Another nifty feature of the ES4 is its one-step-fold system. Just step on it, and voila! It folds up instantly, making it a breeze to carry around and take on the go.
Now, let's talk about its comfort. While the ES4 comes with front and rear suspensions, let's be honest, they're not exactly what you'd call top-of-the-line. However, they do offer some extra cushioning to improve your ride experience. This is particularly handy considering the scooter's 8″ solid tires, which aren't exactly known for their ability to provide a comfortable ride on uneven or non-flat surfaces.
A great ride, but like any other scooter, it has its quirks. One thing to watch out for is the rear fender, which can wear down after heavy use. However, fear not! With proper maintenance and care, you can easily avoid this little hiccup.
Pros & Cons
Who is it for?
The ES4 excels on slick roads and hence provides a fantastic city ride. Its agility and ability to zoom through city traffic are truly impressive.
Plus, it's surprisingly lightweight considering the power it packs. If you're in the market for a lightweight and portable scooter that's perfect for urban areas, the ES4 should be high on your list.
However, it's essential to consider your specific needs. If you're close to or exceed the maximum weight limit(220 lbs), or if you often find yourself traversing over uneven terrains, it might be worth having a look at other options on our list. The ES4 comes with solid rubber tires, which do not offer ideal performance on rougher surfaces. But if you're primarily cruising through city streets, the ES4 is a solid choice.
Review Summary
The ES2 was a true gem in Segway's original lineup of electric scooters. It's a versatile and stylish scooter that caters to the needs of urban commuters and scooter enthusiasts alike. With its sleek design and impressive performance, the ES2 is a force still to be reckoned with on the city streets.
This scooter is built to impress, with attention to detail evident in every aspect of its design. From the handlebars to the frame, the ES2 exudes a sense of sophistication and quality craftsmanship. It's a scooter that not only looks good but also delivers a smooth and exhilarating ride. Although its been available for quite some time now it is still highly popular among riders.
Equipped with a powerful 300W motor and a 187Wh battery, the ES2 offers a top speed of 15.5 mph (25 km/h) and a range of up to 15.5 miles (25 km) on a single charge. And the best part is if you need more juice you can just opt in for the extra battery pack, mount it and voila, you now have an ES4 with 18.6 mph top speed and a whopping 28 miles range.
Pros & Cons
Who is it for?
Although the ES2 has been around for a long time and might have passed its prime, it's still a viable option for commuters today. Its main selling point is the fact you can easily upgrade it to an ES4 with just a simple battery attachment.
That's quite rare for a scooter to be so easy to upgrade and it delivers not only greater range but also a better top speed.
The important thing is to make sure that the price is right, it has a tendency to fluctuate on these products. If you can get an F-series or Max scooter for close to the same price as the ES2, then it's a no-go. But if you can catch this model for a lower price during a sale I would definitely seal the deal.
Review Summary
The second lightest of all the Segway Ninebot electric scooters is the ES1L. Well, if you don't count in their models catering to our younger audience namely kids. It weighs in at 24.9 lbs and delivers a decent bang for your buck.
Based on the original Segway ES design it comes with a similar front suspension system to the ES4. Combined with hollow 8" tires it does deliver a decently comfortable ride for something made to be strictly portable and easy to stove away.
It is definitely not a powerhouse in terms of a scooter, but does perform really well in a city setting. Like most in the ES series, it comes with a standard battery of 184Wh providing a maximum range of 12.4 miles. Just below the front suspension, we can find a 250W motor that can deliver an ok 12.4 mph top speed.
Pros & Cons
Who is it for?
The Segway Ninebot ES1L, with its featherweight design, compact dimensions, and user-friendly interface, is tailored for a specific group of riders who will truly appreciate its unique strengths. This electric scooter is the perfect companion for those seeking a seamless last-mile solution that can effortlessly accompany them on public transport or snugly fit into the boot of a car.
For the scholarly crowd, this scooter is a godsend. Its lightweight and compact nature makes it an excellent choice for university students navigating sprawling campuses. Plus, its small footprint ensures it can be conveniently tucked away in even the most cramped of dorm rooms. So, if you're a student looking for a reliable, portable, and easy-to-use mode of transport, the ES1L might just be your perfect match.
Review Summary
The Segway Ninebot Air T15 is the new futuristic-looking featherweight champion in town. Crafted for the urban commuter who values minimalism and portability, it's a compact marvel with a completely unique electric scooter design.
This isn't your typical heavyweight cruising beast. No, the Air T15 opts for a lightweight(23.5 lbs) and foldable structure making it perfect for city dwellers constantly on the go.
Its streamlined bodywork exudes a sense of sophistication while housing an efficient 250W motor powered by a 167Wh battery pack. Although not as powerful as some other models in its family, this little dynamo offers up to 12.4 mph (20 km/h) top speed with optimal conditions – more than adequate for zipping through bustling sidewalks or serene park trails.
Its range may seem modest at approximately 7.5 miles(12 km) per charge but remember – we're talking about one of the most portable e-scooters out there!
Handlebars fold together and slip into the stem then it folds down into an incredibly compact package that can fit neatly inside any tight space.
Pros & Cons
Who is it for?
The Segway Ninebot Air T15 caters primarily to those seeking convenience over long-range commuting prowess. If you prioritize ease of carrying during public transit commutes or appreciate minimalist design aesthetics, then this nimble scooter is undoubtedly tailored just for you!
Also consider that despite being lighter than many scooters on the market, it doesn't compromise its carrying capacity, it can still carry 220 lbs of load.
Yes indeed, this model comes with a higher price tag considering its specifications but offers unrivaled portability in return – making every penny worth spending if your primary need aligns!
Review Summary
A charmingly designed and perfectly sized scooter for the younger members of our society. It is a delightful entry point into the world of electric scooters, specifically tailored to ensure safety and ease of use for kids.
This isn't your typical adult-sized e-scooter shrunk down in size. The Ninebot Kids C8 has been meticulously engineered from the ground up with child-friendly features – everything from its frame to its intuitive control mechanisms ensures that children can safely navigate their neighborhoods.
Brimming with thoughtful design elements, this little speedster comes equipped with an energy-efficient 130W motor and a reliable 21.6V 54Wh lithium battery. This combination provides an enjoyable top speed of around 8.7 mph (14 km/h) and delivers a respectable range of 6.3 miles per charge during optimal conditions.
Pros & Cons
Who is it for?
The Segway Ninebot Kids C8 is undoubtedly designed with youngsters in mind who are eager to explore their surroundings on wheels while ensuring parents' peace of mind regarding safety concerns.
If you have kids who show interest in electric scooters or if they're ready to graduate from their manual kick-scooters, then the Ninebot Kids C8 presents itself as a fantastic choice. While it might not boast long-range capabilities or blistering speeds like some other models geared toward adults or teenagers, it serves as an excellent introduction to e-scooting without overwhelming them with complicated controls.
It's also worth noting that we had one tester—a sprightly seven-year-old—who absolutely adored her ride on the Kids C8. Her review? "Super-duper fun!"
Remember though, even when riding relatively slow machines like these – always use a helmet!
Review Summary
The C9 is Segway's second step in their 3-model kids electric scooter lineup. It stands as a beacon of safety and fun, targeted at parents seeking to introduce their young ones to the exciting world of e-scooting.
In contrast with adult-oriented models like the D-series or Max scooters, the Kids C9 harbors features that are scaled down and refined to meet children's needs. The design aesthetics echo this philosophy too, presenting a sleek yet playful framework that appeals to youthful sensibilities.
Underneath its vibrant exterior lies an array of impressive specs: it's equipped with a 150W motor and houses a 127Wh battery pack. This combination propels it to reach top speeds up to 11.2 mph (16km/h) while ensuring up to 6 miles per charge under optimal conditions – perfect for little explorers on their neighborhood adventures!
Pros & Cons
Who is it for?
The Segway Ninebot Kids C9 isn't your everyday scooter; it's tailor-made for our younger riders who seek thrill but within secure boundaries. If you're looking at gifting your child hours filled with joyous exploration without compromising on safety, then look no further than the adorable C9.
A solid choice for kids 8 and above who can handle the extra increase in speed that the C9 has above the C8 model.
Review Summary
The Segway Ninebot Kids C10 is an electric scooter that serves as a vibrant, energetic companion for young riders. This charming little dynamo redefines the concept of childhood mobility with its blend of safety features and thrilling performance.
Driven by a compact yet mighty 180W motor, the Ninebot Kids C10 provides just the right amount of power for its target audience, reaching speeds up to 11.2 mph. Its modest but reliable maximum range of 6.2 miles ensures that kids can enjoy their outdoor adventures without worrying about charging every 10 minutes.
The C10 also boasts a smart LED display on its handlebar dashboard which indicates speed, battery status, and other essential information even under bright sunlight – ensuring your kid always stays informed during their ride.
Pros & Cons
Who is it for?
The Segway Ninebot Kids C10 is specially designed to give children aged 8 years and above an engaging introduction to personal electric transportation. With its moderate range and controlled power output, this scooter perfectly suits youngsters weighing up to 132 lbs who are ready to explore neighborhood parks or simply have fun in their backyard.
However, due to its limited top speed and weight capacity, older teenagers or heavier users might find it less satisfying. But if you're looking for a safe yet exciting gift that allows young adventurers freedom within boundaries – all wrapped in an attractive package – then look no further than the Segway Ninebot Kids C10!
Segway Ninebot Warranty Overview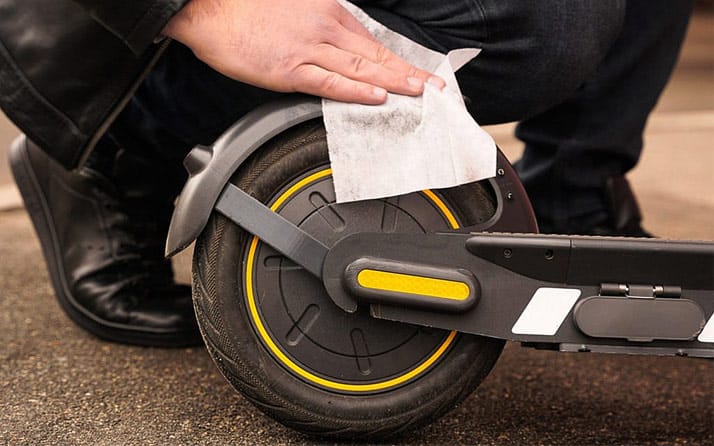 So let's delve into the warranty details of these models if for any reason you should ever find yourself in trouble.
Segway Ninebot's warranty has you covered if anything goes wonky with your scooter. They offer a standard 12-month warranty on most parts like the motor, controller, and battery. That means for the first year, if there are any issues with those core components, Segway will repair or replace them at no cost to you.
As for other parts like the handlebars, tires, or brakes – since those tend to experience more wear and tear, the warranty period is a bit shorter at 6 months. But not to fret, you can always purchase extended warranty coverage for up to 3 years if you want that extra peace of mind!
The specifics of the warranty do depend on which exact Ninebot scooter model you have and where you reside. But you can check out all the details for your ride on Segway Ninebot's website. They spell out exactly what's covered, for how long, and what you need to do if you require any repairs.
Bottom line, Segway Ninebot has got your back so you can scoot around with confidence! But be sure to register your scooter within 30 days of purchasing to activate that standard warranty. And if you do need any repairs done, go through an authorized Segway Ninebot service center or contact them directly.
Segway Ninebot's Company History
"No matter what else I do in Life, I am the Segway guy."

Dean Kamen
The narrative took an interesting turn when Chinese robotics startup Ninebot acquired Segway Inc. in April 2015 after raising funds from investors including Sequoia Capital China and Xiaomi Corp. This merger marked a pivotal moment as it allowed both companies to join forces on research & development while sharing intellectual property rights – paving the way for future innovations.
Today, Segway-Ninebot is recognized as one of the world's leading brands within the electric scooter industry – attributed largely due to their commitment towards innovation coupled with the established brand reputation carried forward from earlier years under the standalone operations of each entity pre-merger.
Having been part of our collective consciousness for over two decades now has helped establish them as a household name synonymous with quality-assured electric mobility solutions. Their history reflects resilience amidst challenges faced along their evolution path – successfully transitioning from being pioneers within the niche-market realm onto becoming leaders within mainstream market space through continuous product adaptations based upon changing consumer needs/preferences over time.
If you want to delve deeper into the subject, we have an entire article detailing the quite bumpy ride in electric mobility that is the history of Segway.
Company Timeline
1999 – Founded: Dean Kamen starts up Segway
2001 – First Product: Unveils Segway PT, fails commercially
2000s – Expansion: Diversifies into new markets & refines tech
2015 – Acquisition: Bought out by Ninebot, begins R&D collaboration
2017 – Shift Focus: Releases first e-scooter models 'ES1 & ES2' catering specifically toward a mass-consumer audience base
Present Day – A leading global brand known for innovative & reliable e-mobility solutions
Who owns Ninebot Segway?
Good to know is that Xiaomi owns 22% of Ninebot and has been a backer of the company since it was founded back in 2015. Together with Sequoia, the two raised $80M to fund the purchase of Segway Inc.
And showing by the numbers it is easy to see that between the two(Xiaomi & Segway Ninebot) they have a combined market share of at least half the electric scooter market.
Final words
Hopefully, we have now shed some light upon the extensive line-up of Segway Ninebot's electric scooters and their quite complex way of naming their models. With this article, I hope you have found the information and insight needed in order to make a knowledgeable electric scooter purchase.
Segway Ninebot has a vast range of models ranging from entry-level and kids scooters all the way up to robust heavy-duty performance-grade machines for the enthusiast and heavy rider, meaning there is no reason why you shouldn't find a fittable Segway model that will cater perfectly to your needs.
By opting for a Segway Ninebot scooter you can rest assured that you're unit will have been well-tested by the manufacturer, and also by millions of people around the globe. A company does not reach the notoriety that Segway has by producing a bad product and their models have proven to be able to withstand the test of time.
Just looking at my old ES4, one of the first models I was fortunate to test. It still operates great after years of usage. Sure, I've had to put in some time maintaining it and making sure every nut still stays in place, but it also has an insane amount of miles on it by now.
Now for the fun part. Grab that fresh unit and embrace the thrill that is electric scooter riding!
FAQ – Segway Ninebot Electric Scooters