Best Electric Scooter for Commuting – 200+ Rides Tested
Welcome to A Ride Junkie's expedition into the vast landscape of commuter electric scooters! In this electrifying comparison, we're about to unveil the crème de la crème of commuter scooters that promise to add a spark to your daily grind.
Having put over 200 electric steeds to the test, we fancy ourselves as seasoned explorers in the electric scooter jungle. But, as you know, we're not ones to rest on our laurels.
Oh no! We've tapped into the wisdom of trusted 3rd-party industry experts, sought the counsel of fellow ride junkies, and even dispatched our trusty Volscribe AI into the digital wilderness to round up verified consumer feedback.
We've left no stone unturned, uncovering nuggets of information about support quality, common pitfalls, and other critical insights that often evade the lone traveler's gaze. 
So, saddle up, fellow commuters, as we journey together into the world of the best electric scooters for commuting! 
Quick Overview of the Best Commuter Scooters
After a deep dive into our treasure trove of hands-on testing statistics, bolstered by insights from trusted 3rd-party industry experts and the collective wisdom of our ride junkie community. Here's a swift summary of the top performing models tailored for daily commutes ranging from short hops to lengthy journeys. (The models are sorted by price, from low to high)
Our Rigorous Vetting Process
At the heart of our electric scooter recommendations lies a rigorous three-step evaluation process. While hands-on testing constitutes the initial phase, where we meticulously assess scooter models for performance and quality, it's only the beginning. Our testing, including hill climbs, brake tests, and range assessments, adheres to industry standards and consistently involves a 170 lbs rider, using the latest technology available.
In the second step, we broaden our research horizon, delving into trusted external sources, including expert reviews and real rider feedback. We dedicate substantial time to dissecting reviews and scrutinizing rider commentary videos for each model, cross-verifying our findings.
The third and final step introduces our AI bot, Volscribe, into the process. Volscribe scours the internet, uncovering verified customer reviews, forum discussions, and Reddit threads to gain insights into potential issues or concerns regarding the electric scooter models in question.
This comprehensive three-step approach underlines our commitment to delivering accurate, unbiased, and trustworthy electric scooter reviews. We believe that our dedication not only enhances the precision of our recommendations but also fosters trust in our work.
Reviews: Best Electric Scooter for Commuting
| Model: | TurboAnt M10 Lite |
| --- | --- |
| Tested Speed | 15.3 mph / 24.6 kmh |
| Tested Range | 8.3 miles / 13.4 km |
| Acceleration | 7.8s |
| Weight | 30.8 lbs / 14.0 kg |
| Load | 220 lbs / 100 kg |
| Motor Power | 350W |
| Battery | 238Wh/36V |
Positive
Low-priced
Pneumatic tires for a smooth ride
Portable & lightweight
Adjustable headlight
Strong brakes
Quality structure
USB-port
Negatives
Shorter deck
Cruise control easily engaged by mistake
Summary
The M10 Lite, hailing from TurboAnt, is a nimble, entry-level commuter, tipping the scales at a mere 30.8 lbs. Sporting 8.5" pneumatic tires, it excels at cushioning the jolts of uneven terrains encountered on your daily journey. Underneath the hood, it harbors a 350W front-mounted hub motor, harmoniously paired with a 36V 238Wh battery. During our rigorous test run, this dynamic duo propelled the scooter to a zippy top speed of 15.3 mph, while delivering a commendable 8.3 miles of range.
The M10 Lite can shoulder a maximum load of 220 lbs, although I'd advise against pushing it to its limits. Doing so might further dent its already moderate speed and milage. This scooter boasts robust construction and an intuitive folding mechanism, ensuring hassle-free portability. Whether you're climbing stairs or stashing it in a standard-sized car trunk, it's got you covered. Additionally, you have access to industry-standard speed modes for fine-tuning your ride, an externally mounted headlight that can be adjusted to your preferred angle, a trusty brake light, and a contemporary top-mounted display for clear, easy-to-read data.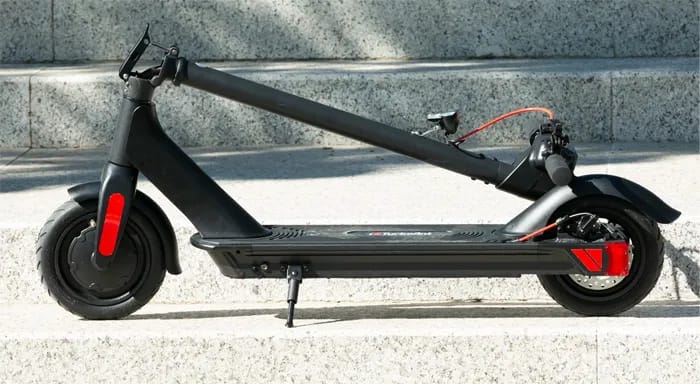 Strengths as a commuter
What truly makes the M10 Lite stand out as a great commuter is TurboAnt's remarkable feat of balancing performance, comfort, and cost. It's the perfect entry point for those who might still be on the fence about electric scooter commuting.
For under $300, you can have in your hands a commendable performing, albeit modestly powered, electric scooter. That delivers a delightful ride, offering compelling evidence that electric scooter commuting is an investment well worth making.
In the realm of budget-friendly electric scooters, the M10 Lite stands tall as our absolute favorite commuter scooter for budget-conscious buyers.
| Model | E2+ |
| --- | --- |
| Tested Speed | 15.3 mph / 24.6 kmh |
| Tested Range | 9.8 miles / 15.8 km |
| Acceleration | 8.9s |
| Weight | 31.3 lbs / 14.2 kg |
| Load | 198 lbs / 90 kg |
| Motor Power | 300W |
| Battery | 220Wh/36V |
Positive
Fantastic quality
Brand reliability
Good value
Ambient light
Large non-glare display
Lightweight
Negatives
Doesn't fair well on hills
Bumpy on bad roads
Summary
The Segway Ninebot E2 Plus, sporting a freshened-up design, confidently struts its stuff amidst the scooter crowd. At a mere 31.3 pounds, it is among the lighter models in Segway Ninebot's impressive scooter line-up.
Underneath its sleek exterior, a 300W front-mounted motor awaits your command, delivering a responsive cruise up to 15.3 mph. During our test spin, we pushed through 9.8 miles before the 36V 220Wh battery called it quits – perfect for those not-so-marathon commutes.
The E2 Plus boasts the classic folding mechanism we've come to adore from the famed m365 lineage, but here, it's endowed with a rugged, burly locking system that anchors the stem like a pro wrestler. This scooter practically oozes quality, as you'd expect from the Segway juggernaut.
And when it's time to halt the fun, Segway's braking wizardry shines. With a rear drum brake complemented by a front regenerative brake, it dishes out stopping power generously, no matter if you're navigating a rainy day or a drizzly evening.
Beneath the E2 Plus, you'll find 8.1" hollow tires that, while handling gentle bumps with ease, might not be your cushy chariot on poorly-paved paths. The scooter comes packing a fresh 2.8" center-mounted display, a shining beacon of readability, accompanied by a trusty front headlight, taillight, and those oh-so-cool ambi-lights underneath.
Strengths as a commuter
No scooter roundup is complete without a nod to the Segway lineup. They've carved a reputation for themselves, consistently delivering top-notch rides, and the E2 Plus is no exception. While some Segway models tend to veer into the pricey lane, where you might suspect you're also paying a bit of a "Brand Fee," the E2 Plus hits the sweet spot.
With its slick new design and a slew of nice upgrades, this scooter packs a punch. It's the ideal choice for anyone seeking the safety and reliability of a household name scooter for their trusty short or last-mile commutes.
| Model: | TurboAnt x7 PRO |
| --- | --- |
| Tested Speed | 19.1 mph / 30.7 kmh |
| Tested Range | 17.6 miles / 28.3 km |
| Acceleration | 7.4s |
| Weight | 33 lbs / 15.0 kg |
| Load | 275 lbs / 125 kg |
| Motor Power | 350W |
| Battery | 360Wh/36V |
Positive
Theft deterring
Pneumatic tires
Extra battery option
Lightweight
Great mileage per $
Fits taller riders
Negatives
Front heavy
Ineffective headlight for night riding
Summary
The X7 Pro is a natural extension of TurboAnt's wildly successful flagship electric scooter, the X7. Its crowning glory? A swappable stem-mounted battery. Yes, you read that right. You can pack as many batteries as your heart desires in your backpack, swapping out the empty ones for freshly charged ones on the fly.
With a 350W front-mounted hub motor and a detachable 36V 360Wh battery pack, the X7 Pro boasts a real-world range of 17.6 miles on a single charge, letting you cruise at speeds of up to 19.1 mph. If you're hungry for more, investing in a spare battery for an extra $140 will catapult your adventure to an astonishing 35 miles, ample mileage for most riders.
But there's more to this detachable battery than meets the eye. It's your anti-theft insurance, allowing you to take it along when parking outdoors, which can be a serious deterrent for would-be scooter bandits. Plus, you can leave the scooter behind and charge it separately, saving you from lugging the whole ride to the charger.
The X7 Pro flexes a triple brake system: a standard kick-scooter fender pressure brake, a regenerative motor brake, and a rear disc brake. It rolls on substantial 10-inch pneumatic tires that offer a smooth ride even on rugged terrain. Thanks to its robust motor and sturdy build, it can carry riders weighing up to 275 lbs, catering to a wide range of users. However, keep in mind it won't win any hill-climbing races with a heavier load.
Weighing in at 33 lbs, it folds down and latches onto the fender for easy transport. While it's a breeze to carry, having the battery on the stem sets it apart from most other scooters.
Equipped with a front headlight that provides decent visibility at night, a rear brake light, and a small center-mounted display atop the stem, the X7 Pro checks all the boxes for a reliable and versatile ride.
Strengths as a commuter
The standout feature of the X7 Pro is undoubtedly its removable battery, a real boon for commuters. This feature offers numerous advantages, such as convenient outdoor parking, reduced carrying weight (cutting 5-6 lbs), extended mileage, and the ability to skip the hassle of taking the entire scooter to the charger.
On top of that its performance and comfort is on point for a scooter that costs less than $400 bucks and I must say that the X7 Pro is truly a remarkable commuter scooter. TurboAnt has been able to craft an affordable option that caters to a broad range of users.
| Model | KQi3 Max |
| --- | --- |
| Tested Speed | 22.1 mph / 35.5 kmh |
| Tested Range | 24.2 miles / 39 km |
| Acceleration | 4.7s |
| Weight | 46.3 lbs / 21.0 kg |
| Load | 265 lbs / 120 kg |
| Motor Power | 450W |
| Battery | 608Wh/48V |
Positive
Award winning design
Spacious
Rear footrest
Good speed
Exceptional braking
Strong motor
Negatives
On the heavy side for portability
Low ground clearance
Tail light doesn't flash while braking
Summary
The KQi3 Max is the latest in the KQi3 series from NIU that makes a great scooter even greater. It comes with an extra spacious deck, wider tires, larger battery, a wider handlebar giving you an excellent commuting position whether it be for shorter, or longer rides.
Equipped with a 48V/608Wh battery that powers its powerful 450W motor you can expect to reach a realistic top speed of 22.1 mph and chug on for about 24.4 miles per charge. This is more power than most of the budget commuters and gives you the extra torque needed to tackle more challenging hills.
It comes with 9.5" pneumatic self-healing tires that removes the worry about getting a flat and having to do the tedious task of changing tires. These tires provide the KQi3 with enough suspension to smoothen out any bumps in your commute while also giving you excellent traction.
When it comes to braking, the NIU KQi3 comes with a dual front and rear disc brake setup that has more than adequate braking power to get you to a hasty halt upon need. It folds down nicely just like most commuter scooters but it does weigh in at a bit more than our other budget options at 46.3 lbs which is close to what I would consider the upper limit for portable electric scooters.
The KQi3 thanks to its spacious deck, wide handlebar, strong motor, rear footrest, and exceptional braking system makes for a great scooter for heavier adults, able to carry up to 265 lbs.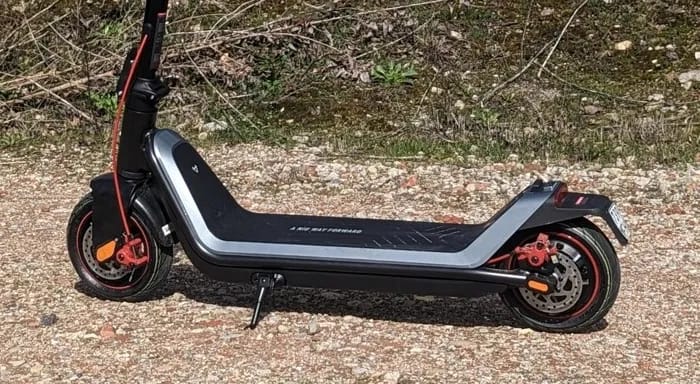 Strengths as a commuter
Within this price range, the KQi3 Pro exudes an unmatched riding experience radiating with top-notch quality in both construction and performance. It proves to be an exceptionally adaptable commuter, capable of meeting the daily requirements of a wide range of riders, except those seeking ultra portability. Its design gracefully accommodates individuals of varying sizes, showcasing remarkable versatility and prowess.
| Model | Gotrax Flex Ultra |
| --- | --- |
| Tested Speed | 19.9 mph / 32.0 kmh |
| Tested Range | 18.7 miles / 30.1 km |
| Acceleration | 8.1s |
| Weight | 63 lbs / 28.6 kg |
| Load | 264 lbs / 120 kg |
| Motor Power | 500W |
| Battery | 480Wh/48V |
Positive
Adjustable seat
Basket
Spacious deck
Easy to use
Cheap
Suspension
Large 14" pneumatic tires
Negatives
Not very portable
No display
Visibility when seated is lower
Summary
Gotrax's Flex Ultra is shaking things up with its debut seated electric scooter, and guess what? It rocks a nifty basket hanging out in the back. It's got a roomy deck, a comfy seat that you can adjust to your liking, big 14-inch air-filled tires, and not one but two sets of suspension, front and rear – for that extra smooth sailing experience.
Under the hood, it's got a beefy 48V 480Wh battery paired with a 500W motor tucked in the rear. What's the result? Well, our test rider went zipping around at up to 19.9 mph, covering a cool 18.7 miles on a single charge.
Now, here's the kicker: It's a bit on the heavy side at 63 lbs, but that's because it's packing some serious power. Plus, it can handle riders weighing up to 264 lbs. So, whether you're cruising solo or sharing the ride, the Flex Ultra's got your back.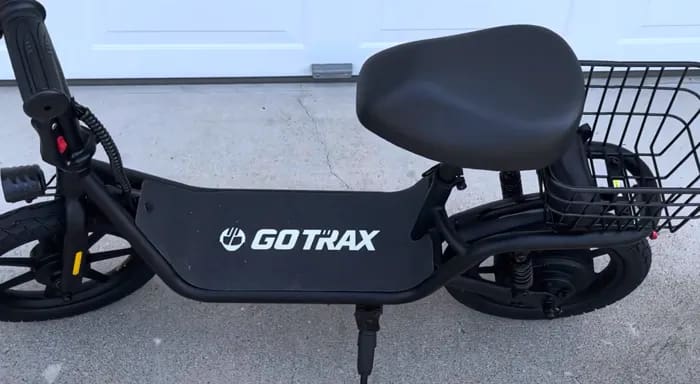 Strengths as a commuter
When it comes to commuting, the Gotrax Flex Ultra takes the cake for stability. It boasts a broad deck with oodles of footroom, plus an adjustable, ultra-comfy seat that puts you in the perfect riding sweet spot. The only catch? Well, sitting low means you'll be a bit sneakier in traffic and less visible.
But hey, it's not just about practicality; it's a blast to ride too! Ideal for budget-savvy folks seeking a purpose-built seated scooter.
| | |
| --- | --- |
| Model | Segway Max G2 |
| Tested Speed | 21.4 mph / 34.4 km/h |
| Tested Range | 27.8 miles / 44.7 km |
| Acceleration | 4.17s |
| Weight | 53.5 lbs / 24.3kg |
| Load | 265 lbs / 120kg |
| Motor Power | 450W |
| Battery | 551Wh/36V |
Positive
High water-resistance
Great range
Suspension
Self-sealing pneumatic tires
Reliable brand
Traction control
Negatives
Higher-priced
Overheating motor issues
Summary
The Max G2 from Segway Ninebot is the latest rendition of the world's most popular electric scooter, the Max G30. With a new, more powerful rear-mounted 450W motor, it can tackle steeper hills and reach higher speeds, boasting an impressive 21.1 mph.
The new motor has been optimized for improved power efficiency, resulting in a 7-mile increase in mileage, all while using the same 551Wh 36V battery. This means that despite the added power and enhanced overall performance, the scooter maintains its weight at 42.1 lbs.
The ride is exceptionally smooth, courtesy of the 10" self-healing pneumatic tires, a front hydraulic suspension, and a rear spring suspension that effectively cushions bumps in the road. Moreover, the self-healing feature eliminates concerns about flat tires caused by occasional debris on the road.
Additionally, the battery now boasts a higher IPX rating, enhancing the scooter's capability to handle adverse weather conditions. We've tested it by riding through large puddles and heavy rain without any signs of water penetration. Furthermore, the inclusion of traction control enhances safety when riding on slippery surfaces.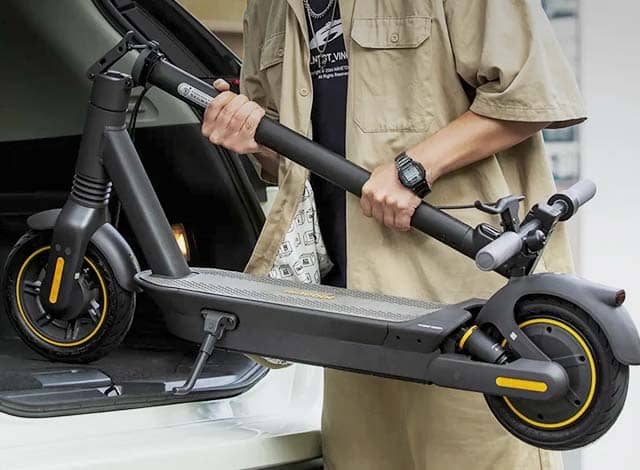 Strengths as a commuter
The Segway Max series has consistently delivered exceptional commuter scooters, and the G2 continues this tradition.
It offers impressive power, effortlessly handling longer commutes with ease and delivering a seamlessly smooth performance. In terms of portability, it falls into a middle ground, weighing in at 42.1 pounds, which is slightly on the heavier side, but it still remains practical.
| Model | Fluid Mosquito |
| --- | --- |
| Tested Speed | 27.4 mph / 44.0 kmh |
| Tested Range | 17.1 miles / 27.5 km |
| Acceleration | 5.0s |
| Weight | 29 lbs / 13.1 kg |
| Load | 265 lbs / 120 kg |
| Motor Power | 500W |
| Battery | 460Wh/48V |
Positive
Lightweight
Portable
Powerful
Fast
Height adjustable handlebar
Easy to use
Negatives
8" solid tires
Narrow deck
Bad display visibility due glare
Summary
The Fluid Mosquito epitomizes portability and lightweight design without compromising on performance. In fact, it stands strong as a mid-tier option, priced $50 below the $999 MSRP of the Max G2. Equipped with a 500W front-mounted hub motor and a 48V 460Wh battery, our test ride clocked a remarkable top speed of 27.4 mph and a maximum distance of 17.4 miles, all packed into a svelte 29-pound frame.
However, there's a trade-off; its primary focus on portability and lightness means sacrificing the comfort of large pneumatic tires. Instead, the Mosquito features 8" solid rubber tires that require zero maintenance, along with front and rear suspension to tackle road imperfections adequately, even though it doesn't quite match the cushioning of pneumatic tires.
With a height-adjustable handlebar featuring fold-in handles, it folds down to an even more compact size. Carrying it around is a breeze, and despite its lightweight build, it exudes a robust quality feel, accommodating riders weighing up to 265 lbs.
When it's time to bring this nimble scooter to a halt, just tap into its impressive array of braking options. You can engage the rear drum brake, the conventional friction brake, or the regenerative brake – or, for maximum stopping power, go ahead and use all three at once

Strengths as a commuter
Its standout feature lies in its featherlight and easily portable design, made even more convenient by the built-in handle. It shows its best side in urban environments with smooth, dry pavement.
| Model | Emove Cruiser S |
| --- | --- |
| Tested Speed | 31.9 mph / 51.3 kmh |
| Tested Range | 43.6 miles / 70.1 km |
| Acceleration | 3.9s |
| Weight | 56 lbs / 25.4 kg |
| Load | 352 lbs / 160 kg |
| Motor Power | 1000W |
| Battery | 1560Wh/52V |
Positive
Best value per dollar
Suspension
Tall riders
Heavy Riders
Large deck
Insane range
Powerful motor
Top of the line water-resistance
Available with seat attachment
Negatives
Brake light doesn't flash
Not super portable
Summary
If someone were to ask me for an electric scooter recommendation for commuting without diving into specifics, my number one choice would be the Emove Cruiser S. This scooter stands out as the epitome of versatility among all the commuter scooters I've put to the test.
Weighing in at 56 lbs, it's a robust beast with dual suspension and impressive 10" pneumatic tires, capable of accommodating riders up to 352 lbs. What really sets it apart is the powerhouse within – a 1000W rear-mounted motor, paired with a 52V 1560Wh battery. During our trials, it effortlessly reached speeds of up to 31.9 mph and delivered an astounding real-life range of 43.6 miles. It simply checks all the right boxes for most commuters.
The ride experience? Let's just say it's smoother than butter, more reliable than your trusty steed, and as cost-effective as your morning cup of coffee. In terms of performance per dollar, the Emove Cruiser S is in a league of its own, with no competitor even coming close.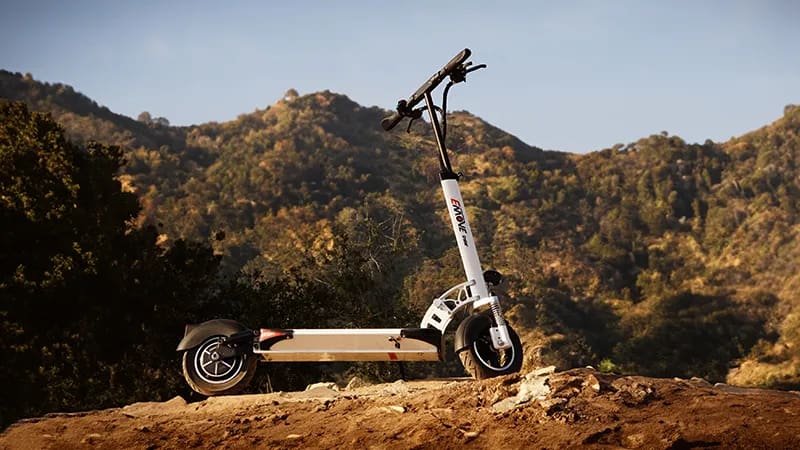 Strengths as a commuter
So, what exactly defines the perfect commuter scooter? Well, the Emove Cruiser S fits the bill in almost every way. It's a dream ride for tall riders, sturdy enough for heavier folks, and can tackle both long and short commutes with ease. I could sing its praises all day, but let's address the one drawback of this powerhouse commuter – its weight and size.
As you might expect from a powerful and generously sized scooter like this, it's not the most nimble option in our commuter lineup. However, if ultimate portability isn't your top priority, this scooter truly hits all the marks.
| Model | InMotion Climber |
| --- | --- |
| Tested Speed | 22.7 mph / 36.5 kmh |
| Tested Range | 19.8 miles / 31.8 km |
| Acceleration | 3.6s |
| Weight | 45 lbs / 20.4 kg |
| Load | 286 lbs / 130 kg |
| Motor Power | 2x450W |
| Battery | 533Wh/48V |
Positive
Dual motor
Powerful
Hill climber
Clear display
High water-resistance
Good acceleration
Negatives
No suspension
Very standard design
Summary
The Inmotion Climber, our ultimate hill-climbing champion, stands out as the lone mid-tier commuter on our roster equipped with a dual-motor setup. With a dynamic duo of 450W motors, you're greeted with a formidable peak power of 1500W, emanating from both the rear and front wheels, all fueled by a robust 48V 533Wh battery pack.
Embarking on our meticulously crafted test route, we effortlessly touched the pinnacle of 22.7 mph, all while gracefully covering an impressive real-world distance of 19.8 miles. When it comes to conquering inclines, the Climber leaves its rivals eating dust, boasting jaw-dropping torque that devours 30% inclines with utmost ease.
While the scooter may lack fancy suspension systems, the presence of resilient 10-inch pneumatic tires manages to handle the rigors of urban terrains commendably, although it's certainly not an off-roading champ. At a weight of 45 lbs, it gracefully folds into a compact form, slipping comfortably into the majority of standard car trunks. Its build quality shines, showcasing the ability to shoulder burdens of up to 286 lbs with unwavering poise.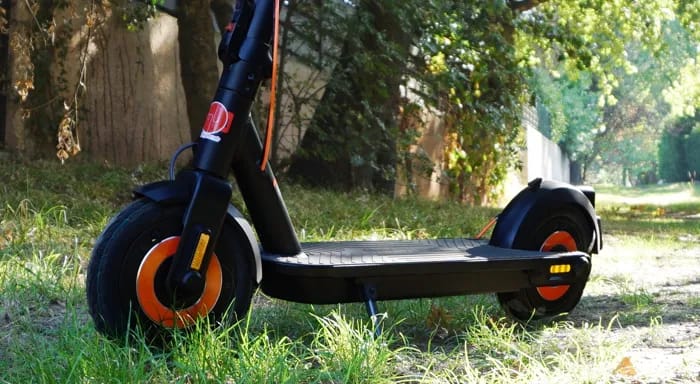 Strengths as a commuter
Opting for the Inmotion Climber as your daily commuter is a no-brainer, especially if you crave that exhilarating surge of power. Boasting twice the punch of its mid-tier counterparts, this scooter not only delivers superior torque but also injects a hefty dose of excitement into your ride, thanks to its ultra-responsive throttle and acceleration. Impressively, it manages to maintain a commendable range per charge, even under the relentless pressure of our rigorous hands-on testing.
| Model | Segway Ninebot P65 |
| --- | --- |
| Tested Speed | 24.8 mph / 39.9 kmh |
| Tested Range | 20.2 miles / 32.5 km |
| Acceleration | 3.24s |
| Weight | 59.3 lbs / 26.9 kg |
| Load | 265 lbs / 120 kg |
| Motor Power | 500W(900W) |
| Battery | 561Wh/48V |
Positive
Good load capacity
Strong motor
Foldable handles
Spacious deck
Adjustable handlebar
Negatives
Not great at inclines
Lackluster suspension
Summary
Meet the EMOVE Touring, the commuter's dream machine that marries style with substance. Priced at just $799, it offers a compelling package with robust features.
With a powerful 48V LG battery, packing 624Wh, this scooter was able to deliver 19.4 miles on a single charge, making it perfect for daily commutes. It's equipped with a rear-mounted 500W motor, with which we're able to reach a zippy 23.3 mph, and its acceleration is on point.
Portability is a highlight, as it weighs a mere 39 lbs and features a foldable design for easy storage and transport. But what sets the Touring apart is its attention to detail. The wide handlebars and spacious deck offer exceptional comfort and stability, with an option to add a seat for extra convenience.
The scooter boasts a solid rear tire to eliminate flats and front pneumatic tire for a smooth ride, even on rough terrain. On top of this the two suspension systems help increase the smoothness of the ride even further. Plus, it features a dual braking system, with a rear mechanical drum brake and regenerative brake, ensuring reliable stopping power.
In a nutshell, the EMOVE Touring is a versatile, easily transportable electric scooter designed for urban commuters. Its impressive battery, powerful motor, and balanced design make it an excellent choice for those seeking both performance and convenience, at a great price.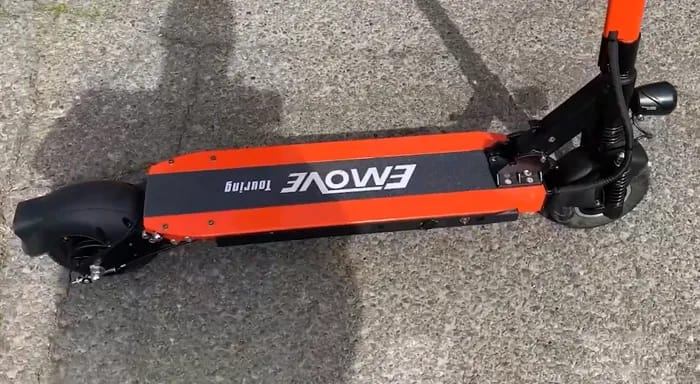 Strengths as a commuter
The EMOVE Touring stands out as a stellar choice for commuters seeking a reliable and versatile electric scooter. Its exceptional range of 19.4 miles per charge makes it an ideal companion for those daily journeys to work or school, eliminating the need for frequent recharges.
The Touring's foldable design and lightweight frame make it easily portable, simplifying the process of taking it on public transportation or storing it at your workplace. This blend of range, nimble acceleration, and portability caters to a wide range of commuters, whether you're navigating city streets, suburban pathways, or even last-mile connections to public transit.
| Model | Emove RoadRunner V2 |
| --- | --- |
| Tested Speed | 36 mph / 57.9 kmh |
| Tested Range | 35 miles / 56.3 km |
| Acceleration | 4.1s |
| Weight | 55 lbs / 24.9 kg |
| Load | 330 lbs / 150 kg |
| Motor Power | 350W+500W |
| Battery | 1253Wh/48V |
Positive
Comfy seat
Heavy load
Dual motor
Great range
Fast
Swappable battery
Suspension
Large 14" pneumatic tires
Negatives
Not for taller riders
Would have loved some storage
Summary
The Roadrunner V2 by Emove offers a superb seated commuting experience. Designed with your comfort in mind, it boasts large 14" pneumatic tires and a front fork suspension that smooths out even the bumpiest rides.
Powered by a hefty 48V 1253Wh battery and featuring both a robust 500W rear motor and a nimble 350W front motor, this scooter weighs in at 55 lbs. During our tests, it reached a top speed of 36 mph and covered a respectable 35 miles on a single charge.
While it's not the most portable option, its adjustable and foldable handlebars make it easier to store in larger trunks. Plus, the removable battery means you can carry a spare for longer trips. With its sturdy build and powerful motors, this scooter handles riders up to 330 lbs with ease.
Voromotors has equipped this scooter with hydraulic brakes, ensuring strong and responsive stopping power, which is essential given its speed potential.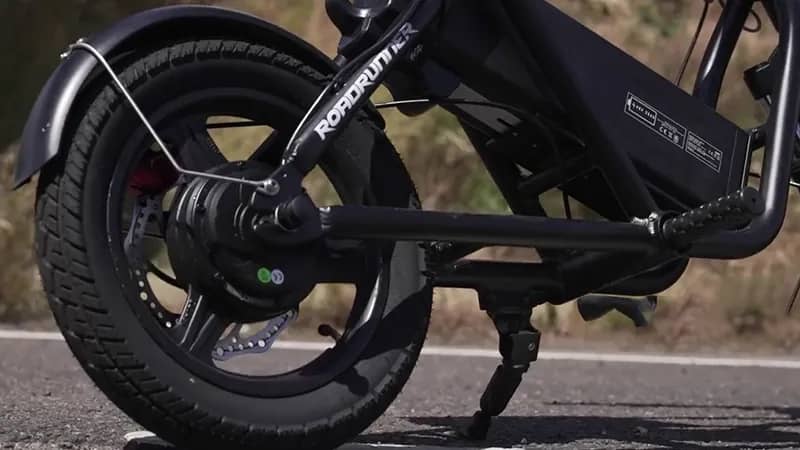 Strengths as a commuter
This small yet remarkably powerful seater is an absolute joy to ride. Whether you're cruising on flat ground, conquering hills, or tackling varied terrains, it handles it all with ease, thanks to its large tires and suspension.
If you're around 6.2 ft or shorter, you'll find it a perfect fit. With swift acceleration and responsive brakes, it offers an exhilarating ride, almost like a little racer. It's an ideal choice for those seeking a punchy seated electric scooter that remains highly portable.
| Model | Apollo City Pro |
| --- | --- |
| Tested Speed | 31.1 mph / 57.9 kmh |
| Tested Range | 25.7 miles / 56.3 km |
| Acceleration | 3.3s |
| Weight | 65 lbs / 29.5 kg |
| Load | 265 lbs / 120 kg |
| Motor Power | 2x 500W |
| Battery | 960Wh/48V |
Positive
Amazing design
Dual motor
Great brakes
Hill Climber
Tall rider
Suspension
Good range
Turn signal
Fast
Negatives
Splash guards lacking design
Higher priced
Summary
The Apollo City 2023 Pro is a standout among electric scooters, offering both top-tier performance and amazing design. Featuring a dual motor setup, this scooter comes with two 500W motors and a robust 48V 960Wh battery, providing a maximum range of 25.7 miles and top speeds of 31.1 mph.
What sets the City Pro apart is its exceptional riding experience. It's equipped with large 10″ pneumatic self-sealing tires and a flexible 3-spring suspension system in the front and rear. This combination guarantees an incredibly smooth ride, effortlessly conquering urban inclines.
To match its impressive power, the City Pro is equipped with reliable braking capabilities, thanks to its dual drum brake and electrical regen brake setup.
Design-wise, the City Pro is a head-turner. Its sleek lines and robust build quality make it one of the most appealing scooters on our list. It's designed to accommodate riders weighing up to 265 lbs and conveniently folds down for portability. However, it's important to note that the dual motor setup adds weight, bringing the total to 65 lbs. While occasional encounters with stairs pose no problem, tackling multiple flights of stairs daily might be a bit challenging.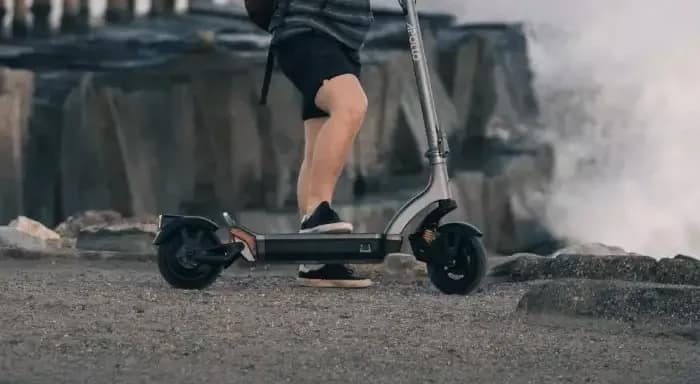 Strengths as a Commuter
The Apollo City pro delivers an impeccable commute that is strong enough to handle any hills, has enough range to cover even longer commutes, and does so very smoothly no matter the surface you're riding on thanks to its pneumatic 10" tires and triple spring suspension.
Its design is definitely a head-turner, so you'll be commuting in style. However, its drawbacks are quite clear out of the box. As you can see on the images the splash guards for each of the wheels are 50% missing in action. You as a rider don't get hit by it, but the scooters suspension gets a fair hit of dirt and water.
If you're looking for a more luxurious daily commute, then the City Pro from Apollo is perfect for you.
How to Find the Best Commuter Scooter for You?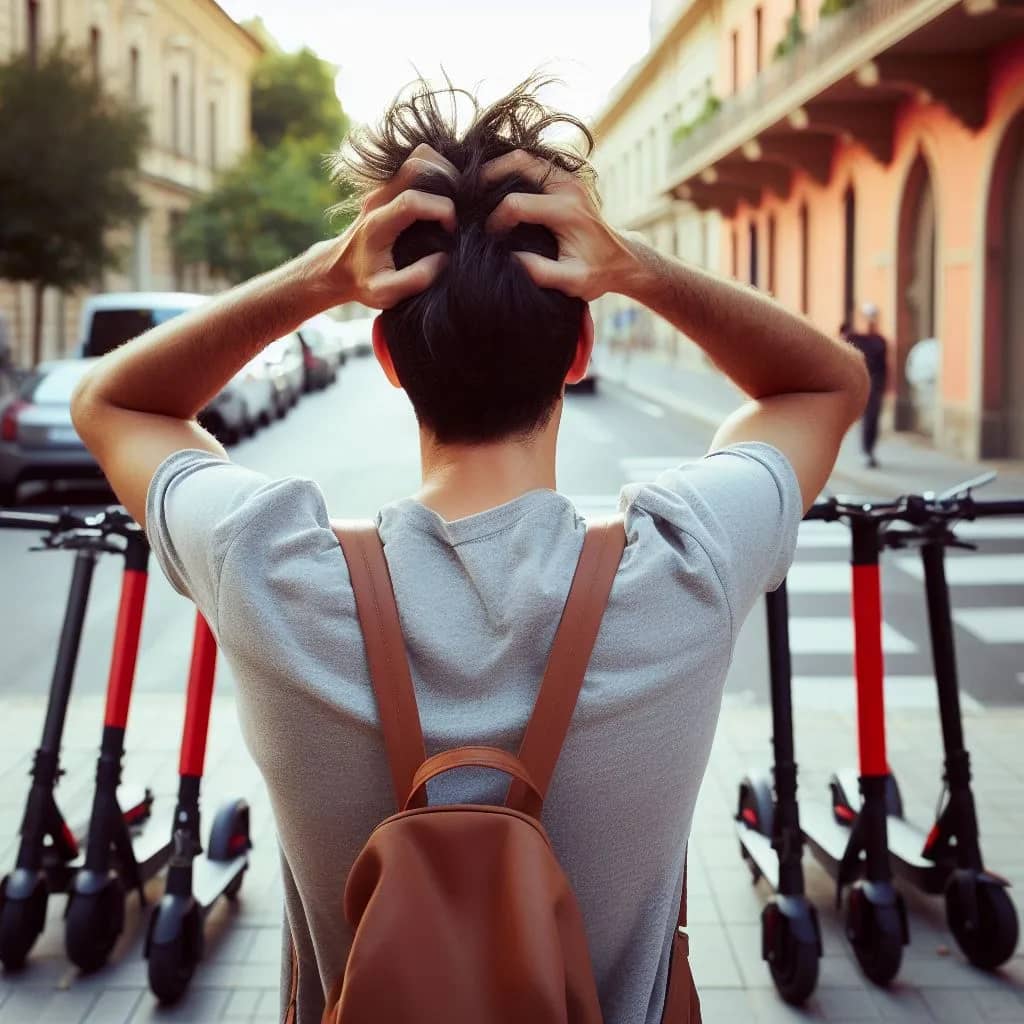 When it comes to choosing the perfect commuter scooter, everyone's taste is a little bit different. Your ideal scooter depends on various factors, from your daily commute distance to your preferred riding style. To help you find the best electric scooter tailored to your daily needs, consider the following key factors:
Commute Distance: The first thing to assess is the distance you'll be traveling daily. If you have a short commute, you may prioritize portability and a smaller battery. For longer commutes, you'll want a scooter with a larger battery capacity for extended range.
Speed Requirements: Do you need to reach your destination quickly? Some scooters are designed for speed and can reach higher mph, while others are better suited for a leisurely ride. Evaluate your need for speed and choose a scooter that matches your desired pace.
Weight Capacity: Check the scooter's weight capacity to ensure it can comfortably support your body weight. If you're on the heavier side, opt for a scooter with a higher weight limit to ensure stability and safety.
Terrain: Consider the type of terrain you'll encounter during your commute. If your route includes rough roads or hills, you'll want a scooter with robust tires and good suspension to handle these conditions.
Portability: If you need to carry your scooter onto public transportation or store it in a tight space, look for models that fold down easily and are lightweight for convenient portability.
Battery Life: Assess your daily battery needs. Some scooters offer longer battery life, while others prioritize lighter weight. Make sure your scooter can handle your daily round trip without needing frequent recharges.
Budget: Determine your budget and stick to it. There are scooters available for various price ranges, so you're sure to find one that fits your budget while meeting your requirements.
Additional Features: Consider any extra features you might need, such as built-in lights, app connectivity, or a comfortable riding deck. These can enhance your overall commuting experience.
Test Ride: Whenever possible, test ride different scooter models before making your decision. This will help you assess the scooter's comfort, handling, and suitability for your commute.
By carefully evaluating these factors and understanding your unique commuting needs, you'll be well-equipped to find the perfect electric scooter for commuting that seamlessly integrates into your daily routine.
Why Use an Electric Scooter for Your Commute?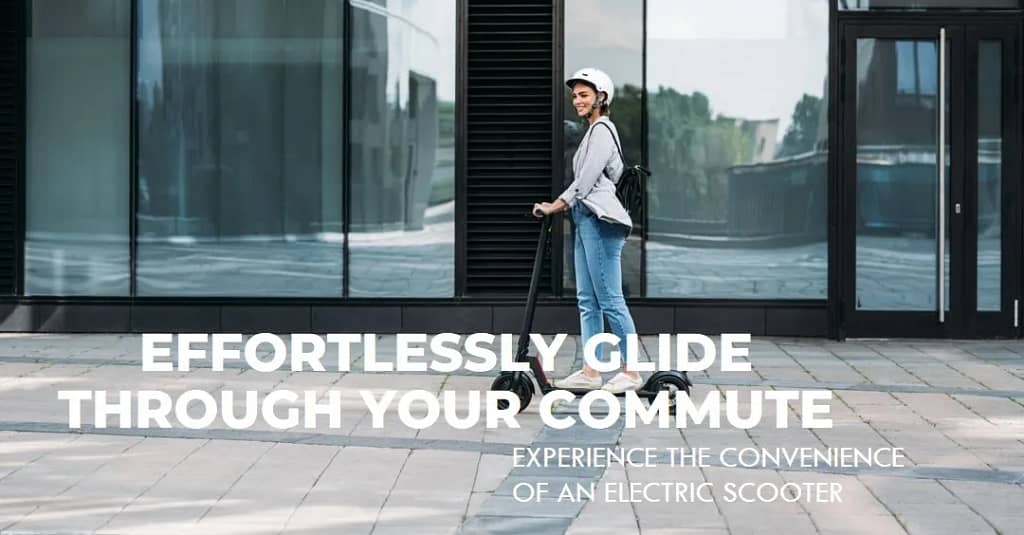 When it comes to revamping your daily commute, electric scooters are taking the world by storm, and for good reason. In this comprehensive exploration, we're diving into why electric scooters have become the go-to choice for urban commuters.
Effortless Mobility: Electric scooters redefine convenience. They're compact, lightweight, and designed for seamless maneuverability in urban landscapes. Navigating through congested streets, weaving through traffic, and finding parking becomes a breeze.
Eco-Friendly Commuting: One of the most compelling reasons to opt for an electric scooter is its eco-friendliness. These scooters are emissions-free and reduce your carbon footprint, contributing to cleaner, greener cities.
Time-Saving Agility: Say goodbye to being stuck in traffic jams or waiting for public transport. Electric scooters allow you to zoom past the gridlock, reaching your destination efficiently. No more missed appointments or delayed meetings.
Cost-Effective Travel: Commuting expenses can add up, but electric scooters offer significant savings. They're not only more affordable than cars but also cheaper than many other forms of urban transport. No fuel costs, reduced maintenance, and often no parking fees mean more money in your pocket.
Health Benefits: Believe it or not, electric scooters offer health perks too. While they make commuting easier, they also encourage physical activity. You'll engage your core and balance muscles while enjoying the ride, promoting a healthier lifestyle.
Low Noise, Less Stress: Electric scooters are notably quiet, providing a peaceful and stress-free journey. You won't contribute to noise pollution, and you can enjoy a more relaxed commute, even in bustling city environments.
Versatile Range: Modern electric scooters boast impressive battery power, making them suitable for various commute lengths. Whether it's a short hop or a more lengthy journey, you'll find a scooter that suits your daily needs.
Space-Saving Solution: In crowded urban settings, space is a premium. Electric scooters fold up neatly and can be stored in tight spaces, making them a practical choice for those with limited storage options.
The Future of Commuting: Electric scooters are at the forefront of urban mobility innovations. As cities continue to embrace eco-friendly transport options, the infrastructure for electric scooters is expanding rapidly, ensuring they remain a convenient choice for the foreseeable future.
Now that we've explored the myriad advantages of electric scooters for commuting, it's clear why these nimble two-wheelers are gaining popularity. They offer a dynamic, eco-conscious, and cost-effective solution for your daily travel needs, making them a commuter's dream come true.
FAQ – Electric Scooters for Commuting
Which electric scooter is best for daily use?
As explained throughout our guide, picking the best electric scooter for daily use heavily depends on your daily needs. Some people will do better with a nimble less powerful scooter, while others may need to cover more ground. Look at your goals, and make sure the model you buy has the features and power to fulfill them.
How much does an electric commuter scooter cost?
Electric scooters vary heavily in price. While you can get an electric scooter for under $300, the most popular models range around $600-$1,000. And if we are looking at the premium commuter scooter models we're talking $1,000 all the way up to a couple of grand.
Is riding an electric scooter tiring?
Riding an electric scooter can get tiresome if you're in for a longer haul. If you find yourself regularly commuting longer distances, making sure your scooter of choice has pneumatic tires and adequate suspension might make or break your commute experience. If that isn't enough, long-range commuters can opt for a seated model to further increase the comfort.
How long do electric scooters last?
Electric scooters can last for a very long time. I have models that are 5 years old and still operate just fine. It all depends on how well you maintain them, and how well-built they are to begin with. The most common thing to fail is the battery and motors. The usual reason is lots of heavy loads/inclines, misuse, or not adhering to best practices in terms of charging/storing.
Are electric scooters legal and safe?
Electric scooters are generally legal to use in most areas. However, it's essential to note that laws and regulations regarding electric scooters can vary from one city or county to another. In some select cities, there may be a complete ban on their usage. While most just have a few regulations on how they are to be used, and where. Therefore, before you embark on your journey with these eco-friendly commuters, it's crucial to conduct thorough research and ensure you're fully aware of the rules and regulations in your specific location.