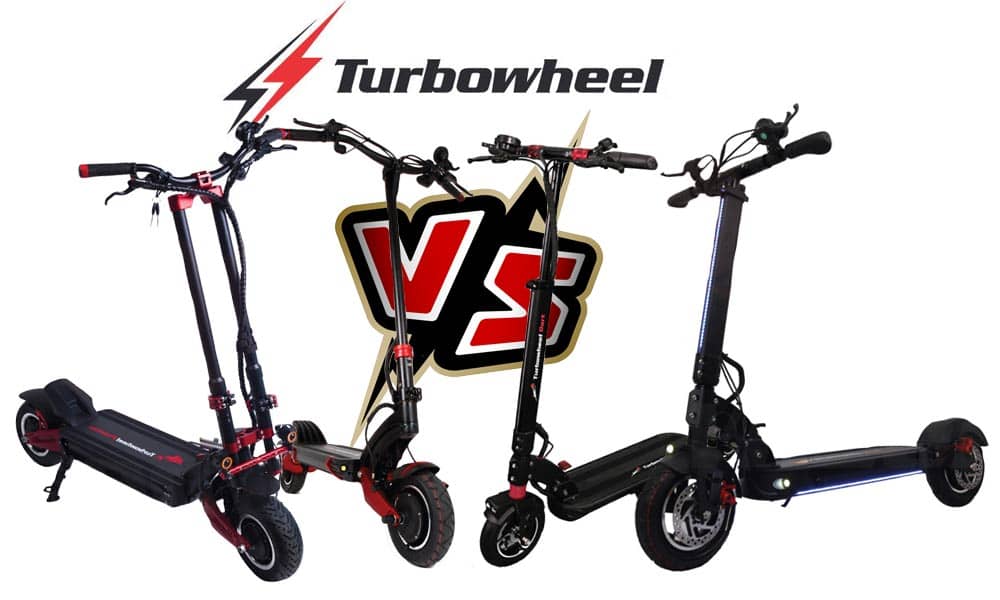 Turbowheel is a brand created by the electric scooter retailer Ewheels. They have 4 different Turbowheel electric scooter models available: Turbowheel Dart, Pacer, Lightning, and Phaeton. All these cater to different user types ranging from casual/beginners(Dart) all the way up to extreme speedsters(Phaeton) and everyone in between.
Here we will compare all the Turbowheel models side-by-side. Not to determine which one is the best of the 4. No, they're all great and the purpose of this comparison is so that you can find which one might fit you the best.
These scooters are considered mid- to high-end and have far greater performance than the standard models from Ninebot/Segway and Xiaomi that you usually see roaming the city streets.
But the latest Segway Ninebot G2 Max really give the Dart and Pacer a run for their money.
The Turbowheel electric scooters use the same frame and in many aspects the same parts as the Zero electric scooters do. They are on many points almost identical to each other.
Side-By-Side Comparison TurboWheel Electric Scooters
The cost of each model
The Turbowheel models were mainly built with the intent to serve the community with affordable high-end electric scooters, rather than drowning the market with more lightweight ones.
The cheapest one in the TW lineup is the Dart at $998 and it's also the lightest at only 39.5 lbs. It is even lighter than the Segway ES Max(42.1 lbs). But provides a far superior riding experience both in terms of comfort and power.
From the Dart, the next step up is the Pacer. Then the price keeps increasing as each scooter model gains more power and better quality parts that make the ride not only faster and longer, but also more comfortable, and of course, safer.
As the top speed increases so do the need for sufficient braking power, better grip, and greater hydraulics. All things that make the total price higher.
Performance difference
There are some clear performance differences between the models and if the pricing differences above haven't told you so already, the more power and range you need, the harder the impact on your wallet. But there are other improvements with each jump up the price, or shall we say performance ladder.
But let's review them one by one so that you get a grasp of what each of the Turbowheel electric scooters has to offer.
Let's start with the Dart.
Turbowheel Dart Review Summary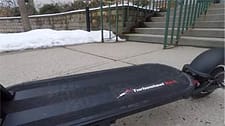 The TW Dart is what I would call a high-end beginner model, or something for the daily commuter who takes his commute a bit more seriously and want to do it comfortably, and in style.
Yes, the Dart is far more eye-catching than your average electric scooter model.
It boasts some slick LED lighting underneath as well as on the stem, as well as the standard brake light, some reflexes, and a strong headlight conveniently mounted in the front fender.
A rear-mounted 600W motor that gives the scooter extra good grip and can boost you up to 25 mph. The Dart has a 614Wh LG lithium-ion battery that is able to propel you up to 30 miles on a single charge.
Something you rarely get in this price range is a scooter that has both a rear and front suspension, the Dart does. Combine those with the 8.5"x2.5" pneumatic tires and you know you're in for a smooth ride!
For many years I recommended the Speedway Mini4 as my go-to when it came to commuters who needed a bit more range and power. When the Dart came, I switched it up. The Dart has everything the Mini4 has and more on top of that.
It might be a bit heavier than the lightweight models, but it makes up for it with a high-quality frame and you can still throw it into a trunk, or carry it up a set of stairs without a problem. It boasts a robust foot folding mechanism and sits nicely and balanced in your hand.
The Dart has more than enough braking power thanks to its rear electric and drum brake combo, and its front disc brake.
Easy-to-read color-LED display, bell, and everything else you'd want on a reliable electric scooter.
Turbowheel Pacer Review Summary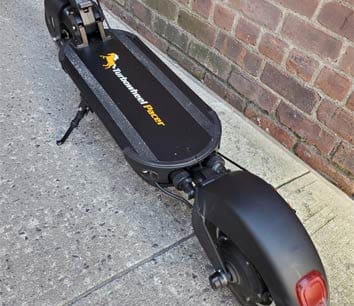 The Pacer is the next jump up on the Turbowheel performance ladder.
An electric scooter for those who are deadly serious about their commute or just like going fast and far.
It is a perfect combination between the Lightning and the Dart. It's Lighter than the lightning, so carrying it up a flight of stairs is still very doable.
While also providing a good amount of increased power in comparison to the Dart.
Larger 10" pneumatic tires in combination with the same type of double suspension that the Dart has makes the Pacer both stable and very good at absorbing the terrain.
It is packed with almost the same amount of battery power as the Lightning plus but in combination with a solo rear-mounted 1,000W motor.
That'll get you a robust scooter with a top speed of 30 mph and a maximum distance per charge of up to 40 miles.
It has the same type of LED and cockpit that the Dart and the rest of the TW scooters share.
Turbowheel Lightning & Lightning Plus Review Summary
The standard Lightning model has been around for a while now and it has gotten only more powerful with every batch of new scooters.
With constant upgrades and tinkering with the standard parts, it has become a trusted commuting partner to many.
It boasts 2x 1,000W motors and a Sincpower battery of 957Wh, both capable of providing the scooter with a well-deserved 40 mph and 30 miles of range. It has some good front and rear suspension as well as good-sized 10"x3" pneumatic tires for even more comfort.
You get the same amount of power, range, and features as a lot of competitors, but at half the price. A solid choice for anyone wanting to step up their scooter game, while not having to pay a fortune.
The Turbowheel lightning plus has some serious upgrades to offer the buyer from the standard lightning that we once knew.
Two completely new and far more powerful 1,200W motors, in combination with a full LG battery of 1,260Wh and an all-new 60V system. That provides this scooter with some very impressive performance stats, 45 mph, and a range of up to 40 miles under optimal conditions.
Another unique and great thing with the Lightning plus is the new Xtasy folding handlebars, this helps a lot in terms of space needed to stove it away. It also runs 2 x Nutt hydraulic disc brakes that provide accurate and powerful braking.
In terms of design, red details on black are always a winner in my book. Combined with the slick front and rear adjustable suspension it makes this scooter look really futuristic. You have the option to opt for off-road tires if you'd want to and they are thick, 10"x3" making the comfort levels go through the roof.
If you live in a hilly area this is definitely a scooter that is going to fit your taste. Packed with enough power to conquer almost any hill and it does so while still keeping a good speed.
A very slick and speedy scooter for the serious rider that has some great distances to cover.
Turbowheel Phaeton Review Summary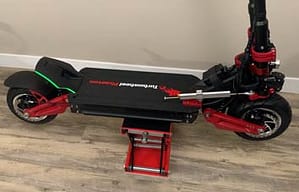 The top-of-the-line when it comes to the Turbowheel scooters lineup is the Phaeton.
A 132 lbs heavy-duty monster built with great thought and high-quality performance parts to fit those who want to join the top of the cream riders.
Equipped with a massive Samsung battery back of 2,520Wh and 2x 1,600W motors with a peak power outlet of 6,480W. This scooter can reach speeds of 60+ mph and has a distance per charge of 80 miles. This means you'll have no problem getting to your destination and back home on a single charge, and on time.
With a top speed of 60 mph(54 mph reached during the test), the handlebars usually get a good shaking and a scooter can be hard to control at those speeds. That's why the Phaeton has an adjustable steering dampener that helps remove the problem and makes the scooter easy to handle even at great speeds.
It has high-quality hydraulic disc brakes that will give you excellent stopping power. The scooter is insanely well-built and good-looking with the red on black. Great 500lm headlights and a nice colored LED display where you can customize a lot of the scooter's features.
A beast of an electric scooter that will definitely blow your mind. Just don't forget to have some extra cash to invest in proper safety gear too. You're going to want to press the Phaeton to its limits, that's inevitable with such a fun powerful scooter.
Which TurboWheel electric scooter should you buy?
Which Turbowheel electric scooter you should buy is totally up to you and I think that after you've read our comparison you already have a pretty good picture of what you want. Anyway, we'll go through a few scenarios on where we think each scooter excels.
If you need further assistance in determining the amount of power you need, check out our Electric scooter guide to motor power.
The Dart is not your average lightweight electric scooter, it will be a great first scooter for a beginner or a dream come true upgrade for any daily commuter. Someone who would be fine with something like the Xiaomi m365 PRO but want to up the speed and range a bit while also increasing the riding experience dramatically in terms of safety and comfort.
The Pacer fits best in the hands of someone who need to cover a lot of ground and want to do it faster than with a lightweight model. This isn't a "last mile solution" scooter, even though it could be used as one.
You will get the most value out of the scooter if you use it regularly and not just for short trips. It is a great riding experience, especially if you're taking the leap up from a regular scooter. It's not even comparable.
The Lightning is a great scooter and you get a lot of value for your money. You will have a hard time finding a similar scooter at the price of the Lightning. It'll provide you with the speed and distance needed to handle almost any commute you put it up against. And it does so with you feeling in control, safe, and comfortable.
Should you still want to up the stakes and get more of everything? Then you go with the Lightning Plus, it's faster has better handling, and can cover even greater distances.
The Turbowheel Phaeton is a beast, need I say more?
The Phaeton is for those of us who just like going fast and going far without having to worry about battery time or the police for that matter, kidding. Or am I?
Kidding aside, you get an insane amount of power and the quality of the scooter is just like the experience of riding one, flawless and impeccable.
This one is for you, yes, you who like to always want to have the best things. Luckily for you, the Phaeton is still very affordable if you consider what you get.