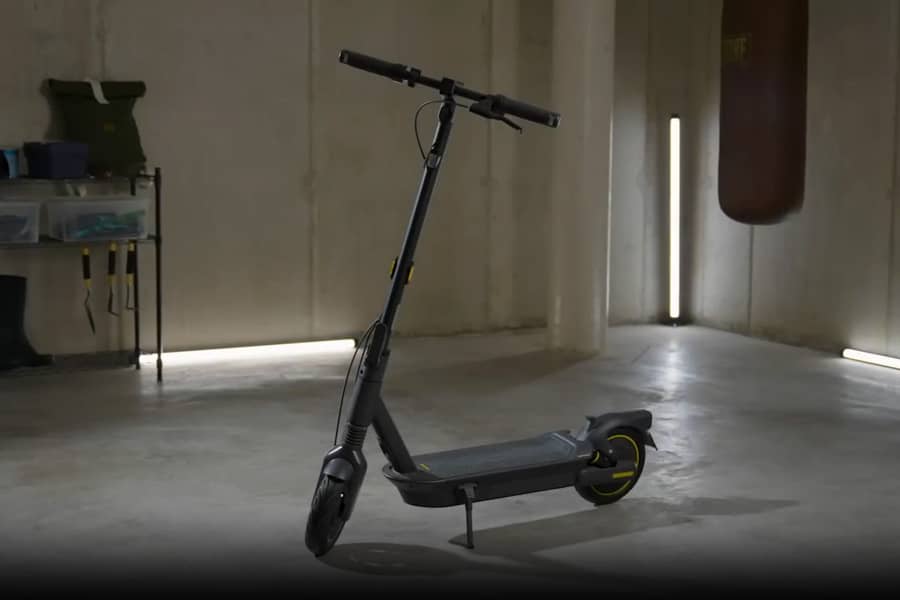 The Segway Ninebot Max G2 is the highly anticipated follow-up to the immensely popular G30 that came out just about 4 years ago. And boy does it over-deliver in terms of top speed, distance per charge, riding comfort, and all its other new neat features.
At first glance, it might not look like the G2 has a lot of new things going for it. But as soon as you step up on it and take off you'll realize that this is the new top commuter.
The G2's suspension system consists of 2 rear spring chocks with a front hydraulic one and boy does it deliver a comfy ride, Yes, even for the heavy players.
It has gotten a motor upgrade which gives it a higher top speed and far superior acceleration. They've also made some technological advancements in terms of battery technology which optimized the power usage so well that you get more range with the same size battery.
In this comprehensive Segway Ninebot Max G2 review, we will delve into the exciting enhancements and features that make it a worthy successor to its predecessor.
Real-Life Test Data
| | |
| --- | --- |
| Model | Segway Max G2 |
| Tested Speed | 21.4 mph / 34.4 km/h |
| Tested Range | 27.8 miles / 44.7 km |
| Acceleration | 4.17s |
| Weight | 53.5 lbs / 24.3kg |
| Load | 265 lbs / 120kg |
| Motor Power | 450W |
| Battery | 551Wh/36V |
*Our own testing data gathered during hands-on testing, not to be conflated with the manufacturer's specifics.
**The time(in seconds) it took to go from standstill to 15.5 mph.
Positive
Fantastic suspension system
Amazing performance upgrade
Ability to fine-tune it in the app
Negatives
10 lbs heavier than its predecessor
Comes at a higher price
What's new with the Max G2?
The first thing that you notice out of the box is they've added a suspension system. You will find a front hydraulic suspension and a rear dual spring suspension, the rear suspension system also has the ability to be adjusted to your liking.
They've put on a new rear-mounted hub motor that has a nominal power output of 450W in comparison to the original Max's 350W. The maximum peak power is now 1000W which gives us an increased top speed from 18.6 mph to a breathtaking 21 mph, much better acceleration and it has dramatically increased the scooter's ability to tackle inclines.
The new RideyLong controller system optimizes the power consumption by the motor in order to provide extra range per charge. This is really game-changing and during our test, we saw an approximately 4 miles increase in range per charge with the same-sized battery of 551Wh. We will delve deeper into this new groundbreaking feature later on.
Apart from all the performance and comfort-enhancing upgrades, the scooter has gotten a few upgrades to its frame, like the taller deck and wider handlebar. Two very nice upgrades if you're on the taller/heavier side of the pool.
The scooter can be fully customized within the Segway Ninebot app in terms of starting speed, acceleration, and much more.
The brakes too have gotten some rework done in order to make for smoother stops and it does, but that has increased the G2's brake distance.
The G2 comes with a new feature that is paired with Apple's FindMyDevice, I'd like to call it FindMyScooter. Which as my newly minted name hints on, helps you find your scooter if it's lost.
Two other new features that have been incorporated into the G2 are traction control for better grip no matter where you ride or in what weather, a new cruise control system, and turn signals. All great new additions that we first saw on the powerful big brother Ninebot GT2.
You can see how well the Max G2 stands up against the other models in their line-up in our large head-to-head comparison of all Segway Ninebot models.
Segway Ninebot Max G2 Review
Motor Power and Speed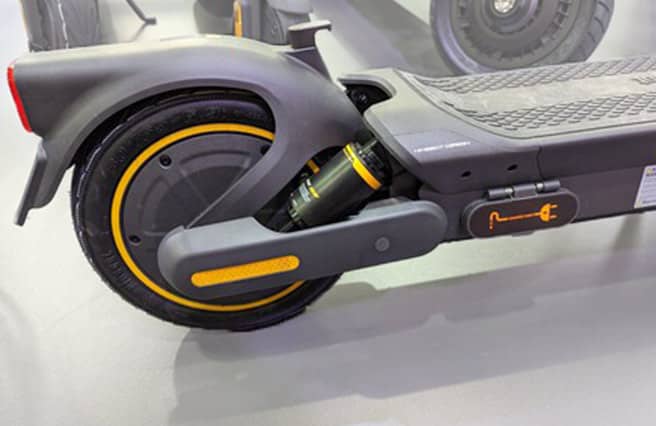 The new Segway Ninebot Max G2 boasts a 450W rear-mounted hub motor that has a peak power of 1000W. That was enough to propel the scooter to a top speed of just above 21 mph during our tests. Segway themselves state that you can expect 20 mph, which is quite odd that we can reach a higher speed than what has been specified. On top of that, it has also led to a 30% increase in acceleration performance.
If you feel that this increase in acceleration is not for you, do not worry. Segway has made it easy for its users to adjust the acceleration within the Ninebot app, regardless of which speed mode you have selected.
The original Max was already ahead of its competitors in terms of motor quality vs price and it's no different this time around. The G2 delivers great performance and combined with the ability to customize its performance to your liking within the app, this is a deadly competitor and not many can match its performance per dollar.
Battery and Range
The Ninebot Max G2 has a similar-sized battery at 551Wh, this might lead you to think that you can expect a similar range to the G30, or even less due to the higher motor power, top speed, and acceleration.
But that is not the case, in fact, it's the other way around. Thanks to the groundbreaking new RideyLong technology which combines specialized low-resistance-rolling tires with optimized motor and controller technology, the G2 consumes less battery power per mile.
This improved efficiency has resulted in a range increase of about 22%, which is about 4-5 miles extra per charge. Pretty darn impressive if you ask me.
The second generation Max comes with a great BMS(Battery management system) that has some new impressive features on it. For example, you can customize the max charge to between 80-100%. Now why would you want to do that you might think. Well, when storing or not using a scooter for a long time, the battery cells start to deteriorate at a higher pace if stored away with a full charge.
The charging of your Max G2 is done with a simple power cord. No need to carry around a bulky charger, just put that tiny power cord in your pocket and be on your way. And yeah, this is the same type of power cord that you use for many appliances. So they´re cheap and easy to come by should you be in need, or lose yours.
As with all electric rides, how you ride determines how far you can go on a single charge the Max is no different. The Ninebot Max has 4 different riding modes, 4 you might ask. Well yes, in order to reach this above-advertised top speed you need to unlock the G2´s maximum output within the app.
The following is a table showing off the different modes and the claimed capabilities while using them:
| | | |
| --- | --- | --- |
| Mode | Top Speed | Max Range |
| ECO | 10 mph / 16 kmh | 43 miles / 70 km |
| DRIVE | 16 mph / 25 kmh | 31 miles / 50 km |
| SPORT | 20 mph / 32 kmh | 28 miles / 45km |
| SPORT+ | 22 mph / 35 kmh | 25 miles / 40km |
Incline
Every time we test a new scooter we put it through a rigorous hil test. We start at the bottom of a slowly increasingly steep hill with an incline of 15% at its steepest. We enter the hill at a 10mph speed and see how far we can get.
The Max G2 had no problem conquering the hill, even though it wasn't fully charged(75%). It was pretty slow 5.5mph at the end, but it did the job. The hill itself is about 150 feet long and the scooter was able to get up the entire hill in 14.21 seconds. This is a solid time compared to other scooters in the same class, many of whom can´t even reach the top.
Suspension
As stated earlier the new Max comes with a great suspension system consisting of both a front hydraulic suspension and a dual spring rear suspension.
The rear suspension has been made adjustable so that you can customize it to your liking, a fantastic feature for lighter and heavier riders who might not get optimal comfort with the out-of-the-gate stock settings.
Braking System
Similar to its predecessor, the G2 scooter features a combination brake system that includes a regenerative rear motor brake and a front-mounted drum brake. The braking power has been slightly lowered due to the fact the G30 literally had the ability to throw you over the handlebar if applied to its fullest.
This is no longer an issue, but it does show a slight decrease in stopping power. With the data from our tests, we could conclude that the braking power of the G2 is almost 10% less effective in comparison. This makes it a bit more friendly towards novice riders and it still provides a good brake experience(better for most users if you ask me).
Ride Quality and Ride Experience
The new Max model is a blast to ride, it´s responsive, gets you up to speed in no time and the increase to top speed makes it a far more enjoyable ride.
There is nothing that matches the performance and comfort of the Max G2 in this same price range. Segway really hit the ball out of the park with it, again.
In terms of riding quality it has fantastic grip on various terrain and the new suspension system has not only given the ride comfort a heightened experience but also dramatically improved the tire traction. I find myself going way deeper during turns than I am comfortable doing on other scooters in the class, and it does give me a bit of a racing feel that you often find on more high-end performance models.
The foot space on this thing is just as awesome as on the previous model, even if I myself am no big foot. I've even mounted a nice hanger there so I can put a bag of groceries in the front end and secure it in place thanks to the extra space in the rear due to the removal of the lip.
For those of you who think this is solely a city rider, think again. You definitely want to take this thing out for some off-roading from time to time. The suspensions, higher ground clearance, and new traction control work excellently in synergy to give you a fun exhilarating ride even on rougher terrain.
Traction control works great and even though it might not be super useful most of the time when riding on dry roads, if is a bit slippery you will really appreciate this neat little new addition.
If you´re looking for a Segway electric scooter for the younger audience make sure to check out the Ninebot Zing E8.
Segway Ninebot Max G2 Features
Folding and Portability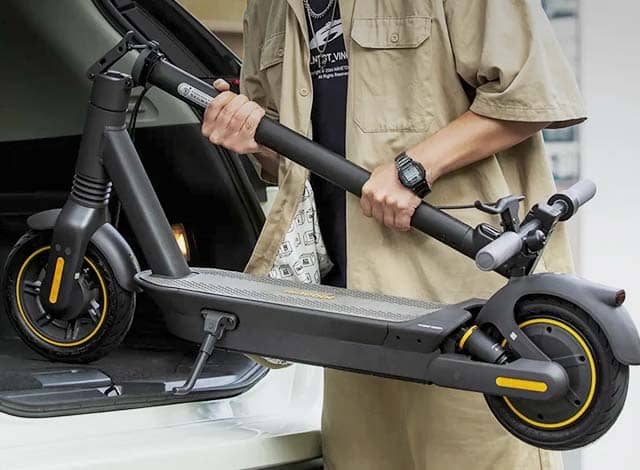 The scooter with all its upgrades weighs in at 53.5 lbs. It is by far not the lightest electric scooter in its class and is 10 lbs heavier than the former model.
If you're a lightweight and need to hurdle this thing up a few flights of stairs, its weight is definitely worth some consideration. But from a perspective of what you get for the weight increase, there is nothing to argue about there.
With this increased power and suspension system the scooter is capped at a load of 265 lbs which means it's able to cater to a wider audience.
Not much has been tweaked when it comes to its ability to fold together. A new more robust latch has been mounted on it, but it still folds down and attaches to the right-hand side of the handlebar.
Tires
The new Max comes with 10" tubeless tires that Segway themselves call "RideyLONG™ self-sealing pneumatic tubeless tires". Quite a fancy word for a set of tires on an electric scooter.
But then again, they are custom-made to provide low-resistance rolling that extends your ride, and we´ve already proven that. And on top of that they are also said to be puncture-resistant due to a special coating. Although I didn't run over any nails, I did read that others had done so and the report was that 1-inch nails couldn't even penetrate the tire effectively.
Lights
In terms of lightning, this model comes with the standard things such as a bright(2.1W) headlight mounted high up on the handlebar which gives excellent visibility. A rear brake light, that flashes when you hit the brake and adequate reflectors to increase your visibility to others in low-light situations.
The only really exciting news in terms of lighting is the new turn signals. You find them mounted on the edges of the now wider handlebar, their placement provides great visibility to cars both in front and behind you. Truly a great addition, even though even car users tend to lack the ability to hit the switch most of the time…
Cockpit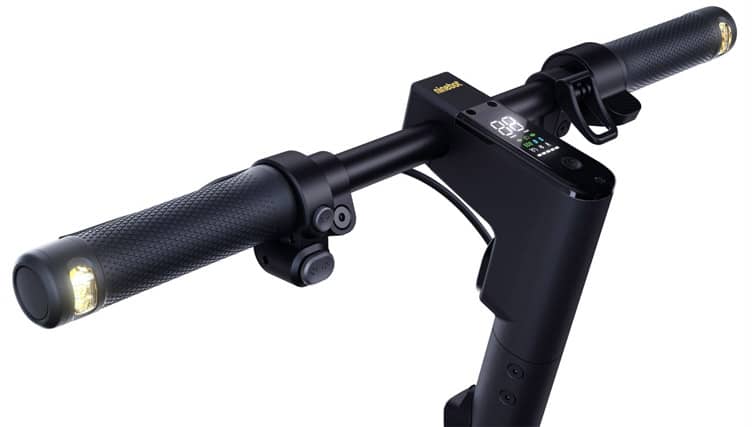 The cockpit is the only thing that is a bit of a letdown. After seeing the improved dashes provided to the GT2 and GT1 one had high hopes that we would see a new and improved one for the G2 too. But I guess it does the job well enough.
It is pretty much the same single-button operated display that we had on the previous model. Where everything is decided by the click of "the one button to rule it all".
The screen is a little dim but is readable even when the sun shines straight onto it. You can out-read speed, battery capacity(5 bars), turn signal indicators, and which mode you're currently in.
Luckily Segway Ninebot has the best mobile app on the market for electric scooters. Where you can pretty much customize your entire ride experience and read up on things like estimated range left, activate the walking mode, and upgrade your scooter's firmware.
New for IOS users is the FindMyScooter function where you can pair your scooter to your Apple device and track it. However, if you´re an Android user, you are left out to dry.
Build Quality
The quality of a scooter is hard to determine before you at least have surpassed a few 100 miles on it. However, with a household name brand such as Segway Ninebot, it makes it quite a lot easier as there will be thousands of helping consumers to get input from straight out the gate.
For something that is pretty much the next generation of an already proven high-quality model, we did expect it to be sturdier and more robust. Segway has over-delivered on all aspects of this scooter, with one exception, the display.
They took the bar for the commuting class of electric scooters and put it even higher once again and it is delightful to see how responsive they have been to customer's issues with the earlier model.
There is a lot to like about this scooter and my favorite part is the ability to charge with just a power cord the new turn signals are a great step towards safer electric scooter riding.
When it comes to water resistance, I´ve praised my G30 that's been operated during pouring rain multiple times without a single issue for over 3 years. There is no upgrade to the IPX rating for the G2, but they have issued an IPX7 rating for the battery which ensures me that the generation 2 Ninebot Max will be just as good, if not even better at tackling riding during various weather conditions.
One commonly spoken about issue customers had with the G30 that Segway has now improved is the rear fender, it used to make noise and it did catch curbs at times causing it to get damaged or break altogether. This has been remedied, but there are still occasions during heavy shocks when I can hear the fender noise a bit.
Safety aspect
So how safe is the Segway Ninebot Max G2 actually?
The simple answer is, super safe.
I'd argue that if you're looking for a reliable easy-to-use ride the G2 is what you want, no matter your experience level, the ability to tweak it to your liking will provide you with a great ride that will last for a long time.
But if you want to get down to the nitty-gritty, here is a list of my favorite safety aspects:
The new turn signals, it's a game changer in terms of e-scooter safety.
A new loud horn instead of the regular bike bell.
Brake adjustment has made it far smoother
Traction control for great grip no matter surface conditions.
The suspension system removes heavy chocks from obstacles or potholes that could otherwise result in a fall.
Ability to customize performance in the app depending on rider experience.
On top of all the things on that list, we have other security features like an alarm function where you can use the application to lock your scooter and any movement to it will sound the alarm and it automatically applies the brakes making it hard to roll away with.
Segway Ninebot Max G2 Review Conclusion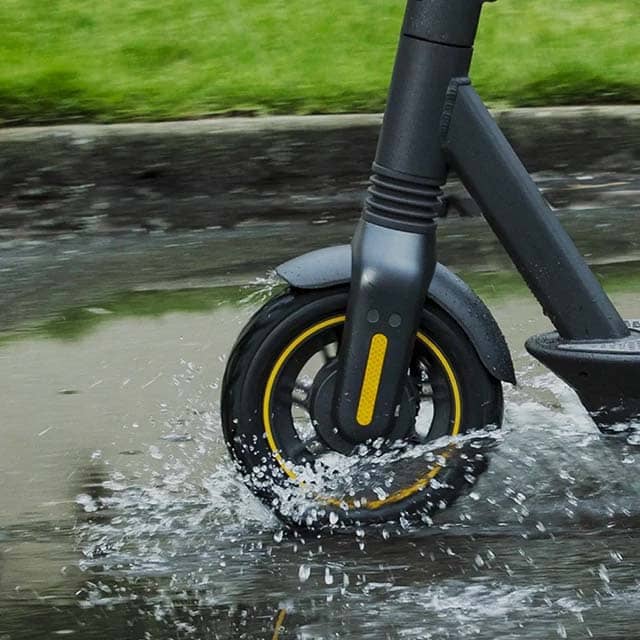 This next generation of Segway´s Max model is the best in the commuter class, no other scooter provides as great performance or as many features at this price point.
It is slightly more expensive than its predecessor, but well worth it thanks to all the fantastic upgrades that have been implemented on this model.
The scooter caters to novice riders who just want something comfortable and safe to ride a shorter distance to work, as it does to the more experienced rider who wants to go on longer rides for pure entertainment purposes.
It can accommodate small and large riders alike, the only difference is what you can expect out of it in terms of range. But the ride will be just as smooth and comfortable.
I´ve tested most of the commuter-class electric scooters available at this point and at this price point the G2 really is one of the top choices.
If you´re interested in buying the Segway Ninebot Max G2, please consider using one of our links as it helps us keep up the cost of our expensive hobby at no additional cost to you.
Segway Ninebot Max G2 Technical Specification
| | |
| --- | --- |
| Weight | 53.5 lbs / 24.3 kg |
| Folded size | 47.5 x 22.5 x 24 inch |
| Motor power, nominal | 450W |
| Top speed | 20 mph / 32 kmh |
| Range | 43 miles / 70 km |
| Battery capacity | 551Wh |
| Battery recharge time | 6 hrs |
| Max load | 265 lbs / 120 kg |
| Brake | Drum+ Regenerative |
| Tire | 10.0 inch Pneumatic |
| Built-in lights | Front, Rear |
| Water resistance | IPX5, IPX7(Battery) |
Competing Alternatives to the Ninebot Max G2
sPEED
rANGE
lOAD
weIGHT
Motor
Battery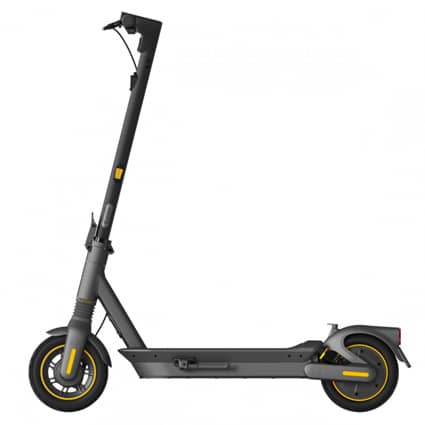 Ninebot Max G2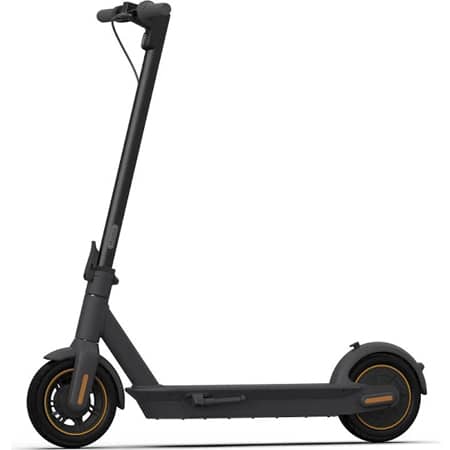 Ninebot Max G30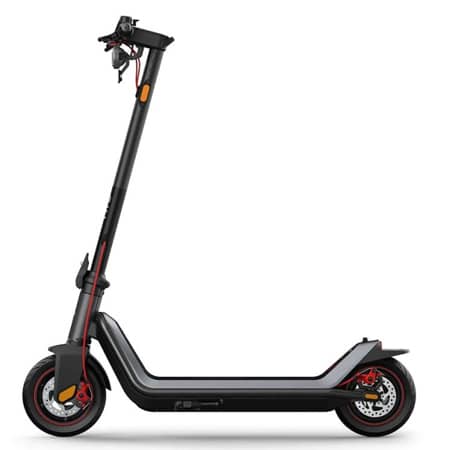 NIU KIQ3 Max
FAQ – Segway Ninebot Max G2
How fast is the Segway Ninebot Max G2?
The advertised top speed of the Max G2 is 20 mph. But during our regular speed test strip, we were able to reach a higher speed of 21.1 mph. It needs to be noted that it is very uncommon for us to reach a higher-than-advertised speed during our tests. Usually, it´s the other way around.
Can a heavy person ride the Segway Ninebot Max G2?
Yes, the Segway Max G2 with its optimized performance settings and superior motor has no issues catering to users up to 265 lbs.
Can you make the Segway Ninebot Max G2 go faster?
By changing ride mode between its 4 different modes Eco(10 mph), Drive(16 mph), Sport(20 mph), and Sport+(unlimited 22 mph) you can achieve different top speeds. Sport+ is the unlimited mode and will give your Max G2 a whopping top speed of 22 mph.
Are Segway Scooters Hard to Ride?
No, the Segway Ninebot electric scooters are very easy to use even for a complete novice user. They're well-tested and you can even tweak a lot of their performance settings to perfectly fit a novice or experienced rider.
Is the Segway Max G2 weatherproof?
Just like its predecessor the Max G2 comes with an IPX5 rating overall and can easily be used in different weather conditions. They have improved the battery's water resistance rating to IPX7 which just made it even better than G30.