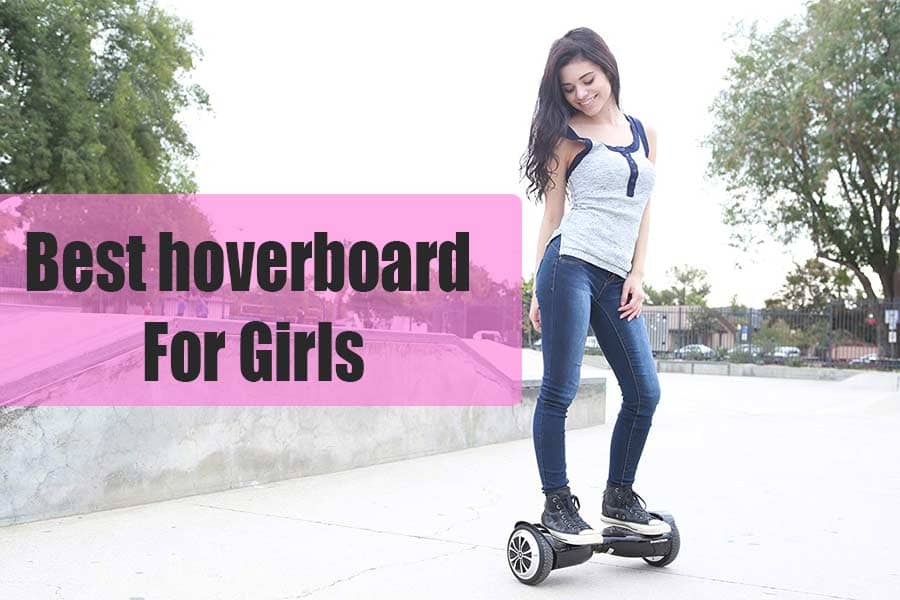 You're looking for a hoverboard for that special lady of yours. Whether it be a young little princess or a full-blown queen we got you covered. We've curated a list of the best and safest available hoverboard models for girls.
Let's face it. Girls are far more fashionable than us guys. Sure there are a few of us out there with exquisite taste. But we're few and far-fetched. Just kidding, I'm definitely not on that list of guys, at least not according to my wife… kids… or neighbors. Well to be honest not according to anyone except myself.
One thing I have though is years of experience repairing and testing hoverboards. And for the purpose of assembling a list of safe hoverboards suitable for both young and adult women, I think that overweighs my lack of fashion.
I've already helped thousands of parents find the perfect hoverboard for their kids. On top of that I also just finished a research project to determine the most popular colors on hoverboards, and who picks what color.
You can rest assured that I am well read up on the subject going into this.
Top 5 Hoverboards For Girls Comparison Chart
Best Hoverboards For Girls
1. Hover-1 Chrome 6.5" – Best hoverboard according to girls
| | |
| --- | --- |
| Speed: | 6mph/9.5kmh* |
| Range: | 5.9mi/9.5km* |
| Power: | 2x150W |
| Charge: | 3-4 hrs* |
| Load: | Max 165 lbs |
*This is not the manufacturer specifics, these were the result of hands-on testing by us.
POSITIVES
Beautiful design and color

Lots of features
The Chrome-colored 6.5" hoverboard from Hover-1 is one of the most popular hoverboards among girls of all age groups according to our research its appearance seems to be very attractive within this group.
It has a very unique design and the chrome pink color is very exquisite. It also comes with some nicely placed LED lights on its wheelhouse and in the front.
The hoverboard is Bluetooth-enabled so that they can use their phone to play music. However, it does lack a mobile application so you can't customize the top speed and so on.
Performance wise it does provide a great ride for the money with a top speed of 6 mph and 14 high-quality battery cells it can go for up to 6 miles on a single charge
Available colors: 3
2. Sisgad 6.5" – Most bought by younger girls
| | |
| --- | --- |
| Speed: | 5.9mph/9.5kmh* |
| Range: | 6mi/9.5km* |
| Power: | 2x300W |
| Charge: | 2-3 hrs |
| Load: | Max 165 lbs |
*This is not the manufacturer specifics, these were the result of hands-on testing by us.
POSITIVES
Cheap pricing

Long reliable track record
The Sisgad 6.5" hoverboard is a great hoverboard for both adults and young girls. It has a 6-mile maximum distance per charge and a 6 mph top speed.
The best part is that it uses a smaller battery and motors that are still adequate enough to give you a sweet ride. But at 20 lbs it weighs less than the larger bulky models which makes it a great hoverboard for young kids to handle.
It is very easy to learn and comes with cool led lights both on the wheelhouse and wheels which makes it even more appealing to young female riders. On top of that, they can connect it to a phone using Bluetooth and jam their favorite songs from its built-in speakers.
Available colors: 9
3. Hover-1 10" – Hoverboard for teenage girls
| | |
| --- | --- |
| Speed: | 7.2mph/11.5kmh* |
| Range: | 7.5mi/12km* |
| Power: | 2x350W |
| Charge: | 2-3.5 hrs |
| Load: | Max 200 lbs |
*This is not the manufacturer specifics, these were the result of hands-on testing by us.
POSITIVES
10″ Large pneumatic tires

Great for rougher terrain and teens
This is actually one of my personal favorites. Apparently, it is also popular among the ladies. The best part about this Hover-1 Titan is that it has 10" pneumatic tires, they provide the best riding experience in terms of comfort and ability to ride everywhere. Pneumatic tires provide fantastic suspension which makes the ride way smoother than the smaller 6.5" models and when I get to pick what I ride, I pick one of my 10" hoverboards 9/10 times.
It doesn't just win on comfort it also has far greater performance with a top speed of 7.5 mph and a maximum range of 8.5 miles.
It comes with a Bluetooth and mobile application that lets you personalize it to your liking. It possesses 3 different speed modes and you can outreach pretty much everything about your ride within the app.
This one is best suited for girls who might occasionally need to ride on rougher terrain like grass, gravel, or dirt roads. Nothing beats a 10" on off-roading.
The drawback is that it weighs a lot more at 30 lbs.
Available colors: Chrome pink, Rose gold + 2 others
4. Jetson Flash 6.5" – Off-road hoverboard for tough girls
| | |
| --- | --- |
| Speed: | 10mph/11.5kmh* |
| Range: | 10mi/16km* |
| Power: | 2x250W |
| Charge: | 2-3 hrs |
| Load: | Max 220 lbs |
*This is not the manufacturer specifics, these were the result of hands-on testing by us.
POSITIVES
Great and appealing design

All-terrain wheels
NEGATIVES
A bit heavier than standard 6.5″
Even though I prefer a 10" while riding on rougher terrain the Jeston Flash is the best option for younger girls who will not be able to ride a large 10" due to their low weight. It provides stronger motors of 250W each giving it a total of 500W. This gives the hoverboard the capacity to handle uphills and rougher terrain with ease and it can reach a maximum speed of 10 mph. Meaning it is the fastest hoverboard on the list.
A larger battery pack gives you almost 10 miles per charge which is almost double the expected range of similar models. Combine this with its unique and strong design and its cool-looking LEDs and wormhole wheels and you get a really durable hoverboard that'll take them for the ride of their life. This one also comes with Bluetooth so you can connect it to your phone and blast some music. Download their very easy-to-use mobile app and you can choose between 3 different speed modes and get a ton of fun information about your riding history.
However, with more power comes more weight, but it's just above some of the lighter models on the list at 19 lbs in total.
Available colors: Black
5. Hoverstar – A cheap hoverboard for girls
| | |
| --- | --- |
| Speed: | 6mph/9.5kmh* |
| Range: | 6.5mi/11km* |
| Power: | 2x200W |
| Charge: | 2-3 hrs |
| Load: | Max 165 lbs |
*This is not the manufacturer specifics, these were the result of hands-on testing by us.
POSITIVES
Great design

Fantastic price
Hoverstar might be the cheapest on the list and it might lack Bluetooth and those fancy features. But if you're on a budget and just want to join in on the fun it's the perfect pick. Don't judge it just because it got listed last, it's a highly capable hoverboard with 400W of total motor power. That gives it the ability to reach a top speed of around 6 mph and you'll be able to ride for about 6 miles before you have to recharge it.
It has something unique to its design and by merely looking at it you could never tell it's the budget alternative on our list.
A solid choice for those who want to give a girl the gift of riding a hoverboard.
Available colors: Chrome Pink, Red + 4 others
What makes for a great girl hoverboard?
Well, there's nothing special with a hoverboard for girls in comparison to any other great hoverboard we recommend on our site except for the difference in color preference. That is based on a survey we did, as well as analyzing thousands of customer data for our color-assorted hoverboards list.
According to this data, almost 40% of all younger girls picked some sort of pink color. The second place was white and in third came gold. The survey included hundreds of confirmed hoverboard buyers.
By the looks of it, colorful hoverboards are vastly more popular among the ladies than with the boys where we saw around 35% picking a black hoverboard. We saw a significant difference between the genders when it came to the colors purple, pink, and white.
The graph below shows the most common colors chosen by girls in percentage:
Pink 37%, White 19%, Gold 13%, Black 8%, Blue 7%, Purple 6%, Green 5%, Multicolored 5%
That doesn't mean we don't cover every other color that might interest a girl. The models above are available in many different colors.
If you want to see all your options we've done the leg work and sorted all the hoverboards we reviewed into this color-assorted list. All hoverboards are UL 2272 and have gone through our hands-on tests in order to make sure they uphold great quality both when it comes to building and performance. They are all present in our recent research on hoverboard brands(LINK), where we went through over 22,000 reviews across the web in order to determine which hoverboard brands customers appreciate the most.
Which hoverboard should you pick for your girl?
The two main factors that come into play are age and taste. Depending on the age of the rider you want to pick a hoverboard with performance that aligns with the girl's age. For teenagers you might want a bit more speed, the model's total weight doesn't matter as much, and you want it to be equipped with a larger battery with more cells in order to provide a greater range with each charge. Look at the Ampere(Ah).
For someone younger, you will be well off with a hoverboard with a tad lower speed limit and as young girls tend to weigh less they don't need as large of a battery to get enough distance per charge out of it. Smaller batteries and motors make the hoverboard weigh less which makes it easier to handle for them.
When it comes to taste you just gotta know what you like, or what the girl whom you are buying the hoverboard for like. I have a girl of my own and even though she is very young, she is very straightforward with what she likes. Blue and pink are the only colors in her wardrobe and if I were to buy something for her, I'd stick to her colors of choice just to be sure.