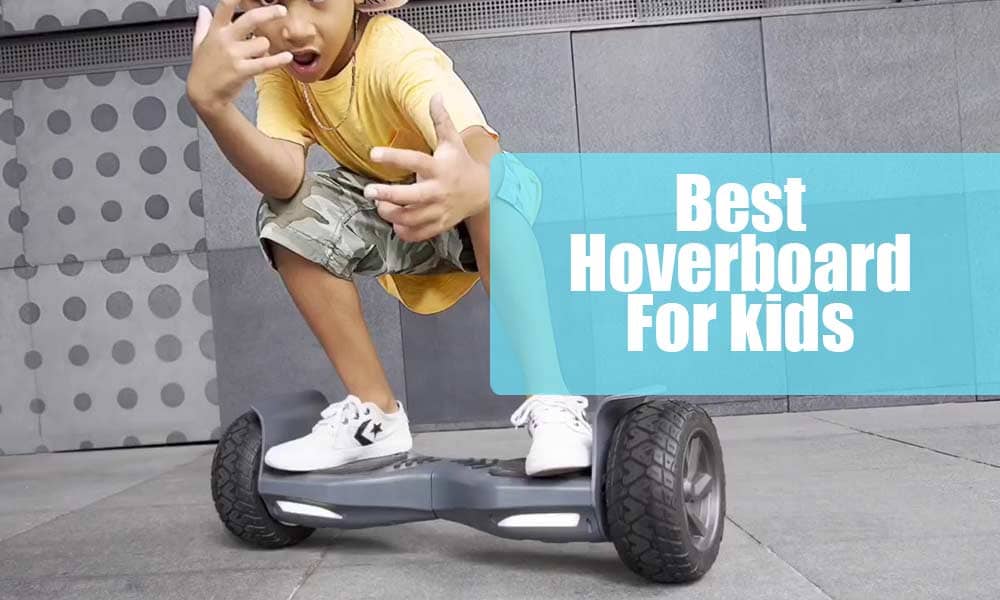 Finding the best hoverboard for your kid can feel like a complicated task. It doesn't have to be, we've done all the research and testing to make it simple for you.
With over 6 years of experience in the field of repairing and testing over 100 different hoverboard models. You'd have a hard time finding anyone with greater experience on the subject than us.
Hoverboards are a crowd-pleaser for both adults and kids alike. You get the Segway riding experience but in a much smaller and more affordable package.
I've narrowed it down to our top 5 picks that cover the entire age/experience group from beginner to professional. Among these, we are sure you will find one that will fit your kid's age and/or experience level perfectly. So that they can easily and safely cruise around the streets back home without you having to break a sweat about it.
Top 5 Best Hoverboards For Kids Compared Side-by-side
SPeeD
Range
Power
Battery
Load
Best Hoverboard For Kids Summary
1. Jolege 6.5": Best model for your kid 6+, and for your wallet
| | |
| --- | --- |
| Speed: | 6mph/9.5kmh* |
| Range: | 6mi/9.5m* |
| Power: | 2x160W |
| Charge: | 2-3 hrs |
| Load: | Max 200 lbs |
*This is not the manufacturer specifics, these were the result of hands-on testing by us.
PROs
Very attractive price

LED colored wheels

Bluetooth and speakers produce good sound
CONs
2000mAh battery providing a lesser range
The 6.5" Jolege hoverboard is a solid choice for any kid with its 6 mph top speed and 180 lbs weight limit. You get about 9 miles out of it and it takes between 2-3 hrs to get the battery charged back to full.
The main reason why your kid is going to love it is the LED effects on its rims and on top of the wheelhouse. As soon as they step on it they'll be flashing, combine that with playing their favorite music through the hoverboard's Bluetooth speaker system and you got yourself a rolling dance machine.
Reliable, easy to use, and it won't set you back much since it's one of the cheaper models out there. A very colorful hoverboard that is available in a ton of different colors.
2. Segway Ninebot S – Safest hoverboard for kids 12+
| | |
| --- | --- |
| Speed: | 10mph/16kmh* |
| Range: | 13mi/20km* |
| Power: | 2x350W |
| Charge: | 3-4 hrs |
| Load: | Max 200 lbs |
*This is not the manufacturer specifics, these were the result of hands-on testing by us.
PROs
Top quality

Lots of features

Strong motors
CONs
Annoying auto-slowdown at top speed to reduce the risk of falling
Segway is a brand you can always trust when it comes to electric vehicles and with hoverboards, it's no different.
The Ninebot S provides you with a top speed of 10 mph that you can easily adjust in the mobile application. It has a maximum distance per charge of just above 13 miles and you can pretty much ride it wherever you like thanks to its large 10.5" inflatable tires.
It has the strongest motor out of all the hoverboards with 350W on each wheel and it can accommodate users up to 220 lbs.
On our entire list, the Ninebot S is far superior in terms of quality and it has the most impressive features, but it will also cost you a bit more.
You get things such as an anti-theft alarm, ambient light settings, remote control, and so on. All are accessible within the application on your smart device.
The Segway Ninebot S is the perfect hoverboard for teens 12+.
3. Hover-1 Ranger PRO 10" – Best off-road hoverboard for kids 10+
| | |
| --- | --- |
| Speed: | 7.5mph/12kmh* |
| Range: | 9mi/15km* |
| Power: | 2x350W |
| Charge: | 2-3 hrs |
| Load: | Max 265 lbs |
*This is not the manufacturer specifics, these were the result of hands-on testing by us.
PROs
Smooth riding on rough surfaces

Slick design

Comfort due to pneumatic tires
The hover-1 Ranger PRO is a 10" hoverboard that has two 350W motors with 10" pneumatic tires. The large tires make it perfect for all those alternative routes your kid might want to take. With pneumatic tires, you get a smoother ride over all types of terrain. It can handle dirt roads, and gravel and I've even used them riding in the snow.
They are mainly built for heavier riders and can accompany anyone up to a maximum of 265 lbs. Hence, best suited for teenagers and up. The rider needs to be at least 45 lbs for them to be able to ride this hoverboard safely.
It comes with Bluetooth connectivity, good speakers, and a mobile application where you can read about errors, re-calibrate, adjust speed/sensitivity, and more.
Works perfectly with a hoverkart add-on as it makes the ride less bumpy and has ab
I always recommend a 10-inch if the rider is mainly going to use it outdoors, especially if there might be rougher terrain such as grass or dirt roads. It has become a very popular hoverboard model for girls.
4. Jetson 6.5″ – Lightweight off-road model 6+
| | |
| --- | --- |
| Speed: | 7.2mph/11kmh* |
| Range: | 6.9mi/11km* |
| Power: | 2x300W |
| Charge: | 2-3 hrs |
| Load: | Max 220 lbs |
*This is not the manufacturer specifics, these were the result of hands-on testing by us.
PROs
Designed for kids

Lightweight

Mobile App, Bluetooth & Easy Mount
CONs
Its off-road abilities aren't super great
The Jetson Aero hoverboard has 6.5" all-terrain wheels that prevent flats but can still ride across that rougher terrain without a problem. It might not be as smooth as with the pneumatic tires of the 10", but the advantage with the Jetson Spin is that it can be used by younger riders, as long as they weigh above 30 lbs.
The hoverboard has some really cool-looking LED wheels. It boasts 300W of dual hub motor power and has a top speed of 7 mph.
It can travel for about 7 miles on a single charge. Just as with most hoverboards, and it took us approximately 2 hrs to go from empty to full.
A very good choice for those who might need to utilize its off-road capabilities to ride on grass and dirt roads, but still have the hoverboard be lightweight and less bulky than the 10" from hover-1.
5. Hoverstar – The most affordable option
| | |
| --- | --- |
| Speed: | 5.9mph/9.5kmh* |
| Range: | 6mi/9.5km* |
| Power: | 2x300W |
| Charge: | 2-3 hrs |
| Load: | Max 165 lbs |
*This is not the manufacturer specifics, these were the result of hands-on testing by us.
PROs
Most affordable

Proven track record
The Hoverstar hoverboard is one of the most affordable 6.5-inch hoverboards you can buy for your kid. It's just like our #1 option has a max load of 165 lbs so it's not suitable for all kids. This is mainly due to the lesser motor power and voltage used(24V).
A uniquely designed product that has been around for a couple of years and works great.
A good enough battery to give you a sweet ride for up to about 6 miles on a charge. If you run out of juice a full recharge takes the industry standard 2-3 hours. It has 2 x 200W motors that provide a more modest top speed of 6 mph. Perfect for those youngsters.
A good hoverboard for beginners that is easy to learn and won't break the bank.
Are hoverboards safe for kids to ride?
Everything is subjective when it comes to safety with these types of vehicles. A normal bicycle can be very dangerous if not operated correctly. The same goes for a hoverboard.
Although, hoverboards are likely more prone to injury due to malfunction.
Knowledge and training are of utmost importance when it comes to learning to master this new skill.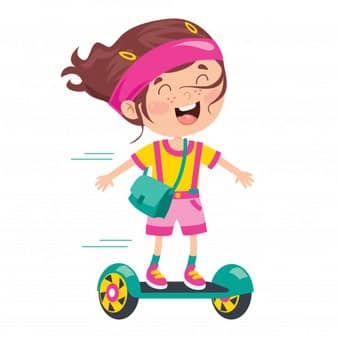 The most common injuries occur due to a lack of patience early on in the learning process. Or as I like to call it since it happens to me very often, overconfidence. This often leads to minor bruises, but can also cause sprains and fractures if you're unlucky.
Today's hoverboards are as safe as an electric-powered self-balancing transportation device can be.  If you pick a certified model that is. But you are here and all of our recommendations are certified to the highest standard and personally tested by us. 
Make sure your kids understand that it is a motorized vehicle and should be treated with caution and used responsibly, and make sure they use the right safety gear. And riding around on their own should be out of the question for young children and those just starting out.
If you follow common sense and our recommendations above you have done your part as a parent in making sure that their ride is as fun and safe as possible. Kudos!
How we made our list of safe hoverboards for kids
We follow strict guidelines when it comes to picking our top favorite kid's hoverboards. But mainly it comes down to the fact that I've tested and repaired hundreds of models and have 3 small ones of my own who started riding as 4-year-olds. So you´re in great hands here. I could probably disassemble a hoverboard in my sleep by now.
Safety
As a parent, I know that when it comes to gifting a child something, there is nothing more important than their safety.
Here we look for problems with quality and functionality. Making sure the hoverboard comes from a reliable brand with customer service and a good track record.
If you want more about the safety aspects of the product you can read our Hoverboard owner's guide on hoverboard safety.
But always remember. Everything comes with a risk, all you can do is mitigate it the best you can.
CPCS/UL Certification
The recommended hoverboards for kids in our list all have the appropriate CPCS and UL certificates making sure they follow the latest safety standards.
A lot of manufacturers of hoverboards produced them to be as cheap as possible to increase profit for themselves. They were cutting corners in terms of battery quality to name one. I've opened countless numbers of hoverboard batteries a few years ago and many had fake cells in there to reduce the cost of manufacturing. They still work but you get far less power and range than promised. 
For example, a battery said to give you 10 miles has 50% fake cells and gives you 5 miles and the cells that are actually real were often made of poor quality and stitched together in the most insane ways. CPCS finally took action in early 2019, a bit too late in my opinion, I warned about these problems in mid-2015. But better late than never I guess, even though 4 million dollars worth of property had to be destroyed before they recalled a ton of hoverboards that had faulty and dangerous batteries.
Age appropriateness
When hoverboards first started to surface most were built with the intent of use by adults. They weren't created with kids in mind. Today most hoverboards can be enjoyed by adults and kids alike.
But some do have extra features such as speed limitation abilities and self-balancing technology that increases their ease of use, making them cater even more towards kids and teens.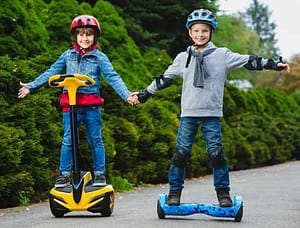 Then we have those cool LED lights that flash and the ability to play music, both are features I see aimed at kids more than an adult crowd.
These types of features along with standard things such as wheel size, maximum speed, and weight are taken into consideration when picking the field.
Price
Price always has its say in determining which hoverboard gets what spot on our lists. No matter the extra features and performance, some things just aren't worth the extra cost.
And honestly, many times you might not be keen on paying too much without even knowing if the product may interest your kid.
FAQ – Kid's hoverboard
At what age can a child ride a hoverboard?
Hoverboard brands tend to recommend a minimum age of around 13 years.
We recommend that the child should be at least 7 years old. The old they are the better they understand their limitations as well as what can happen if they aren't careful.
However, kids as young as 4-5 years old can easily learn to ride a hoverboard. Mine did, but only under strict supervision and with proper safety gear, optional a chasing parent.
What safety gear should my kid use while riding a hoverboard?
You want your kid to have fun, that's probably the main reason why you would buy them a hoverboard in the first place. Getting hurt is a real joy killer so, therefore, you should invest in proper safety gear so that your hoverboard riding can be as fun and safe as possible.
You want your kid to have fun, that's probably the main reason why you would buy them a hoverboard in the first place. Getting hurt is a real joy killer so, therefore, you should invest in proper safety gear so that your hoverboard riding can be as fun and safe as possible.
The no-brainer and first on every list is of course a good helmet. I'm not talking about those Styrofoam ones you used when you were a kid. No, get a quality helmet designed for kids. Those give your kid the best possible protection. 
I always tell my kids: "Only smart people wear helmets because they have something valuable to protect." 
Finish it off with a: "You're a smart kid, right?"
Works like a charm!
Second is that they should use proper arm and knee pads in order to avoid abrasions and bruises. Ankle guards are also recommended as they save your hands if they have to catch themselves falling down.
What are the minimum & maximum weight limitations of hoverboards?
The minimum weight varies between 25-45 lbs and the maximum weight ranges between 125-265 lbs depending on the model.
It is of utmost importance that your kid reaches or exceeds the minimum weight requirement for the hoverboard you buy. Otherwise, they won't be able to ride it properly and it could lead to an accident.
Many of the hoverboards that we recommend for kids can also be used by adults.
Are hoverboards easy for kids to learn?
Kids have, as with anything, an advantage over us adults when it comes to learning new things, and learning how to ride a hoverboard is no exception. 
Kids tend to get a grasp of how to operate the hoverboard within 10 minutes. Give them a few hours on it and they'll be riding it flawlessly across the house and outdoors on even surfaces. For rougher surfaces with minor bumps, they might need a couple more hours of training in order to master it completely.
How do I teach my kid to ride a hoverboard?
When it comes to mastering the skill of riding a hoverboard, kids pick it up pretty quickly and find it easy to ride. But there are a few things you as a parent/adult can do in order to help them along the way.
Using a hoverboard is something that is totally new to everyone. The more relaxed you are the easier and smoother the ride. That's one of the main reasons kids are faster learners than adults. They tend to be more relaxed and not tense up.
Hold their hand, just one. Two will make them lean toward you. Walk beside them and hold their hand just like on a normal stroll towards the park. You can still help prevent them from falling without putting all their trust in you.
Let them jump off while riding at a slow speed. While holding your hand of course. This is probably the best thing they can learn. By getting to know how to step off while riding they can avoid most of the common mistakes that cause the worst falls.
Make sure you educate yourself as well as your child on how a hoverboard works and how to safely ride them. You can use our guides on how to safely operate a hoverboard and how a hoverboard works as guidance.