Segway/Ninebot Zing C8/E8 Review – A great entry-level kids electric scooter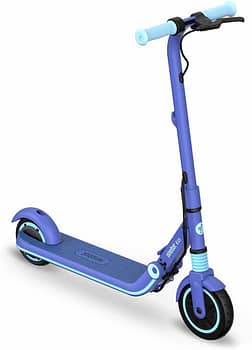 Segway/Ninebot Zing C8/E8 Review – A great entry-level kids electric scooter
Perfect Size
3 Different Speed Modes
Great Brakes
Easy to Learn
The Zing E8 electric scooter is Segway/Ninebot's first try at creating an electric scooter solely aimed at kids.
It's pretty easy to tell just by looking at the size and build of the scooter, but it does pack some groundbreaking features and you get the brand reliability and aftercare that Segway is famous for.
Overview of the Ninebot Zing C8/E8
Such as their newly invented cruise control mode that makes the scooter super-easy to learn for inexperienced riders, as well as 2 different speed modes to choose from.
It's a great first electric scooter for kids aged 4 to 8 and parents can feel confident that Segway has had kids' safety as their top priority throughout the entire creation process.
Awesome
A great electric scooter built entirely with kids in mind.
Positive
Perfect Size
3 Different Speed Modes
Great Brakes
Easy to Learn
No Display or Lights
Slow Charging
Review Summary
Segway/Ninebot's Zing E8 is a great choice for parents with young kids(aged 4 to 10 years) looking to get their kid's very first electric scooter. With a 130W motor, the scooter is capable of reaching a top speed of 8.8 mph.
If your kid is in the lower range of the recommended age then you can choose to use the first speed level called safe mode which limits the scooter's top speed to a more suitable 6.2 mph. Or put it in level 2 and use the scooter's kick-assist feature which is great while learning.
The Zing E8 provides your kid with a maximum riding distance per charge of 6.1 miles. It has 3 different braking systems, a mechanical, an electrical one, and the standard footbrake that are present on all standard kick-scooters. It has proven to be able to handle inclines of up to 7% and the tires will, even though they are solid, provide a really good grip thanks to Segway's special soft rubber technology.
It has a front suspension shock that improves the comfort and overall riding quality of your kid. And it makes it less likely for your kid to fall off or lose balance while riding over a small object, like a stone, or a small crack in the road.
It is available in two vibrant colors light blue and pink.
As a parent, you can trust that Segway has put your kid's safety first and the scooter upholds high quality when it comes to both components and building quality.
In Comparison To Other Scooters
| | | | |
| --- | --- | --- | --- |
| Model | Speed | Range | Weight |
| Segway Zing E8 | 8.8 mph | 6.1 mi | 17.6 lbs |
| Segway Zing E10 | 10.3 mph | 6.2 mi | 18.7 lbs |
| Razor Power Core E90 | 10.1 mph | 11.2 mi | 21.22 lbs |
| Gotrax GKS | 7.5 mph | 3.9 mi | 17 lbs |
The faster option is Segway Zing E10. It gives your child a little more power underneath their feet, but it has a larger frame and is a bit heavier.
If you're looking for a bargain, that would be the Gotrax GKS. If you think your kid might have a hard time handling the E8 the GKS is even simpler to learn for very young first-timer riders.
If they want to go further. The Razor Power Core 90 will provide up to 6 miles extra with each charge, while also having a higher top speed. But at the cost of a few extra pounds.
Segway/Ninebot Zing E8: Full Review
First impression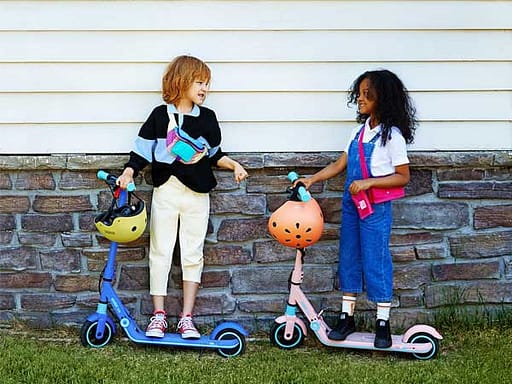 The design of the new Segway/Ninebot Zing E8 is great and it looks like something most kids could appreciate riding on. It's small size and moderate performance tell that this scooter was created with an entirely new audience in mind. In comparison to their earlier Segway ES models.
But there's more under the hood of the E8 that shows how much effort Ninebot has put into creating a scooter that parents will feel safe letting their kids ride on their own.
Real-life Performance Test Data
| | |
| --- | --- |
| Tested Top speed: | 8.8 mph |
| Tested Range: | 6.1 mi |
| Acceleration(0 – 8.8 mph): | 5.7 sec |
| Braking Distance (8.8 mph – 0): | 2.8 sec |
| Hill Climbing(100ft 6% incline): | 14.6 sec |
Power
The scooter had more than enough power to make it a really thrilling ride for our test riders of 50 and 65 lbs. They had no problem zooming around on it and for once I felt relaxed watching them ride.
The scooter has great acceleration for a kid's scooter of this size and was able to pass our acceleration test from 0 to 8.8 mph in just 5.7 seconds.
It has a 130W rear-mounted hub motor, which is the best motor placement for a kid's scooter. It gives the scooter better traction which increases the tire's life expectancy due to fewer wheel spins. It also removes the kids' ability to do a wheel spin while riding which would otherwise have led the front tire to lose traction and hence eliminate the scooter's steering capabilities.
The scooter has no problem carrying kids up to a maximum weight of 110 lbs. And it did well during our hill test, for kids' scooters we've decided to use a hill with just a 6% incline, and even with my oldest, who weighs about 63 lbs, the Zing E8 had no problem climbing up the hill to reach the top.
Braking
The scooter comes equipped with 3 different types of brakes, electrical(kinetic regenerative braking), mechanical(hand lever), and footbrake(friction).
The friction brake, although it won't be used as much after they get used to the lever, provides a great advantage to kids with prior experience riding kick-scooters before getting their first electric model. They know how to use it and it is a great "panic switch" since using it is bolted into their core already.
Small hands have no problem getting a firm grip on the brake lever and pressing it is effortless. It has a smooth action and it also automatically engages the scooter's electric brake system that has the regenerative function, meaning while they brake all energy created is pushed back into the battery.
Battery Power & Range
The E8 comes with a small battery pack of 55Wh(21.6V/2.5Ah). But thanks to the quality of the 18650 cells used they can provide twice the discharge of a budget alternative. This made the scooter much lighter so that a kid can easily carry it up small obstacles or a set of stairs while still providing them with a good distance per charge.
The battery is equipped with Ninebot's latest BMS(Battery Management System) which has all the safety features you'd like to have on a scooter battery made for kids. The baseplate and the components around the battery are built with flame-retardant plastic so that you can relax while charging.
The scooter takes about 4 hours to get to a full charge. While that is by no means fast for such a small battery, it does have the benefit of increasing the battery's life by slowing down the degeneration process.
Ride quality
Zing E8 has a front-mounted suspension shock that makes it less shaky to ride on rough terrain. It also makes it much easier for the scooter to ride over a surprise pebble or stick without causing much annoyance for the rider.
The kids that we had testing the E8 were all well below the maximum weight limit and they have tons of prior experience riding electric scooters. They usually ride normal-sized electric scooters and were very happy with the size of the E8 Zing. It was much easier for them to control and maneuver the scooter.
Portability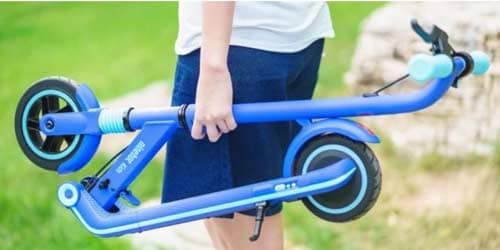 The E8 Zing weighs only 17.6 lbs and the kids quickly fell in love with the fact that they could for the first time carry a scooter up and down a set of stairs on their own. The stem is thin enough for their small hands to get a good grip and it is well-balanced thanks to the battery placement in the footpad.
Your kid will have no problem handling the scooter on their own when it comes to everything from folding it together to carrying it in and out of the house.
Cockpit & Features
The scooter lacks a display and both head and rear lighting, so you have to invest in some good lights if you intend to let them ride at night. The footpad has some good anti-skid rubber on it and the charging port has a nice rubber cover to keep dust and water out.
Its brake lever is optimized for small hands and is easy to engage.
On the rear left side of the footpad, you find two led lights that indicate battery level and which mode is being used. You will also find the on/off button which is also used to change between the 3 different riding modes.
By quickly pressing the button you will get to choose from beginner mode which limits the scooter to 6.3 mph with throttle action, cruise mode which lets them ride up to 8.8 mph by only using kick-assist, and turbo which lets them utilize the scooter full power by using the throttle.
Deck
The deck provides enough space for the kids to stand firmly and comfortably on the scooter. And when they're done riding a well-built kick-stand lets them park the scooter upright, should they use it. Come on, we all remember how we threw our bikes like trash to the ground when something else caught our interest.
It has a 3.9-inch ground clearance so that it can go over smaller obstacles without things getting stuck underneath.
Build Quality
The scooter uses only premium parts and components and they are all seamlessly put together and well-presented in a neat lightweight package perfect for kids.
The design is IPX4 water-resistant which means it can take a moderate splash of water from all angles without it damaging the scooter's interior components. The on/off button and charging port have rubber covers that are easy to remove and they don't seem to wear that easily.
A great scooter made out of aircraft-grade aluminum that will definitely withstand being thrown to the ground and everything else we expect a kids' electric scooter to endure.
Segway/Ninebot Zing E8 Review: Conclusion
The positives of the scooter clearly outweigh the negatives of the Segway Zing E8 and my kids were really pleased by the scooter's speed, distance, and features.
You get a very capable entry-level kids' scooter from an established brand with a good track record of quality products. Coming in with newly developed safety features that will not only keep your kid safe while riding, but they'll also assist them during their learning period.
The only negative my kid had was that they missed having a display to check their speed and some type of lights which is a very common mistake brands do when they create scooters for kids.
If the Segway Zing E8 doesn't seem to cut it, have a look at the alternatives we suggested earlier or check out our editor's top picks among electric scooters for kids.