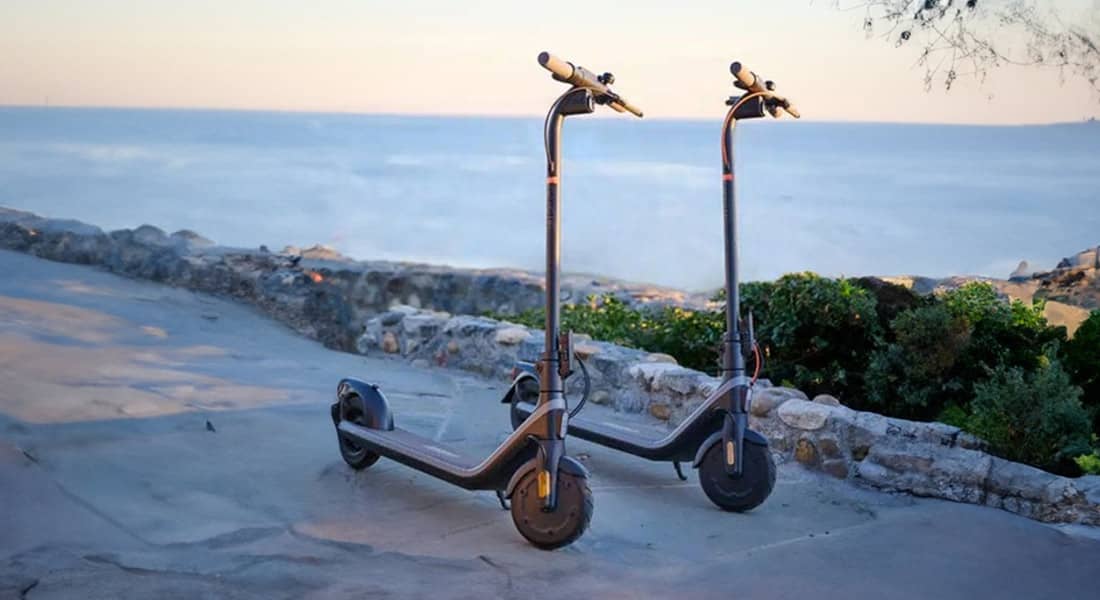 The new Segway Ninebot E2 & E2 Plus are the latest models in a new line of affordable commuter electric scooter options coming from Segway.
Both scooters are what I would like to call family-friendly, as in they are easy to use and operate by kids and adults alike and have a good balance between performance and portability.
They're far from speed demons, but deliver a reliable and comfortable ride on shorter commutes under 10 miles.
But what's under the hood, how well do they perform in a real-life setting, and who does it cater to?
We've tested these budget-friendly options and we're ready to share the experience with you in our in-depth, hands-on review.
Real-life Test Data
| | E2 | E2+ |
| --- | --- | --- |
| *Tested Speed | 12.5 mph / 20.1 kmh | 15.3 mph / 24.6 kmh |
| *Tested Range | 10.5 miles / 16.9 km | 9.8 miles / 15.8 km |
| **Acceleration | 7.8s | 8.9s |
| Weight | 31.3 lbs / 14.2 kg | 31.3 lbs / 14.2 kg |
| Load | 198 lbs / 90 kg | 198 lbs / 90 kg |
| Motor Power | 250W | 300W |
| Battery | 220Wh | 220Wh |
*Our own testing data is gathered during hands-on testing with a rider weight of 165 lbs in the highest performance mode, not to be conflated with the manufacturer's own specifics.
**The time(in seconds) it took to go from a standstill to 12.4 respectively 15.5 mph.
Positive
Good range for price
Slick modern design
Lightweight
Negatives
Low hillclimbing performance
Basic E2 is quite slow
What's new with the E2?
When you first lay your eyes on the E2, it's hard not to appreciate the amount of effort that went into its design. They've taken the shapes we all love and given them a fresh, modern twist. In my opinion, it's hands down one of the best-looking electric scooters in this price range.
But that's not all. The E2 also boasts the most impressive display I've ever seen on a commuter e-scooter. It's got a large, colorful screen that's bright and super easy to read.
Another fun design addition specific to the Plus version is the RGB lights underneath, now the E2 is your own rolling disco. They definitely didn't compromise on anything in terms of design when it came to these two new models.
If you're interested in seeing how well it stands up against the other Segway Ninebot electric scooters, check out our largest ride test ever where we test all the Segway Ninebot models against each other.
The Difference Between the E2 and the E2 Plus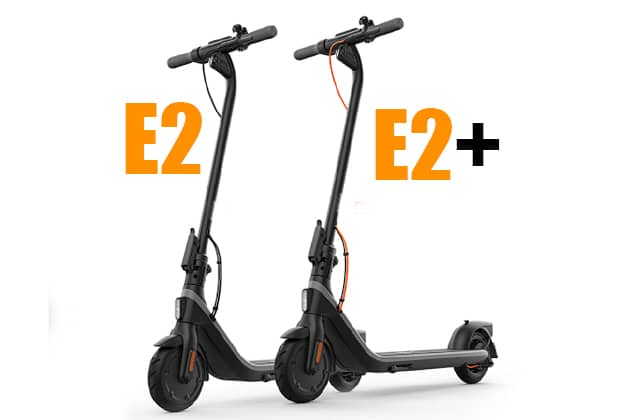 There is but a few slight differences between the two and one of them is the motor power. The E2 plus has a larger 300W nominal and 500W peak power motor, whilst the regular E2 comes with a 250W and a 450W peak.
This higher-powered motor is what influences the 3 other differences it has when it comes to the performance side.
The E2 has a top speed of 12.4 mph, compared to the E2+ with its 15.5 mph. The stronger motor on the E2+ also gives it a bit better energy consumption resulting in a 1.3 miles-increased maximum range. However, it's worth noting that this added power does come with a trade-off: the E2+ weighs 2.9 lbs more than the standard E2.
Segway Ninebot E2/E2+ Review
Motor Power and Speed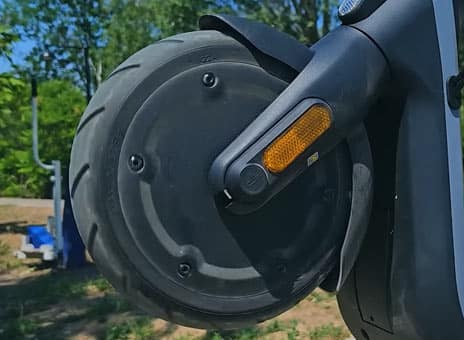 The E2 scooters are definitely not the fastest commuters you can get, but with the front-mounted 300- respectively 250-watt motor you get a decent power of 12.5 and 15.3 mph. Riders ought to be on the lighter side of the scale as these motors only handle up to 198 lbs.
The motors are strong enough to handle minor inclines and they do so especially well if the rider is a little lighter. Our test rider is 165 lbs and both scooters were able to handle up to 10-degree slopes at moderate speed, but as the battery started to drain their climbing abilities got heavily impacted, the E2 more so than the E2+.
In terms of acceleration, none of the scooters excelled in the test, the E2 reach its top speed in 7.8s while the E2+ did so in 8.9s. That is a tad slower than a lot of other commuting scooters, especially for the E2 which also has a lower top speed.
Battery and Range
The E2 and E2+ have a total battery power of 220Wh which is said to deliver a 15.5-mile maximum range. The electric scooters are well-optimized in terms of motor and battery optimization and they actually deliver a very good range. It actually delivers a better distance vs its battery power than the latest Segway Max G2.
During our test, we were able to reach a maximum distance on a single charge of 10.5 miles for the E2, and 9.8 miles for the E2+. Those are some really solid numbers for a scooter of this caliber and aren't dramatically far from their advertised performance.
Braking System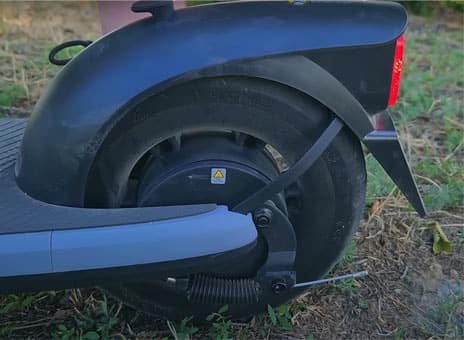 Although I've heard of the E2 lacking in the brake department we did not find this to be the case with our units, they packed some sweet braking power thanks to a 2-combo brake system consisting of a front regenerative motor brake and a rear drum brake. We had no problems getting the scooter to a halt in a timely manner and that was without having to adjust the rear drum brake.
The brakes are both activated through the same lever and there is very little slack to it making it responsive and very effective.
Ride Quality and Experience
The ride quality is what we've come to expect from a Segway Ninebot electric scooter. It's smooth and effective yet I did feel that it was lacking a bit in terms of power. The standard E2 was definitely nothing for the thrill seeker. But in terms of pure get from A to B both scooters deliver a comfortable and safe ride.
What strikes me the most is how good the scooters look. It is a very slick electric scooter and it handles really well. The hollow tires provide some shock absorption, but nothing that can be compared to pneumatic tires like on its older brother the Segway G30P, or a set of suspensions. But at least you don't have to worry about getting a flat and the headache that follows.
Segway Ninebot E2/E2+ Features
Folding and Portability
Both scooters utilize the same frame and they both have the same weight of 31.3 lbs. It folds down just like most other electric scooters and the handlebar latches on to the rear splashguard.
The scooter is light enough for most people to be able to lift it up a few stairs without any issues and it is small enough in size to fit into most car trunks without having to tetris it in there.
Folding the scooter is easy and quick, and while not folded you have a double guarded latch. That means even if the latch were to shake open, there is another latch that will secure it in place making it impossible for it to fold while riding.
Tires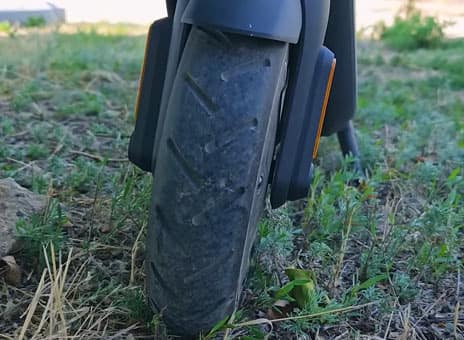 The E2 is equipped with 8.1" x 2" hollow tires, which means there are air pockets within the tires that provide you with a less jaggy and shaky ride in comparison to regular solid tires. 8" is a little bit smaller than the 10" that we usually see on the larger commuters, but it is also one of the reasons it's lighter. This gives you a bit less ground clearance but makes the tires of the scooter maintenance-free.
Lights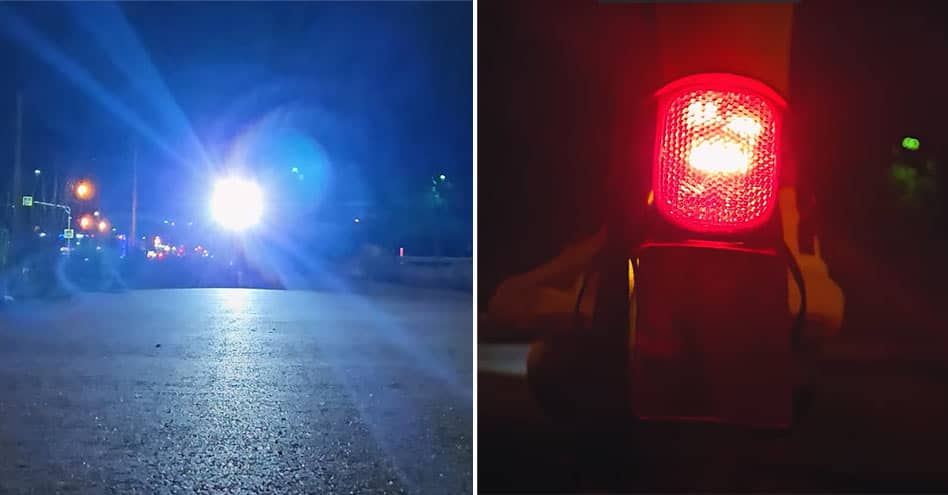 The E2 comes with a 2.1W headlight that provides decent lighting during the dark hours of the day and the light stretches up to 44 ft according to Segway Ninebot. It also comes equipped with a rear light built into the rear fender that flashes upon braking, and if you have the headlight activated it stays red during riding too.
You can also find E-mark reflectors around the scooter on the front, rear, and sides enhancing the scooter's visibility to fellow road users. On top of that, the Plus model also comes with RGB ambient lights underneath further strengthening that visibility, and opening up for some cool customization of your ride within the app.
Cockpit
The cockpit of the Ninebot E2 is well thought out and it starts with a 183% larger color display that can be easily read, even in broad daylight. You can easily check your speed, and battery levels, while the less important stuff is also visible, it doesn't clutter up your screen.
You have the standard latch/ring bell to your left and above that sits the brake lever. Then you have a smoothly accelerating thumb throttle with a small anti-slip rubber cover on it to secure your thumb in position while riding.
Build Quality
When we get a new Segway Ninebot scooter we've come to expect a product that holds a high standard when it comes to build quality. Anything less than the clearly unpredictable is acceptable for an electric scooter model from a brand as large as this.
The automotive-grade steel frame feels sturdy and well-built, and although its size has been adjusted to fit both adults and kids it gives ample space for feet and body as the handlebar has a front curved design.
The handlebars have a decent contexture on the rubber to give you plenty of grip and although it is on the shorter end to maximize the portability of the E2 it is nothing that hampers the riding experience and handle of the scooter.
The front and rear fenders have been securely attached to the scooter to make sure there will be no shaking fender sounds while riding and overall the quality is A-grade. Especially when we talk about the design. This is definitely one of the best-looking electric scooters within its price range and has a design that is heavily influenced by the new top-performing Segway Ninebot scooters GT1, and GT2.
Safety Aspects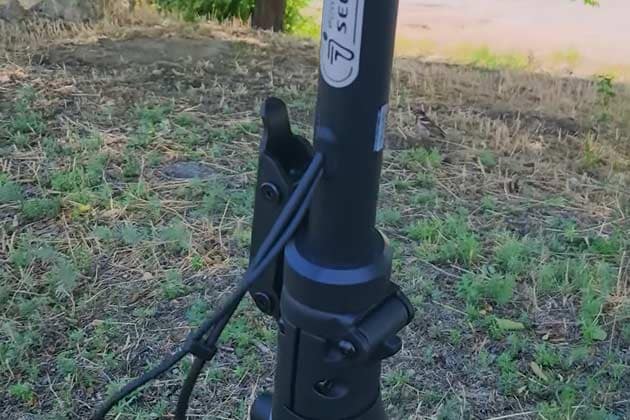 When it comes to safety you know that with Segway Ninebot being such a large distributor they have to take the quality and safety of their rides very seriously. There are no cutting corners with the E2 and that is pretty clear just by looking at the amount of time that must have gone into designing this modern-day commuter scooter.
Here is a list of just a few things that I think make the E2 a safe and really solid scooter for families:
Great quality materials – The use of not only the best A-grade material but also a streamlined production process gives you reassurance that any weld, or nut is going to be tight and high-quality made.
Large-scale testing – Segway Ninebot do some seriously rigorous testing on their scooters for about 3000km, but on top of that, a famous brand like Segway gets a ton of customers who will also put their scooters through even harsher tests and share them with the world.
Speed adjustment – The E2 caters mostly to families where both adults and kids can utilize the scooter comfortably and safely. They come with no groundbreaking speeds and you have the ability to customize it fully at your fingertips to fit whoever is using it at that time.
Lightning – A great lighting system is in place with reflectors all the way around to provide great visibility which makes it less likely that you'd be in an accident late at night.
Folding mechanism – A really solid folding mechanism that isn't prone to unlatch itself during bumps makes it a safe portable model.
These are but a few of all the great things I have to say about the E2 from a safety aspect. It is easy to use, has a high-quality structure, and has a well-balanced performance.
Segway Ninebot E2/E2+ Review Conclusion
So who do I think would benefit the most from the Ninebot E2 and E2 Plus?
To me, it's quite clear that these two scooters were built for families to use. Families who want one or a couple of scooters that all work similarly so they can just pick one and be on their way.
As a family with an average-sized sedan, you can easily fit a few of these in the car without it being much of an issue and their low 31 lbs weight makes them easy to handle for both adults and kids. The balance between power, size, and user-friendliness is really good and I let my kids ride the E2 all the time and they love it.
With a moderate speed of 12-15 mph depending on the version and a range that holds up well even when used in the highest speed mode, I say it's a solid choice for anyone looking for a cheap lightweight model.
Segway Ninebot E2/E2+ Technical Specifications
| Specific | E2 | E2+ |
| --- | --- | --- |
| Weight | 31.3 lbs / 14.2 kg | 31.3 lbs / 14.2 kg |
| Folded size | 42.1 × 17.5 × 19.8″ | 42.1 × 17.5 × 19.8″ |
| Height | 44.9″ | 44.9″ |
| Motor power, nominal | 250W | 300W |
| Top speed | 12.4 mph / 20 kmh | 15.5 mph / 25 kmh |
| Range | 15.5 miles / 25 km | 15.5 miles / 25 km |
| Battery capacity | 220Wh | 220Wh |
| Battery recharge time | 7.5 hrs | 7.5 hrs |
| Max load | 198 lbs / 90 kg | 198 lbs / 90 kg |
| Brake | Drum+ Regenerative | Drum+ Regenerative |
| Tire | 8.1″ Honeycomb | 8.1″ Honeycomb |
| Built-in lights | Front, Rear | Front, Rear + Ambient |
| Water resistance | IPX4 | IPX4 |
Competing Alternatives to the E2/E2+
Speed
Range
Load
Weight
Motor
Battery
FAQ – Segway Ninebot E2/E2+
Are there any visual differences between the E2 VS the E2+?
Although built on the same structure there is one slight difference in appearance just for the sake of being able to differentiate them from each other. The E2+ has an orange braking cable, whilst the E2 has a black one.
What is the top speed of the E2 & E2+?
The standard E2 comes with a 250W motor that delivers a top speed of 12.4 mph and less torque. The E2+ comes with a 300W motor with a maximum speed of 15.5 mph and a bit more torque.
How to differentiate the E2 VS the E2+?
The only visual difference is the orange cable coming down from the brake lever on the E2+ versus the standard E2's black brake cable.
Which E2 model is better E2, or E2 Plus?
The E2 plus is the clear winner out of the two models. It has a more powerful motor, 300W versus the E2's 250W. This gives it better torque, higher top speed, and better incline capabilities.