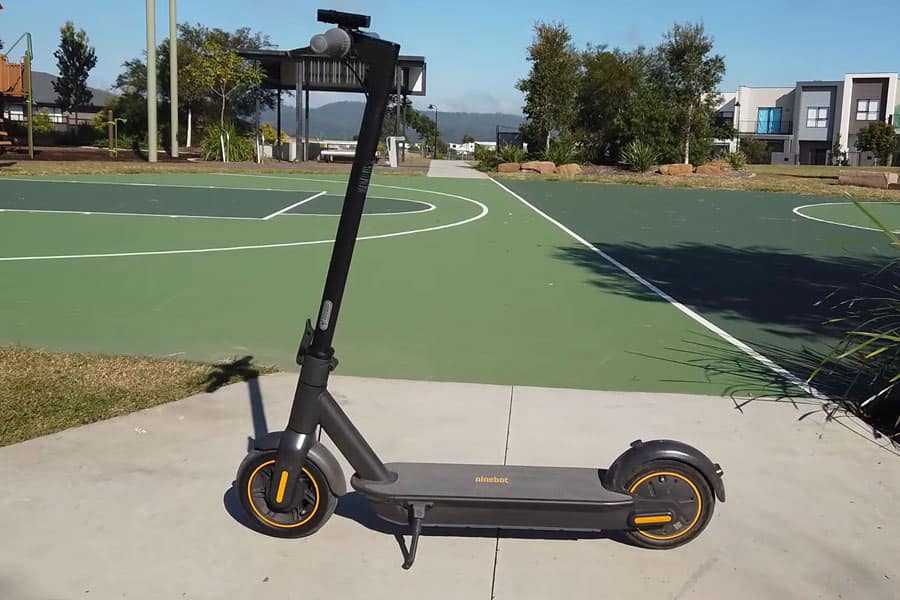 A good few years have passed since the introduction of the Segway Ninebot Max G30P, one of the most loved and used electric scooters to date. It is topping the sales charts across the world together with the Xiaomi m365 whose success inspired Segway to create the G30 in the first place.
But is it still up to par with the competition from new models?
The Max G30 is an electric scooter of great craftsmanship and balanced performance. Equipped with a high-quality 350-watt rear-mounted hub motor you can expect a speed of up to 18.6 mph with its stock configuration. Higher speeds are possible by utilizing customized firmware.
As a commuter scooter, it is relatively heavy due to its robust structure and large high-capacity lithium battery boasting 551Wh. That translates to a maximum range of up to 40 miles under very optimal circumstances.
On top of that, it has a ton of great features and even though it's been on the market for a good few years, it still holds up against newer electric scooter models in the same price range.
We put the Max G30 through our rigorous tests once more and it performed fantastically well ranking as the nr 2 commuting scooter in our test of all the Segway Ninebot models, just below the latest addition to the Max-series the Ninebot Max G2.
Now let's dive into exactly what performance you can expect, its benefits, and where it might fall short.
Real-Life Test Data
| | |
| --- | --- |
| *Tested Speed | 18.4 mph / 29.3 kmh |
| *Tested Range | 21 miles / 33.8 km |
| **Acceleration | 5.3s |
| Weight | 42.1 lbs / 19.1 kg |
| Load | 220 lbs / 100 kg |
| Motor Power | 350W |
| Battery | 551Wh |
*Our own testing data gathered during hands-on testing, not to be conflated with the manufacturer's specifics.
**The time(in seconds) it took to go from a standstill to 15.5 mph.
Positive
Loved across the globe
Great range
Low-maintenance
Amazing quality
Negatives
No suspension system
A bit heavy
Segway Ninebot Max G30 Review
Motor Power and Speed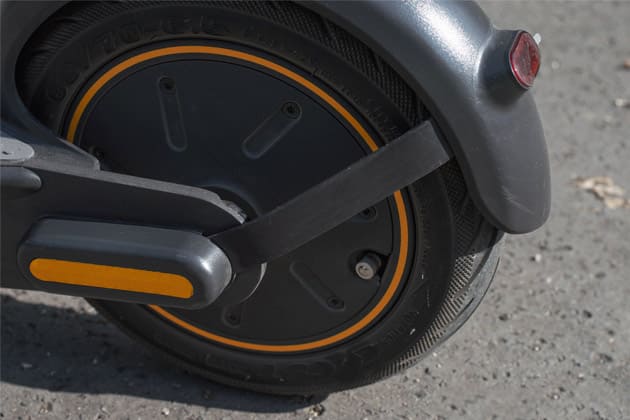 The Segway Ninebot Max G30 is available with two different motors called Gen 1 and 2. Both motors come with a 350-watt label and the difference is that the Gen 1 has more torque but a little less top speed, and the Gen 2 has less torque but a higher top speed.
Riding the scooter with the stock firmware the main difference is that the Gen 1 motor will start losing its top speed ability at around 70-80% battery power, while the Gen 2 is able to keep its top speed until the 30-40% battery range. The second difference is that the Gen 1 has a slight edge going up hills due to more torque.
The newer models all come with the Gen 2 motor, but if you want to delve deeper into the subject, or how to spot what motor a unit has you can read more about it in our Ninebot Max Gen 1 VS Gen 2 guide.
We've tested them both and the difference is slim riding on the standard Segway Ninebot firmware. We wouldn't suggest putting too much thought into it if you are not going to go the route of flashing it with custom firmware.
The Max G30 promises a 18.6 mph top speed and we were able to bring both models up to 18.4 mph.
In terms of acceleration, the G30P was able to reach 15.5 mph within 5.3 seconds which positions it among the top in its price range.
Segway is famous for its optimization of motor power and the G30 is proof of that. It delivers great performance in terms of both speed, acceleration, and ability to tackle some pretty demanding hills.
Battery and Range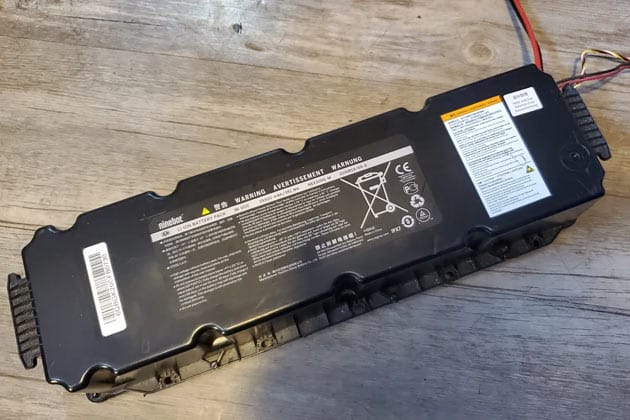 Setting it straight out of the park, we are not operating in dreamland here at Aridejunkie. With that said you can never expect to get the maximum advertised distance out of a scooter and the same goes for the Max G30.
However, in comparison to similar rides, you get a ton of range from its large 551Wh lithium battery.
During our test, we ran it in sports mode all the way on various terrain, with the occasional hill ranging from 4-13% incline, and with a rider weight of 165 lbs. When the battery finally gave in we had clocked a good 21 miles in total range which again is a top placement for a scooter in this price range. That is a little more than half the 40 miles you can get in what I like to call slow mode and under optimal terrain conditions.
Braking System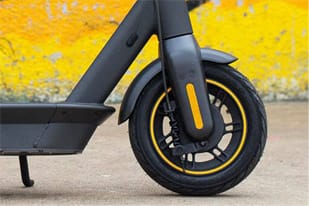 The Max G30 comes with a solid braking system consisting of a front drum brake and a rear regenerative motor brake giving it adequate stopping power.
During our standard brake test, the scooter was able to come to a complete stop within 3.8m which is within the range of good braking for a commuter scooter. We did choose to tension the drum brake a little straight out of the box. Something we recommend to all buyers just to make sure that the braking power is adequate depending on your size.
Having the main brake in the front is something that always scares me a bit. Yes, I have some bad childhood memories involving me and some handlebar gymnastics as a young rider. But the Max never showed any signs of doing that even when I really squeezed the brake to the max.
However, I did find myself shifting my weight to the rear end of the scooter a lot more than I am on an electric scooter with its main stopping power on the rear wheel.
Ride Quality and Experience
Riding the G30 is smooth and enjoyable. It is a well-balanced electric scooter in all aspects from performance to space. It is a tad heavier than most of its lightweight competitors, but it far outperforms them in terms of what you get for your money.
It has no problem handling people up to 220 lbs and with its wider base, there is plenty of space for large shoes.
City riding is smooth and you feel very safe with adequate braking power and the pneumatic tires remove most of the minor bumps you may cross. However, venture out of the city and onto the unbeaten path and it gets a little bit bumpy. But for an electric scooter equipped with only pneumatic tires for suspension, it's natural to experience occasional bumps and jolts along the way.
The original Segway Ninebot Max is by no means a speed demon, whether it be with the Gen 1 or 2 motor. It is a sturdy machine built for everyday use and can easily cover the range needs of 80% of all the people looking to buy an electric scooter. In other words, it is a great commuting option for anyone looking to electrify their daily commute and ride smoothly and securely toward their destination.
Segway Ninebot Max G30 Features
Folding and Portability
The Max G30 with its 42.1 lbs is heavier than a lot of the other commuter models out there. But that is mainly due to its grander and more sturdier frame, wider footpad, and larger battery.
It is at the upper end of what I would consider a portable electric scooter. You can carry it up a flight of stairs or across the block but any further than that and it'll be a bit of a struggle.
When you want to fold it together it's quick work. Using a lever on the stem, the handlebar folds down and locks into the rear fender the standard M365 way. When folded its dimensions are 43.7″ L x 18.6″ W x 21.0″ H and you can easily balance it in your hand with a good grip around the center of the stem. Packing it into your car can be a struggle due to its size, you may need to twist and turn a little to fit it into smaller car trunks, but for most normal-sized trunks it goes in pretty effortlessly.
Tires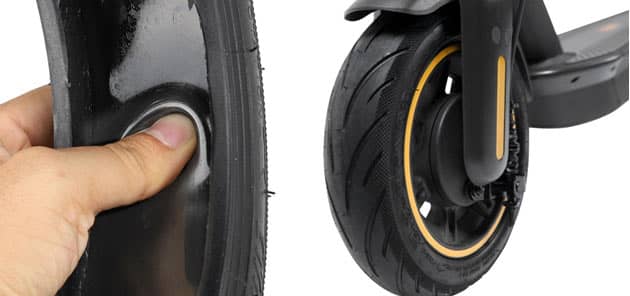 The Ninebot Max G30P is equipped with 10" pneumatic tires that do a good job of reducing shocks and vibrations from the road.
These tires have Segway Ninebot's new so-called self-healing technology, which in non-sophisticated terms means they're filled with tire slime. The tire slime gives the tires a self-repairing function, once something penetrates all the way through the rubber the slime fills in the hole instantly without any loss of air so you can continue to ride.
I am not the only one who hates having to change an electric scooter tire, no from what I've come to learn when talking to other riders most think it's a headache. This is why I really like these new tires from Segway Ninebot. Riding the latest version of this scooter the Ninebot Max G2 I actually tried puncturing the tire with a 3 cm long nail. The result was impressive and I experienced zero pressure loss. The scooter still shows no sign of a puncture to this date.
Lights
The G30 comes with a good headlight placed high up just under the handlebar giving you a wide light projection that does a good job of improving visibility during nighttime riding. It also has a rear-end brake light mounted on the back fender that helps with signaling to others when you're slowing down.
Although the headlight is sufficient for nighttime riding, if you find yourself riding a lot during the darkest hours of the day I would suggest supplementing it with something more powerful. Not only does that improve your visibility further, but you can also avoid using up your scooter's juice to power the headlight.
Check out our list of the best supplementary electric scooter lighting systems.
Cockpit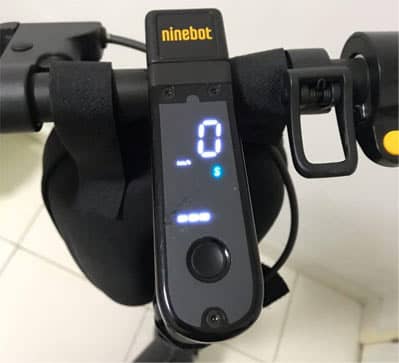 The cockpit is well thought out and the first thing you'll notice is a bright LED display that can be easily read even in direct sunlight. On it, you can find everything you need: ride mode, speed, and battery power.
The scooter's functions are controlled with a single button pressed in different ways.
Hold down to start/stop
Two fast presses for headlight
One slow press and consecutive presses to switch between the different modes
You can also download the mobile app to control the scooter, tweak its performance to your liking, and read up on your rides.
In the "cockpit", you will also find a twist bell, a brake lever, and the thumb-activated throttle.
The brake lever is responsive and without any slack due to the optimal wiring of the cable and if pressed it activates both the regenerative brake and the front drum brake. If pressed more softly you can choose to only activate the regenerative braking which is great to maximize battery recovery riding down hills.
The thumb-activated throttle is responsive and easy to adjust the speed with and it comes with a small patch of rubber on it making it less likely that your thumb slips. The grips are soft to the touch but durable and give you a nice firm, non-slippery, grip. It was great for its time, but if you want a truly amazing cockpit I would suggest that you take a look at our Segway Ninebot P65 review.
Build Quality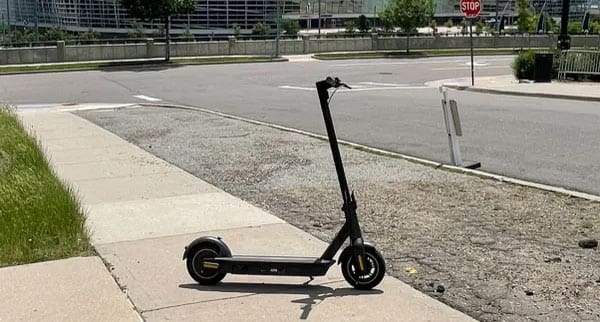 As with most of the Segway Ninebot electric scooters, the G30 upholds the quality we've become used to. It is a really sturdy and well-balanced machine that you will definitely be able to ride on for a long time. '
From the touch to the riding performance you can really feel the quality of the scooter, and built with the intention of being used by both rideshares and consumers you can rest assured it is one of the more durable scooters out there. The amount of G30 units sold speaks for itself and customers are happily recommending the scooter to friends, family, and strangers alike.
The scooter comes with an IPX5 water resistance rating meaning it can handle a fair amount of water without causing any issues to the scooter's performance. The tires are able to handle wet roads quite well without it feeling slippery and dangerous. Our model has been used in everything from light rain to downpours and although we don't recommend riding under heavy rain, the Max has proven to be very reliable in doing so without damaging the electronics.
Safety Aspects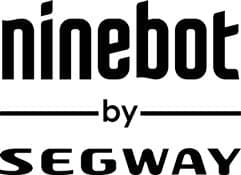 Just another section where we get to brag about Segway Ninebot's reliable track record. The Max is one of the most secure commuters you can get. As we said just prior to this it is able to handle most weather and terrain without it feeling dangerous or unstable.
The sturdy frame instills confidence and with a large footpad, you have plenty of space to find a secure sturdy position for your feet.
Here are just a few things that we think make the Segway Ninebot Max G30 a very safe scooter:
Highly customizable to your preference through the mobile application
A large user base and a long track record speak to its riders feeling safe and happy on it
Good warranty conditions and worldwide support
Strong brakes that are adjustable
Kick-to-start motor activation
Durable and sturdy construction with high-quality materials
These are but a few of the features that make the Max such a great scooter and you really have to take it for a test spin to grasp how well-built this electric scooter is.
Segway Ninebot Max G30 Review Conclusion
Although the Segway Ninebot Max G30's success speaks for itself we want to emphasise how much we really like this scooter. It might be a bit heavier than the regular lightweight commuter, but you really get what you pay for. A very balanced e-scooter able to handle any commuting task you set out on and it does so with grace and in a timely manner.
It does not deliver the thrill of a lifetime, but it was built to appeal to a wide audience and Segway Ninebot has really made a good job of doing just that.
Our original model with the Gen 1 motor is the most used electric scooter in our arsenal and is used pretty much on a daily basis and even after a few years it still performs like when we got it.
If you are looking for a reliable commuter companion and can handle the extra weight then the Max is a solid choice that will withstand the test of time and deliver a great ride every day. If you're looking for something slightly lighter have a look at the Segway E2-series.
Segway Ninebot Max G30 Technical Specifications
| | |
| --- | --- |
| Weight | 42.1 lbs / 19.1 kg |
| Folded size | 117 x 47 x 53 cm |
| Height | 120 cm |
| Motor power, nominal | 350W |
| Top speed | 18.6 mph / 30 kmh |
| Range | 40 miles / 64 km |
| Battery capacity | 551Wh |
| Battery recharge time | 6.5 hrs |
| Max load | 220 lbs / 100 kg |
| Brake | Drum+ Regenerative |
| Tire | 10.0 inch Pneumatic |
| Built-in lights | Front, Rear |
| Water resistance | IPX5 |
Competing Alternatives to the Ninebot Max G30
Speed
Range
Load
Weight
Motor
Battery
FAQ – Segway Ninebot Max G30
Can you increase the top speed of the Max G30?
Yes, you can. By flashing your Ninebot Max with custom firmware you can open up a whole new world of customization settings and that includes removing the standard speed-limiting setting.
How to see if a Ninebot Max G30 has a Gen 1 or 2 motor?
You need to check the serial number on the motor. If it starts with a 5 or 6 the model has a Gen 1 motor, if it starts with a 9 it is equipped with the new Gen 2 motor. Most newer models come with the Gen 2 motor.
What is the difference between Ninebot G30 Max Gen 1 and Gen 2 motors?
The Gen 1 version has a lower top speed but higher torque and is more susceptible to diminishing speed as the battery loses power. The Gen 2 has a higher top speed but lower torque and is less susceptible to the loss of speed with reduced battery power.
What is the difference between G30LP and G30P Max?
The main difference between the G30LP and G30P is that the LP is a lighter version with far less range. The G30P also has a built-in DC converter where the G30LP lacks this feature.
Which is better Segway Ninebot Max or Xiaomi?
The main difference between the Xiaomi M365 and the Ninebot Max is the range and sturdiness. The Max is far more robust and has more power and range, which also results in it being quite a lot heavier.
How do I remove the speed limiter from Segway Ninebot Max?
Using custom firmware you can open up a larger selection of settings to customize. One of them is the ability to remove the speed limit that the Max comes with as stock. On top of that, you can adjust a lot of other settings like regenerative braking, kick-to-start, and many more.