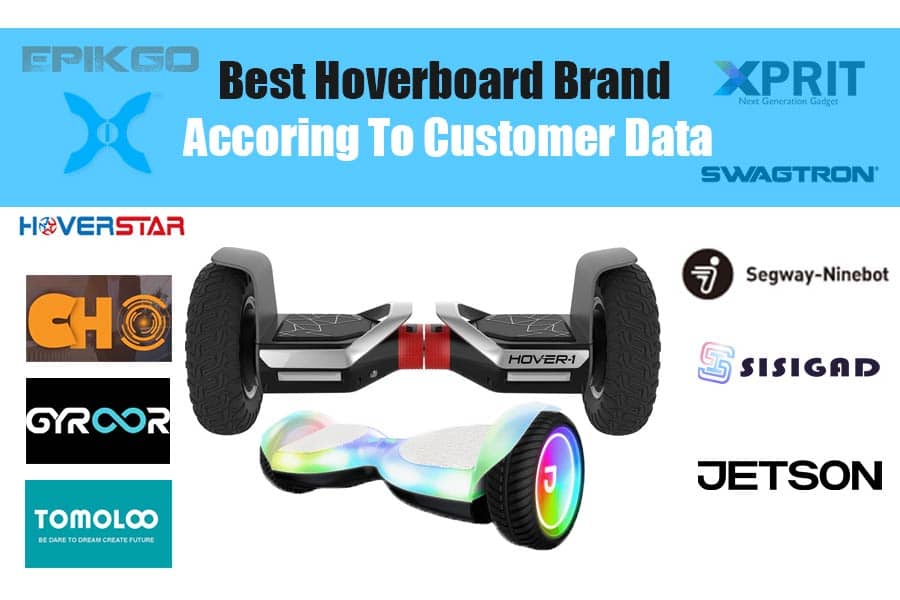 For a long time, I have always had my own idea of which is the best brand within the hoverboard industry, but all I really relied on was my own personal experience testing them.
I have tested close to 100 different hoverboard models to date, and I decided it is time to see if my favorites align with what customers think is the best hoverboard brand.
In this article, I will use real riders' data to determine which are the 12 best hoverboard brands according to consumers. To do that I collected data from over 22,000 former customers and I will share with you both the final results and the process that lead me there.
So Which is the Best Hoverboard Brand?
For full transparency, there are many great brands out there, but I picked 12 of the most popular brands and sat off to work.
I wanted a picture that reflects what real riders(customers of these brands) think about their products and their brand's individual quality of service.
Both my own experience and the data from 22,000+ former customers showed the same winner.
Tomoloo is the best hoverboard brand, according to this data.
You can see each brand's position in our top 12 list below, going from best to worst.
12 Best Hoverboard Brands According to 22,000+ Customers
I started out by finding out the percentage of customers who left a specific review score, starting from 1 star up to 5 stars. But that system didn't give us an accurate view of which is the best brand. So I decided to create a system to convert the percentages into points.
Below is the point system that I used to create a more straightforward and telling graph.
| | |
| --- | --- |
| 5 Stars | 1 Point |
| 4 Stars | 0.5 Point |
| 3 Stars | 0.25 Point |
| 2 Stars | -0.25 Point |
| 1 Star | -0.5 Point |
This is the number of points each brand got after the conversion:
As you can see the top 7 brands all have quite high scores and the difference between them isn't that big. But as we proceed down the list from 8 down to 12 there is quite a dramatic drop in reported quality.
That gives us the following list of the best hoverboard brands according to consumers.
List of the Best Hoverboard Brands
Tomoloo
Hover-1
Segway
Jeston
Jolege
Cho
Sisigad
Gyroor
Epikgo
Xprit
Hoverstar
Swagtron
Discrepancies to Consider
Let's be 100% transparent here. There are certain variables that we cannot account for.
For one, brands create many products. If a brand has a batch of malfunctioning products that aren't upholding good hoverboard safety, that can drag the brand's entire score down. It can also be the case that they have removed these products, and if so, our data does not reflect those lost customer experiences.
There are other factors that we can't account for in any good way. Nonetheless, the list pretty much looks like the one I already had in my head. I've always been a big promoter of Tomoloo's hoverboards since the first time I set foot on one quite a few years back.
The only surprise I had was that Hover-1 acquired a top 2 spot over Segway, which is a much larger company.
A Short Walkthrough of Each Brand's Unique History
Tomoloo's History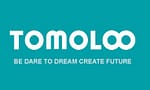 Tomoloo was founded in 2013 back in Shenzhen, China, as Shenzhen Tomoloo Industrial Co LTD.
They were early to jump on the hoverboard trend, and even though their product held good quality, other brands got all the attention back then. But most of these other companies are not here today, but Tomoloo is.
Times changed, and when the US Underwriters Laboratories created the UL 2272 certificate, Tomoloo was among the first batch of brands to get the certification. The rest is a success story within the hoverboard industry.
We here at Aridejunkie and the general consumer see Tomoloo as the number one best hoverboard brand.
Hover-1's History
Hover-1's history started back in 2017. That's almost two years after hoverboards had gotten their big break back in 2015.
They started with the standard 6.5" hoverboard that looked just like every other brand's. Their quality and service made them quickly rise in the ranks.
Much also thanks to some excellent PR moves that lead to their products being featured on the Kelly and Ryan morning show, and their foldable electric bike even got a few minutes of fame on one of the largest vlogs in the world, Casey Neistat.
Today they are one of the few companies to offer a 10" hoverboard, which is my go-to model.
Segway's History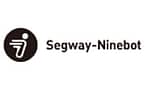 Segway is the grandpa of self-balancing transportation devices. Founded in 1999, they didn't have their first product launch until 2021, the Segway PT(Personal Transport).
That means they have over 20 years of experience creating self-balancing products. When hoverboards arrived, Segway took their time to complete their first model, and it didn't look like any other hoverboard.
Their models are far more expensive and technologically more advanced than your standard hoverboard. They use similar steering technology to that on a traditional Segway. The only difference is you use your knees instead of your hands to steer.
Lately, the company has switched focus to a nearby market, electric scooters.
Their electric scooter models have been among the most frequently bought, and a lot of the scooter rideshare companies used one of their first models, the ES1 or ES2.
For an impressive walk down memory lane, we've created an in-depth history guide walking you through the ups and downs of Segway's history.
Jolege's History
Jolege is probably a company you haven't heard a lot about prior.
They are a young brand, and it wasn't until early December 2018 I found their first model.
Since then, they have been providing a high-quality hoverboard at a great price. But even if they have a lower price tag, they still managed to claim a top 4 position in our list over the best brands.
Pretty impressive in such a short time span and with just two different models.
Cho's History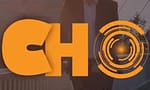 Cho is another company that was founded a long time ago. In 2007 Cho Sports were launched, and they have been producing various sport and outdoor products since.
They do everything from underwater scooters, electric scooters to portable camping refrigerators. In terms of hoverboards, they were early adopters of the trend. I remember trying my first Cho model back in 2016.
Where Cho has had the most vital presence among the young riders, and kids. They were among the first to provide a 4.5" hoverboard that was perfect for the very young riders out there. Why they discontinued the model, I don't know. But I know mine still runs fine to this day and is in use regularly.
Quality has been on the table a few times with some models. Luckily those models have quickly been discontinued or fixed.
Sisigad's History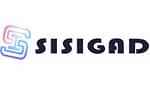 Another hoverboard brand with as strange of a name as Jolege is Sisigad. Sisigad was founded in 2018 and has gotten a lot of attention from consumers looking to strike a bargain when buying a hoverboard.
It started with a few colors and a single model but quickly grew thanks to them being able to hold a low price tag while still maintaining good quality.
Today their most popular model has a breathtaking 21 different colors to choose from. Probably why it was so frequently present when we created our list of great hoverboards for girls as their pink library is very extensive.
Gyroor's History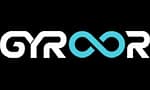 Gyroor started their journey in 2018 and had some fascinating design ideas to put on the table.
The one that caught most people's eyes was the sports model Gyroor F1, which, as the name implies, was designed to look like a Formula 1 car. Trust me when I say it had a very luxurious design.
Unfortunately, the price tag was well above what most people were interested in paying for a hoverboard. That hoverboard is about as good-looking as a hoverboard can get and one of the fastest in the world(claimed by Gyroor themselves).
Today most people who go for a Gyroor model are looking for something that can handle rougher, off-road terrain.
Jetson's History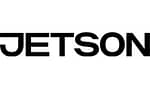 Founded back in 2012, Jetson is another brand with a good amount of years on its neck. Their sole purpose for creating the company was to provide fun rides and happy times to all.
They are deeply invested in the electric ride niche offering a wide range of scooters, hoverboards, and electric bikes. Some of their earliest hoverboards were great and they just launched another great hoverboard called the Jetson Flash, which provides just what they say, a fun happy riding time.
I think they ended up far down in our comparison because even if they have knocked a few out of the park, there has been an inconsistency in terms of quality. Quality has varied heavily from model to model.
Epikgo's History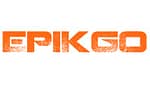 Epikgo was founded back in 2016 and was relatively early to jump on the hoverboard success train.
After launching their first and still only model, the Epikgo Classic hoverboard, the new model swept the market by storm thanks to a new design and an entirely new set of tires with off-road capabilities.
Today that same model is available in two different alternatives, all-terrain, and street wheels.
By having a high-quality product, I guess they never thought about making another one. Why would they?
They are seen as the exclusive brand within the industry, and with a price tag that is 4-5 times higher than most other hoverboards, only those with extra cash to spare will go for it.
Smart if you ask me. Four times fewer products to handle but with the same amount of profit.
Xprit's History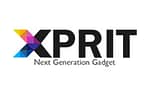 Xprit is a Canadian company founded in 2018. They have been delivering products with varying quality throughout the years with some great ones, like their standard 6.5" hoverboard.
But they have not always been consistent when it comes to quality. I am thinking about an electric scooter I tried a long time ago, but I have forgotten its name.
Overall a great company focused on delivering great electric ride products to consumers throughout North America.
Today they have a wide range of hoverboards and electric scooters, but they also have a few e-bike models.
Hoverstar's History
We didn't find any information about when Hoverstar was founded, but if my memory doesn't fail me, I would say I saw their first product around 2018. They have a few various options, and the overall quality is good.
From my experience with their models, I would say they made a conscious choice to have the cheapest option available. And there is one model I like a lot, and that one is our editor's pick as the most inexpensive model for kids.
Swagtron's History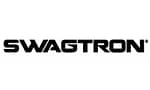 Swagtron was created in the early days of hoverboards under a different name, Swagway.
Unfortunately, a Swedish company was in business with the same name, and as I understood it after interviewing the owner of the Swedish company, he was here first. That is the reason they had to change their name.
Swagtron was great at making hoverboards in the early stages of the trend, but price and quality started to separate after a while. The service you would expect from a, now large UK company that sells its products worldwide, should be far better than what they have to offer today.
That and the fact that they had quite a lot of problems with their electric scooter models and latest hoverboards is the reason they have lost the crown they once wore and are now at the bottom of our list.
How I Gathered the Data
I did some in-depth research by going through popular retailer websites and gathering data from their review systems. In total, I collected over 22,000 review scores from former customers of these brands.
However, I didn't stop there. I also surveyed 80 people who own various models to see how well their experience aligned with our analysis, and both came to a similar result.
I then did what every researcher does, or at least what I think they do. I sat down and started crunching numbers and analyzing the thousands of review data that I had collected. I created this excellent chart of the best hoverboard brands for all of humanity to prosper.
Ok, that last line might have been an overstatement. But it's here, it's free, and it took me a good amount of hours to complete, so I hope it comes to good use.